A Compact, Packable, Flatpack Grill
Hauling along a BBQ grill on a hike may not be everyone's cup of tea; but hear me out. I'm not suggesting bringing one on any old hike, where weight is a major consideration, but rather on shorter solo camping trips like I did in Okutama last summer and in Fuchu this spring. The BBQ grill I brought with me on those occasions and have now used a few times is from UCO, a firm based in Tukwila, Washington, that manufactures its products in China. UCO stands for Utility, Comfort, and Originality, and their BBQ grills are generally well regarded in the outdoor community. The UCO mini flatpack grill and firepit reviewed here is an appealing option for solo camping thanks to its compact folding design and packability.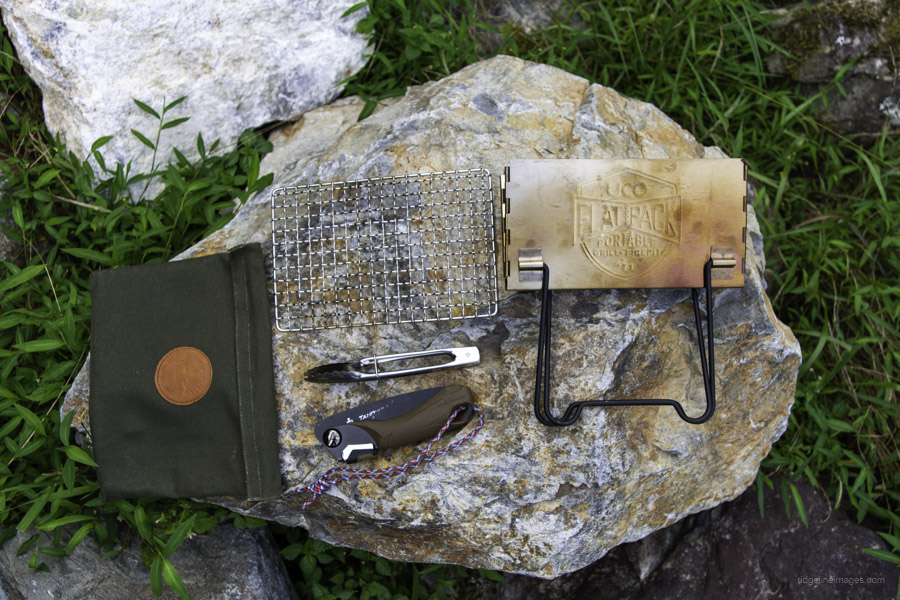 UCO mini flatpack grill and firepit.
Weight
As far as portable BBQs go, the UCO mini flatpack punches above its weight. Lighter portable setups (500 grams or less) can be had from outfits such as Picogrill and PaaGoWorks but expect to pay two-to-three times as much. The weight claimed by the manufacturer is 900 grams, but after weighing it myself, I found it to be somewhat lighter at 850 grams. Also, swapping out the stock UCO grill top delivered an extra 36 grams in weight savings.
Setup
The UCO Mini Flatpack is thoughtfully designed and super easy to assemble. Just open the legs and cross them, and you're ready to go. It remains stable on gravel or soil and can even be propped on large, flat rocks.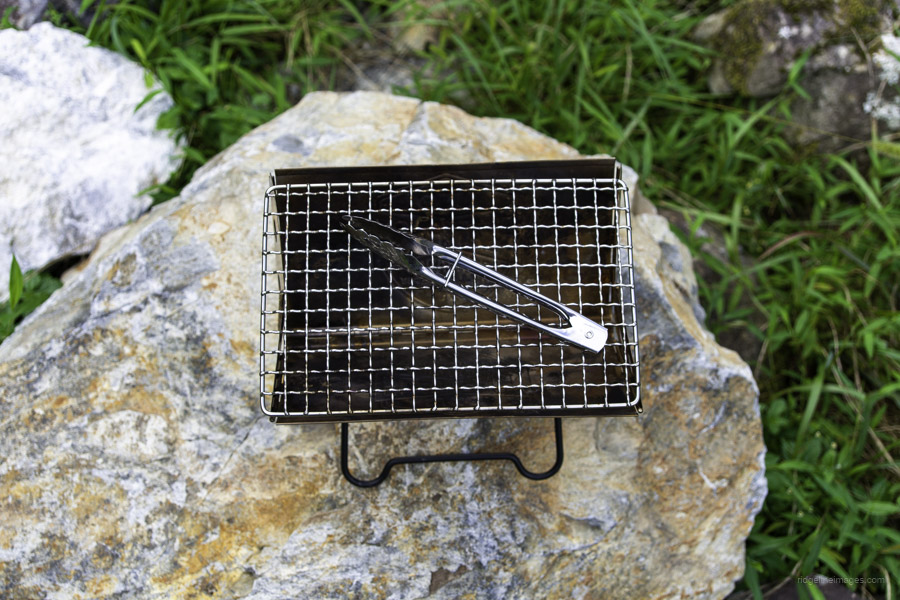 Stainless steel grill mesh and tongs purchased separately.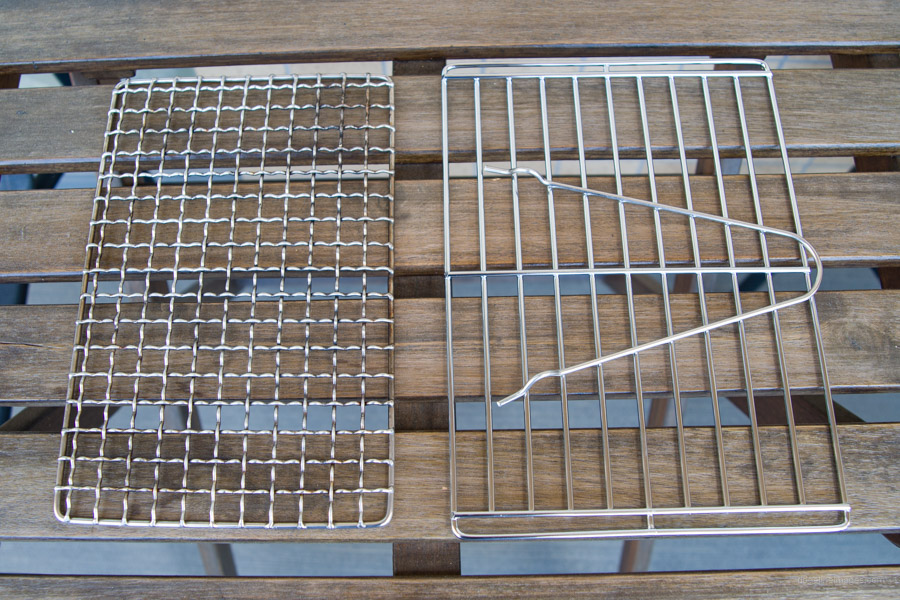 Swapped-out grill (left) and stock UCO grill with mesh tool (right).
Packability
Packability is definitely a strength of UCO. The grill stashed in the cloth carrying case has a folded width of approximately 3 cm and 18 cm in height. It's worth bringing along a Ziploc bag to store it after use rather than putting it directly in the cloth bag (or even ditching the cloth bag altogether). Speaking of the storage bag, while it is hard-wearing and well-constructed, it makes for a rather tight fit.
Durability
It is well made and fabricated from durable stainless steel. It appears reasonably rust and corrosion-resistant. Though how well it holds up in the long run will ultimately come down to how well it's looked after. It can be scrubbed clean with soap and a brush and later popped in the dishwasher for a more thorough cleaning. Having used it a few times, I feel confident that it will at least last a number of years with modest use.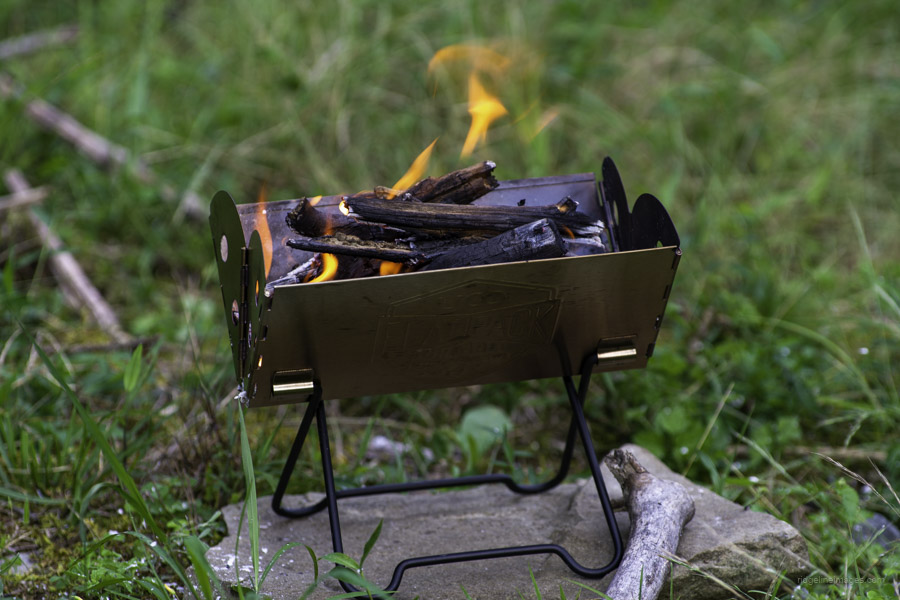 UCO mini grill and firepit in action.
.
Fuel
Given the firepit's diminutive size, means having to cut commercial firewood to lengths of around 20 centimetres. In this case, you will need to carry a foldable saw such as the Takagi bonfire saw. Alternatively, you can use charcoal briquettes, charcoal, or firewood gathered on site. The moisture content of locally collected firewood, especially in the hot and humid months, means more smoke and a less efficient burn. Thus, in the summer, using charcoal or a combination of fuel products would increase combustion efficiency. Small ventilation holes at the ends of the fire box do a reasonable job of promoting airflow and keeping the fire going.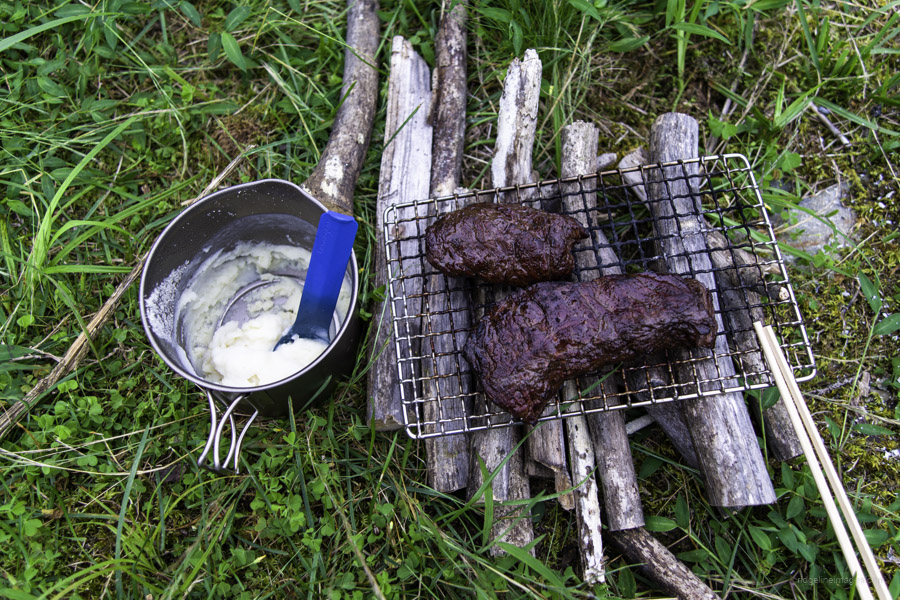 Dinner served.
BOTTOM LINE
While not the lightest BBQ grill out there, the UCO mini flatpack grill and firepit serves its purpose well. For car camping, however, a better choice would be to go for a medium or large size.
.
* When you use our affiliate links to make your purchase, the seller will contribute a portion of the sale to help support this site.