The Low-Down on Japanese Hiking Maps
The map images and contents of this article have been obtained with the permission of the publisher (Shobunsha).
Writing about topographic maps i.e. a map which uses elevation contours may not be the most riveting topic yet it's a must have item for both route-finding and safely enjoying mountain climbing. Other useful navigation aids include a compass (also knowing how to use it) along with a handheld or smartphone enabled GPS device with preloaded topographic maps. Yama to Kōgen Chizu offers an App for iOS (iPhone/iPad) and Android where you can buy individual maps for 500 yen or have access to all maps for 400 yen per month. The downside is due to the screen size it can be hard to get a grasp of the wider area and therefore best used in conjunction with a paper map. Apart from the shortest of day-hikes, these items are strongly recommended bringing along in case you find yourself detouring because of an impassable trail or some other occurrence.
Unless you happen to be visiting a popular sightseeing area or lucky enough to be travelling in Hokkaido where Rob Thomson and his intrepid adventurers at Hokkaido Wilds have masterfully created their own free bilingual topo maps most will be Japanese only. Not to say this a bad thing as it means the signs and kanji you see on the trail can be easily reconciled – not easy to do if the map is only in English. Although a tad dated (February 2009) still the best bilingual map covering the Tokyo / Chichibu region is the free 1:50,000 scale Okutama Nature Information Map published by the Tokyo Metropolitan Park Association (Shobunsha Publications) available from the Okutama Visitor Center.
If you're going to buy a paper topo map in Japan, there are two main choices. First are the official the 1:25,000 scale Geospatial Information Authority of Japan (GSI) map sheets readily available at large bookshops such as Kinokuniya, Maruzen and Junkudo along with many outdoor stores. They are stored in flat drawers so you may need the staff assist you tracking down a specific map. For more information about reading GSI topo maps I have written this how-to guide.
Second are the annually updated (2020 56th ed.) Yama to Kōgen Chizu "Maps of Mountains and Plateaus" by Shobunsha Publications a.k.a. MAPPLE (generally 1:50,000 scale). Hiking oriented topo maps such as Yama to Kōgen Chizu include course times, information about steep and hazardous terrain with stylised colour coding tailored to hiking. Only the map sheet name and 100, 200 and 300 Famous Japanese Mountains include English translations. A full catalogue of their 61 maps for 2020 are listed below. I've only purchased GSI maps when either the hike fell outside one of the Yama to Kōgen map sheets or I required the extra detail of a small-scale map.
One niche map publisher worth a mention is Kibito Publishing based out of Okayama who produce several extra small-scale maps ranging from 1:11,000 to 1:25,000. The topo maps cover popular hiking areas such as Mt. Takao, Mt. Rokko, Tanazawa and Okutama. The Kibito maps include minor trails and branches often absent from the larger-scale variants however some of their maps haven't been updated in quite a while.
Before we get down to the nitty-gritty of reading a typical Yama to Kōgen map here are some of their distinguishing features:
– Updated annually to ensure accuracy
– Made of water and tear-resistant paper
– Accurate topography/terrain with clearly labelled hiking and mountaineering trails
– Hazardous places, including cliffs and ridges as well as location of ladders and chains
– Areas marked where there is a chance of becoming lost or disoriented
– Major landmarks, lookouts and flower viewing info
– Mountain huts, campsites and water sources
– Course times provided as a guide
– Bus frequency and travel times from train stations
– Carparks including number of available spaces
– Approximate cost of taxi fares to trailheads where a bus service isn't available
– Convenience stores and public facilities
– Covers Kyuya Fukada's 100 Famous Mountains plus most 200 and 300 famous peaks
Decoding a Yama to Kōgen Map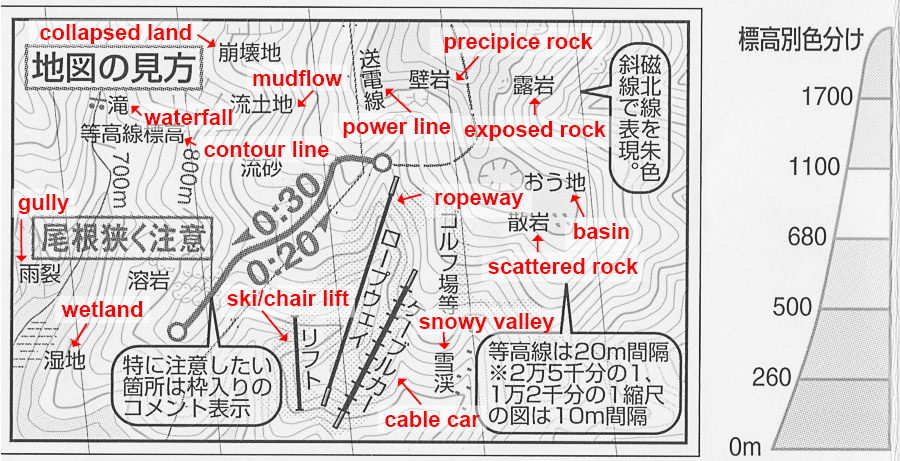 Yama to Kōgen map key.
The map key above covers some common key landforms and features you may come across. For a comprehensive listing check out the "Hiking Kanji Cheat Sheet". On 1:50,000 scale maps contour lines are spaced at 20 metre intervals with 1 cm on the map representing an actual distance of 500 m or 0.5 km. The elevation relief shading is split into six layers, starting with green at mountain foothills and progressing to brown at higher altitudes.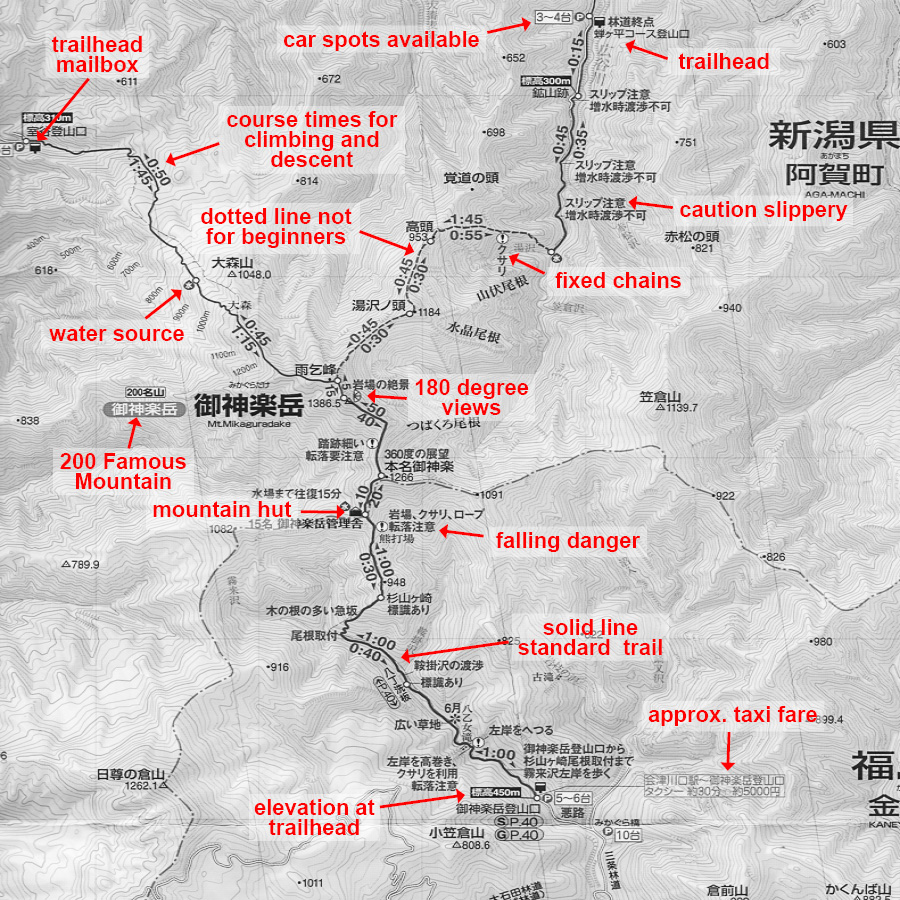 Some features to recognise on a Yama to Kōgen map.
This hiking route is taken from no.15 ECHIGO-SANZAN. As you can see the map packs in plenty of detail such as trail dangers and warnings, mountain huts, water sources, toilets and taxi fares to the trailhead. The three main symbols to look out for are "!" denoting danger, "?" for ill-defined trails and "水" marking a water source. A word of warning for solo hikers and beginners, it's best to steer clear of the dashed or "dotted routes" which require extra attention as these trails tend to be poorly maintained making for challenging route-finding. Likewise, minor variation routes indicated by a faint dashed grey line are meant for experienced climbers and should not be attempted alone.
How Course Times are Calculated
A quick note regarding course times. The Yama to Kōgen Chizu standard course times are calculated according to the following criteria:
* Group size of 2-5 people
* Age range from 40-60 years
* Fine summer weather conditions
* Mountain hut use
The times are naturally just a guide and will vary according to weather and individual ability. Interestingly, as the number of senior hikers has increased over the years so to it seems has the time allotted to hiking stages. Comparing your own course time with the map is an important forward planning tool. Realising that it takes 1.5 times the map course time will be useful to know when bad weather necessitates a change in plan such as an alternate descent off the mountain.
Some Recent Layout Changes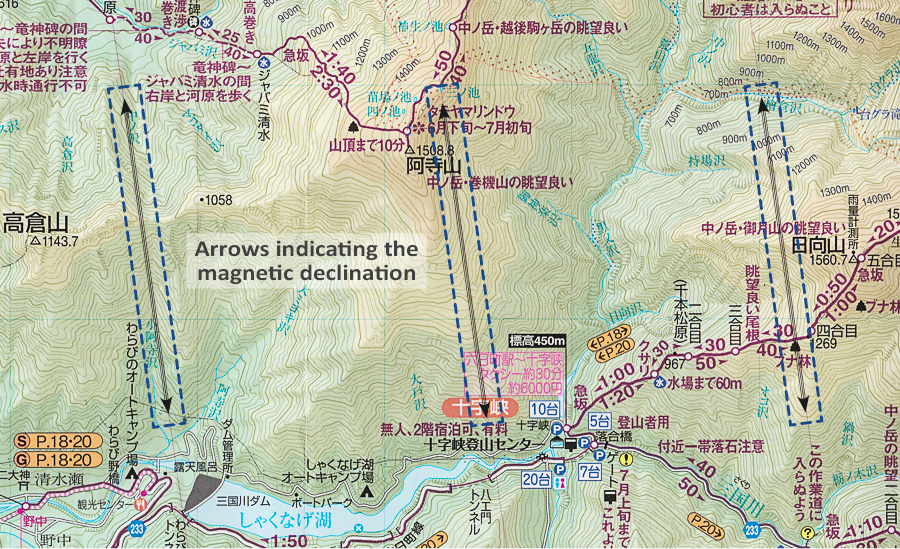 Lines equidistant showing the magnetic declination.
From 2018 onward all Yama to Kōgen maps include the following design and layout features. One is the inclusion of magnetic declination or the angle between magnetic north and true north. While the maps have always contained a diagram in the margin which gives the declination it is now shown on the actual map. It's a welcome addition as it enables precise navigation and saves the trouble of having to draw it yourself. Note the declination changes slowly over time thus those printed on the Yama to Kōgen maps are subject to minor variation. As a rule of thumb, the correction figure shown on the map is good for about 5 years. To check the current declination anywhere on earth, use a magnetic declination calculator such as the one at NOAA.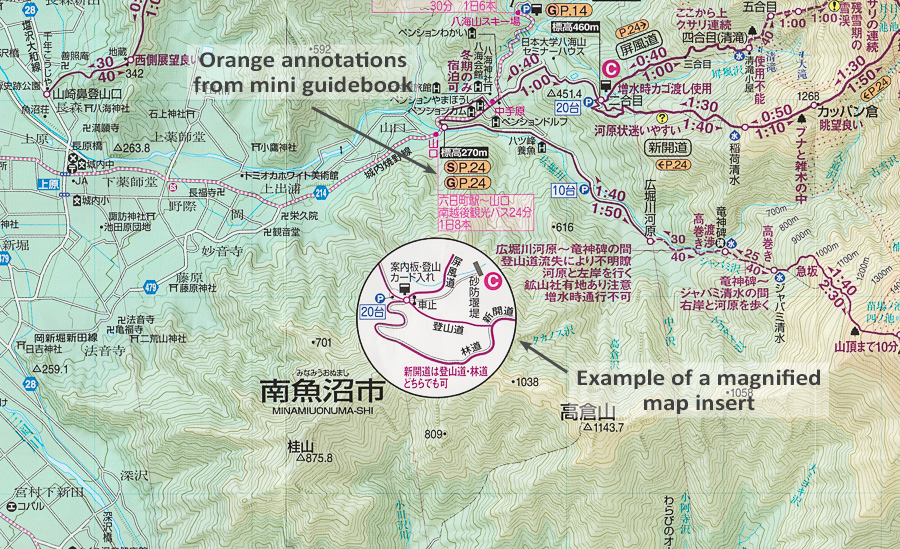 Magnified map inserts and guidebook annotations.
Another layout change are the magnified map inserts at confusing trail branches and road junctures to simplify direction-finding. A downside of this is it wipes out a portion of contours that could be otherwise used for navigation. Last of all is the use of orange annotations which reference routes in the included mini guidebook, great if you use the booklet but does seem to make it a little cluttered.
Finding the Latest Information
While it's perfectly fine using older edition Yama to Kōgen maps to plan your hikes as they are durable and last for years if used with care there are some things to keep in mind. First is transportation; bus schedules often change so confirm with the relevant bus company website. Next are road closures due to landslides. This information is a little more difficult to come by but if in doubt check the official website of the municipality. Like access roads, mountain trails are sometimes cordoned off due to typhoon damage so again get in touch with the relevant city or search recent YamaReco hike reports. The reliability of water sources cannot be depended upon thus best to check YamaReco especially if you need to refill at a particular location. Finally, mountains huts can close out of the blue and refuge huts can be demolished with little notice so if you intend to stay, call in advance or check their website to avoid misadventure.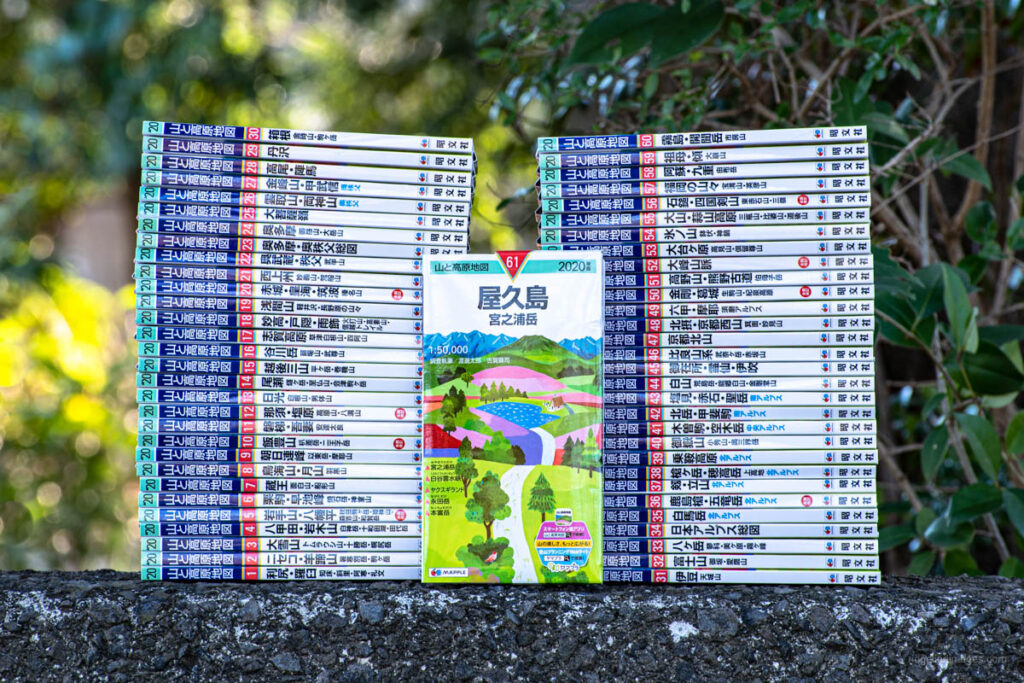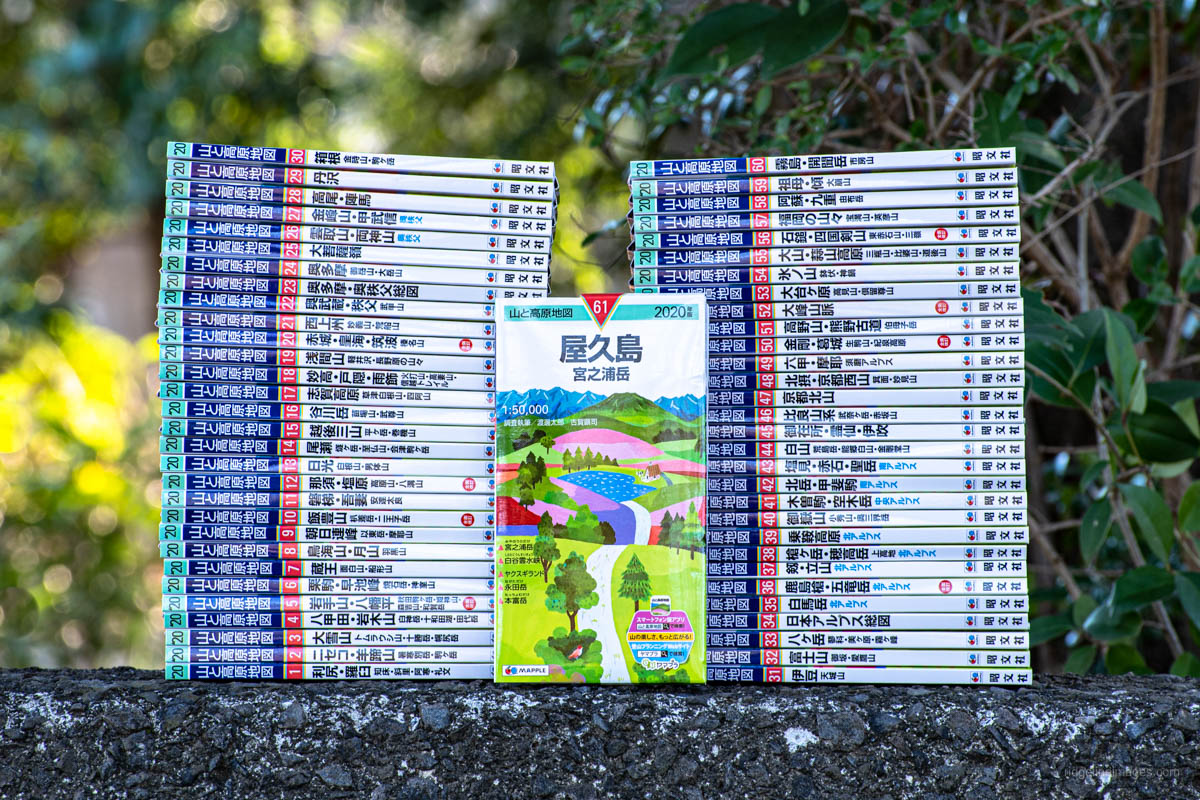 Yama-to-Kōgen Map List 2020 【山と高原地図 2020年版】
※ Denotes custom map scale (standard Yama-to-Kōgen Chizu scale 1:50000)
Fully revised for 2020