Enjoy Hiking More Safely
Staying safe and out of harm's way out on the trail requires proper planning starting with letting people know where you're going and when you expect to be back. However, even well-equipped, and seasoned hikers aren't immune to slips, trips, and falls that cause injuries, hypothermia, heat related illnesses, or getting lost. According to the National Police Agency, in 2018 there were 2,661 mountain-related incidents involving over 3,000 people. Over the years this blog has been a strong advocate for taking out mountain climbing insurance. Personally, I've been a member of jRO (Japan Rescue Organization) for the past eight years one of the Japan's largest search and rescue insurance providers. Knowing that someone will come looking for you (without financial ruin in the aftermath) if worse comes to worst is reassuring but even better if it can be done in a timely manner – this is where COCOHELI comes in.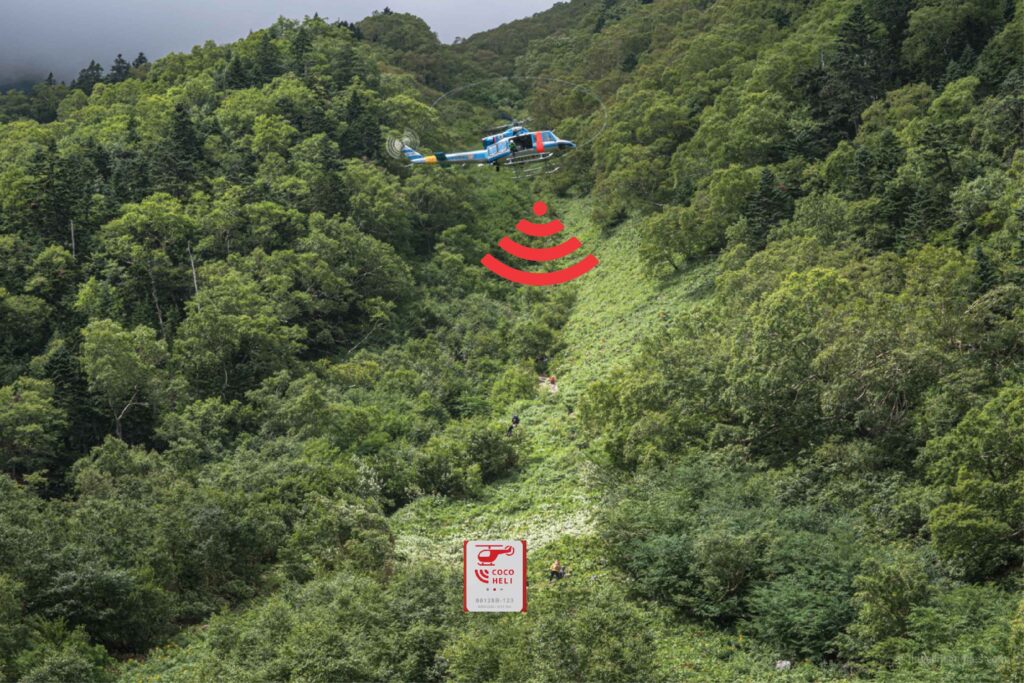 Radio waves emitted by the transmitter can be detected up to 16 km.
COCOHELI in a Nutshell
COCOHELI is a membership-based helicopter search service run by Fukuoka based AUTHENTIC JAPAN that covers most mountainous areas of Japan. It collaborates with police and fire service agencies in 34 prefectures. It excludes Okinawa and outlying islands though includes Yakushima. Members receive a small lightweight (20 g) radio transmitter 'HITOCOCO' with a unique ID number that can transmit radio signals up to 16 km using the 925MHz band. The transmitter has the ability to emit radio waves for about 2 to 3 months on a single charge. In the event that a member is lost or injured a search helicopter is dispatched. The emergency call can be made by either the member provided they have cell phone reception or by a friend or loved one on failure to return. Once in the search area a dedicated receiver picks up the radio waves emitted from the transmitter helping to quickly locate the missing hiker. Additional helicopter support may be needed to winch the person or depending on weather and terrain they may need to wait for a mountain rescue team. In other words, COCOHELI finds out where you are, and mountain insurance is needed in case rescue costs are incurred.
Some public associations have started renting the radio transmitters to hikers such as the Osugidani Tozan Center in Mie and Asahidake Visitor Center in Hokkaido. Others even mandate backcountry skiers carry one such as Kawaba Ski Resort in Gunma.
At a bare minimum, before heading out for a hike, make sure you tell someone the name of the mountain, intended hiking route, COCOHELI emergency assist number, and importantly your radio transmitter ID number.
.
Benefits of Being a Member
I've known about COCOHELI for a couple of years, but it only recently dawned on me to sign up. Mainly because I thought having my jRO membership was sufficient and if I really got stuck, I would just use my smartphone (reception permitting that is) to call for help. This seems to be the mind-set of most recreational climbers as according to this interview with Kazufusa Kuga managing director of AUTHENTIC JAPAN out of a pool of some 3 million people who hike three or more times a year only 30,000 (1%) subscribe to the service. Although about 50% of hikers have mountain insurance. I have tried to set straight some misconceptions about COCOHELI below if you're still on the fence about becoming a member.
If you're a jRO member they have a special sign-up portal with the 3,300-yen admission fee waved until August 31, 2021. For those without a jRO membership can enrol in the whole caboodle with a significant discount here.
The following table summarises the three membership plans. For most folk, I feel the Simple plan is sufficient unless you have a propensity to misplace your keys and wish to track stuff in day-to-day life. The transmitter on the Standard and Plus L plans are equipped with Bluetooth functionality (along with the LIFE BEACON) allowing you to search for a transmitter up to 200 metres away using the LIFE BEACON app.
+ Provided a hiking plan has been submitted it usually takes 1-2 hours after take-off to locate a missing person.
+ A search and rescue helicopter will make up to 3 free flights.
+ Equipment insurance up to 30,000 yen in cases of damage or theft.
+ Indemnity insurance up to 100 million yen against a 3rd party.
.
COCOHELI annual membership plans at a glance
| Insurance Plan | Annual fee | Smartphone search feature | Indemnity insurance | Equipment insurance | LIFE BEACON |
| --- | --- | --- | --- | --- | --- |
| Plus L | *¥8,500 | 〇 | 〇 | 〇 | 〇 |
| Standard | *¥5,000 | 〇 | 〇 | 〇 | ー |
| Simple | *¥3,650 | ー | 〇 | 〇 | ー |
*Doesn't include an admission fee of ¥3,300 (plus tax)
Can I use a Personal Locator Beacon (PLB)?
Just a quick note regarding personal locator beacons (PLBs) while they are the mainstay of hikers in other parts of the world in Japan they can only be used on the ocean, not on land and must conform to Japan telecommunications standards. The Japan Coast Guard is responsible for PLB related distress signals. If you activate a PLB on land in an emergency situation you may be liable to prosecution. For a better understanding about using PLBs in Japan, Hokkaido Wilds has done a deep-dive on the topic. However two-way satellite messengers such as Garmin inReach and SPOT X are fine to use.
Three Important Points to Remember About COCOHELI
Point 1:
Make sure to charge the battery, turn on the power if need be (newer models turn on automatically after charging) as well as the and carry it with you. It is recommended to attached to the outside of your pack for better reception – the unit itself is water resistant.
Point 2:
Give information about your hiking intentions to a family member or trusted friend including your transmitter ID number. Summit a tozantodoke (intention to climb form) at the trailhead. In the case of an emergency this will narrow down the scope of the search area.
Point 3:
Even if you submit a tozantodoke a search won't begin unless COCOHELI is notified which can be done either by yourself or someone else by calling their emergency assist line.
Some Misconceptions About COCOHELI
1. Isn't it geared more towards mountaineers and hard-core climbing crowd?
While the typical image of a distressed climber is someone languishing high above the tree line, the reality is accidents occur just as frequently in low-lying mountains and even on well-trodden trails. So, whether hiking in the foothills of Ome City or climbing Mt. Takao for the umpteenth time carrying COCOHELI radio transmitter is strongly advised.
2. No worries I have mountain climbing insurance!
It's true hiking insurance covers most out of pocket search and research expenses for example jRO coverage is capped at 5.5 million yen it does have limitations. In the case when you are not immediately found it's possible that subsequent searches could be at your own expense. Importantly at least in Japan if you are missing and cannot be found, your family will be unable to make a life insurance claim against you for 7 years. For these reasons it's vital for climbers to be found as soon as possible.
3. I always submit a tozantodoke so it shouldn't be a problem tracking my whereabouts, right?
If you submit a mountain climbing registration form it certainly helps narrow down the search area having said that it's difficult to pinpoint the location of a distressed hiker especially if he or she has wandered off the trail. In life-and-death situation, the chances of being saved are greatly improved when people can be rescued in as little as 30 minutes from the initial report.
4. In the case of an emergency I'll just use my smartphone to call for help.
That's all well and good, if you can actually get a useable reception but isn't something you can depend on. Your smartphone may be damaged, battery may have died, or you are simply not in a condition to make the call in the case of being incapacitated. Even in places where there are many obstacles, in a valley or deep or undergrowth, the transmitter will continue to send radio waves unless it is completely submerged in water.
5. How long can I expect the transmitter battery to last?
The good news here is the transmitter emits radio waves for about two and a half months if it is 100 percent charged (charging the device once a month is recommended). There is no need to charge it on the go like a regular smartphone.
6. The service is no doubt expensive.
Here's the clincher, it's not. COCOHELI has three membership plans with the annual 'Simple' plan starting at a very reasonable 4,015 yen which is pretty much all you need and works out at 10 yen per day. The 'Standard' and 'Plus L' plans have Bluetooth functionality for tracking things in day-to-day life. Currently the 3,300-yen admission fee is being waved until August 31, 2021 if you're a jRO member.
7. It's okay because my hiking companion carries one.
That's all fine and dandy for your hiking buddy and perhaps reassuring being with someone who has a COCOHELI transmitter. But what happens if your buddy slips down, and you can't reach them or if you become separated. Basically, the COCOHELI membership is only meant for one person thus it is important for each person to carry one just in case.
8. Just because you have a COCOHELI membership does not mean that you will be 100 percent discovered, right?
As of 2019 there have been three instances where COCOHELI failed to locate a member after an emergency call was made. While this doesn't sound overly comforting it should be noted in one case the radio transmitter wasn't carried by the hiker, in another instance the transmitter wasn't turned on with one unspecified.