Hiking and Adventure Sports Insurance
One of the most common inquiries I get from my readers is about hiking insurance. Do I need it? Quite possibly. Is it necessary over and above travel insurance already purchased at home? Maybe as some travel insurance policies stipulate hiking under 2000 metres altitude. Are there local companies that you'd recommend for people coming from abroad? There are a couple, but you need at least a rudimentary grasp of Japanese plus the help of Google Translate as their websites are only in Japanese. What is the cost of a helicopter rescue in Japan? Deploying a helicopter for example, in Saitama Prefecture (it varies according to the prefecture) costs 60,000 yen per hour. To name but a few.
If there is any doubt as to the need to take out hiking insurance I suggest first reading this post "Hiking in Japan: Why Insurance Matters" which cites an average rescue cost of ¥398,000 ($3,500 USD). Also, according to this Nippon article there were 2,600 mountain-related incidents involving over 3,000 people across Japan in 2018. In the same year, 169 foreigners were involved in incidents, a five-fold increase over the previous five years.
For long-term stayers, there are quite a few hiking insurance providers that offer everything from search and rescue right through to hospitalisation expenses, indemnity liability, death and disablement, and trekking and outdoor activities while abroad. Four of the major players in the industry are showcased below. For short-term visitors to Japan embarking on a hiking adventure, I highly recommend taking out an insurance policy that covers at least search and rescue. Yamakifu offers short-term insurance coverage with affordable plans ranging from 1 to 4 days. Note: As of November 2022, YAMAP has stopped providing hiking insurance.
Hiking insurance providers in Japan at a glance
1. 

Montbell hiking insurance

Clothing and equipment behemoth Montbell provides comprehensive insurance coverage underwritten by AIU Insurance. They offer two plans, an "outdoors" and "climbing". The outdoor plan (general injury insurance) covers activities such as trekking, hiking, camping, cycling and skiing while the climbing plan (comprehensive insurance) covers full-fledged mountaineering. On top of this Montbell proffers a bewildering 90 different coverage types ranging from one to five years with the more expensive plans covering hospitalisation expenses, indemnity liability, death and disablement. The annual premium for a basic plan "climbing" is 8,270 yen which can be purchased on the internet and is valid from the afternoon of the next day.

Pros: Some plans cover trekking and outdoor activities while abroad. A wide variety of plans to select from.
Cons: Expensive when compared with other insurance providers.
2. 

Nihon Hiyo Hosho hiking insurance

Nihon Hiyo Hosho or Nihiho offers affordable "rescue cost insurance" for hiking and various outdoor sports including rock climbing, trail running, backcountry skiing, snowboarding, canoeing and mountain biking. The 4,000 yen annual fee covers expenses required for search and rescue including helicopter callouts up to 3 million yen. Policy starts from midnight on the day following payment.

Pros: Relatively inexpensive at 4,000 yen or only 333 yen per month.
Cons: Death and disablement, hospitalisation and indemnity liability are not covered.
3. 

Yamakifu hiking insurance

Yamakifu based out of Chiba is one of the few outfits that also offer short term hiking insurance. The basic annual fee is 4,000 yen and covers search and rescue expenses up to 5 million yen. There is also a plus members category for 7,500 yen that includes indemnity liability, limited hospitalisation expenses, and outpatient care. The expert member fee is 10,000 yen and covers mountaineering and ice axe use. The "one-time" short-term insurance ranges from day trips (660 yen), 2 days (990 yen), up to 4 days (1,600 yen) and provides coverage similar to the plus members category.

Pros: The plus and expert plans cover mountain climbing or hiking while abroad. Competitive rates and good coverage combined with short-term plans. Some plans cover injuries caused by natural disasters.
Cons: Need to submit a hiking plan to guarantee you are fully covered.
4. 

jRO hiking insurance

With over 63,000 paid up members jRO (Japan Rescue Organization LLC) is one of largest search and rescue insurance providers in Japan. Along with hiking and mountain climbing it also provides coverage for trail running, rock climbing, sports climbing, bouldering, skiing, snowboarding, mountaineering, canyoning, caving and mountain biking. Members are required to pay a one-time joining fee 2,160 yen, plus an annual fee of the same amount. Search and rescue expenses are covered up to 5.5 million yen using part of the funds put up by the members against accidents.

Pros: Low annual fee. Membership benefits include discounts at some mountain huts.
Cons: Doesn't cover death and disablement, injury, hospitalisation, and indemnity liability.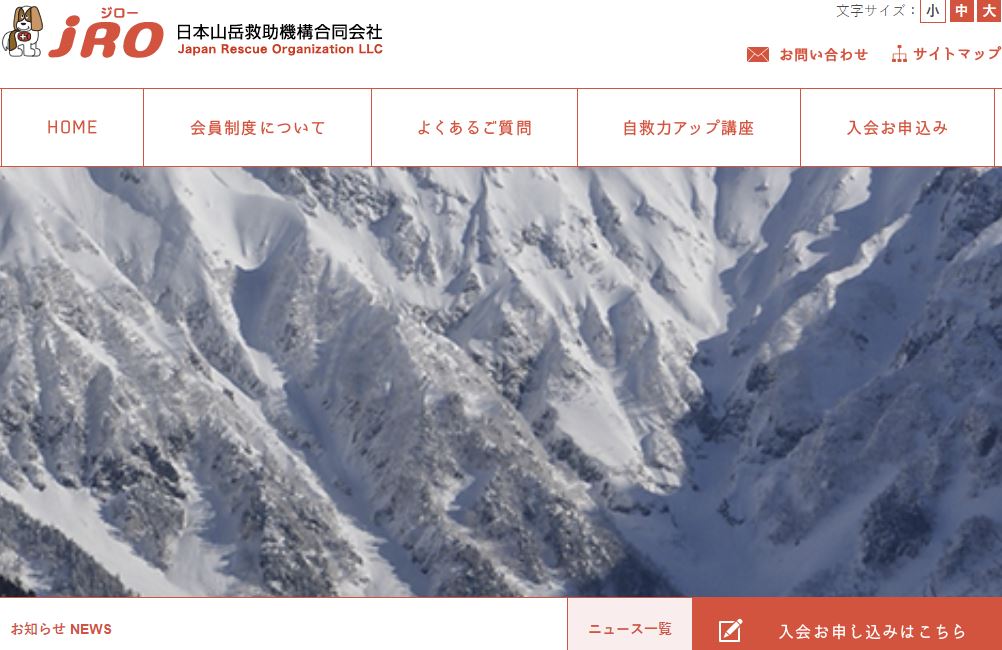 jRO (Japan Rescue Organization).
5. 
YAMAP hiking insurance
DISCONTINUED As of November 1, 2022, YAMAP hiking insurance is no longer available.
YAMAP the SNS service for climbers in Japan now also offers hiking insurance. They offer three levels of insurance, including daily rates or 30-day plans (renewable). The basic plan costs 250 yen daily or 450 yen / 30-day plan for equipment coverage in the case of failure, damage or theft to smartphones, cameras and hiking gear such as tents and trekking poles, up to 100,000 yen a year. The second-tier plan covers search and rescue expenses up to 3 million yen (280 yen daily or 480 yen / 30-day plan). The third-tier plan includes both equipment coverage and search and rescue (370 yen daily or 650 yen / 30-day plan). The insurance provides coverage for hiking, mountain climbing, trail running, skiing, snowboarding, and cross-country skiing.
Pros: Daily and 30-day plans available. Equipment coverage also covers domestic travel, damage to smartphones sustained in daily life and accidents caused by natural disasters.
Cons: Doesn't cover death and disablement, injury, hospitalisation and indemnity liability.