Backpacking Food Ideas and Meal Planning
A common question I get is what food I pack for an overnight hike. The simple answer is foodstuffs that I enjoy eating and not too much as food is heavy. In stark contrast to my first overnight hike, when I brought along a retoruto kare or boil-in-the-bag curry; a good move, as it turned out. The microwavable instant rice pack, on the other hand, didn't prove as worthwhile. Not only was it bulky it took 10 minutes of boiling time just to make it somewhat warm. As most folk do, I packed way too much food on that first overnighter. Over the years I have tried to dial in what I bring along for sustenance, finding a balance between maintaining high kcals, nutritional balance, convenience, weight, and taste. And as much as I'd love to tuck into a full nabe each evening, carrying perishables as a solo hiker isn't very practical. So what options are available?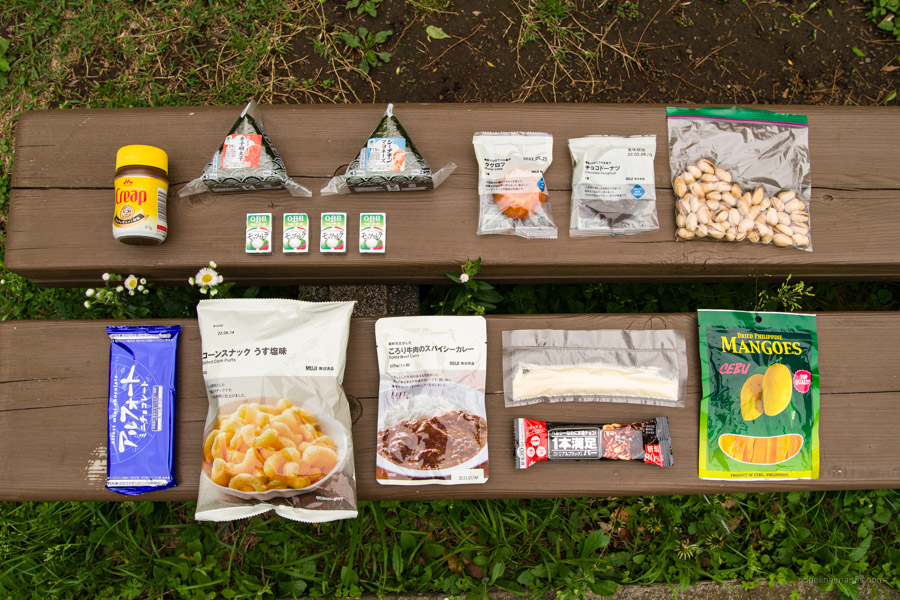 Food for a 1-Night Backpacking Trip.
For shorter 1–2-night backpacking trips I usually pack retoruto meals served with dehydrated rice, mashed potatoes, or couscous but for anything longer I'll supplement with freeze dried meals. On occasion I've been known to tuck into fresh protein – a well wrapped cut of frozen steak when I've base camped. On multi-day hikes I like adding some Alcala Minioliva 14 ml (115kcal) single serve extra virgin olive oil to my meals to make them more palatable and calorie dense. Depending on when and where you're heading it may be possible to avail yourself of a delicious homecooked curry at a mountain lodge.
In reality though unless you're prepared to go the whole hog and invest in a dehydrator as Hokkaido Wilds did for their epic Daisetsuzan traverse, the range of dried risotto and pasta meals in Japan is limited and low on calories. Typical fare here includes Montbell Curry Risotta (85g / 338kcal), Solleone Express Risotto (80g / 302kcal), MUJI Penne with Mushroom Sauce (90g / 361kcal), Onisi Shrimp Rice Pilaf (77g / 362kcal) and Amano Foods 'Hatake no Curry', Vegetable and Chicken curry (37g / 212kcal). It's worth noting that companies such as Onisi heavily market towards emergency rations and stockpiles with an emphasis on long shelf life rather than outdoor activities like hiking.
Listed below is what I'll be bringing along on my upcoming Golden Week overnight hike. Included is lunch, dinner, and breakfast as well as snacks to eat in between those meals. The weight comes to 1010g with a caloric intake of a little over 3,000kcal plenty I feel for the 30 odd hours I'll be away. Standout items include individually wrapped MUJI doughnuts and cakes cakes that have crazy high kcals for the small size. For emergency I also carry a Calorie Mate block 400kcal. One final tip is to remove all extraneous packaging and seal nuts, snacks, and the like into lightweight Ziploc sandwich bags. It may not sound like much but can save quite a bit of weight and means less rubbish need be carried out later.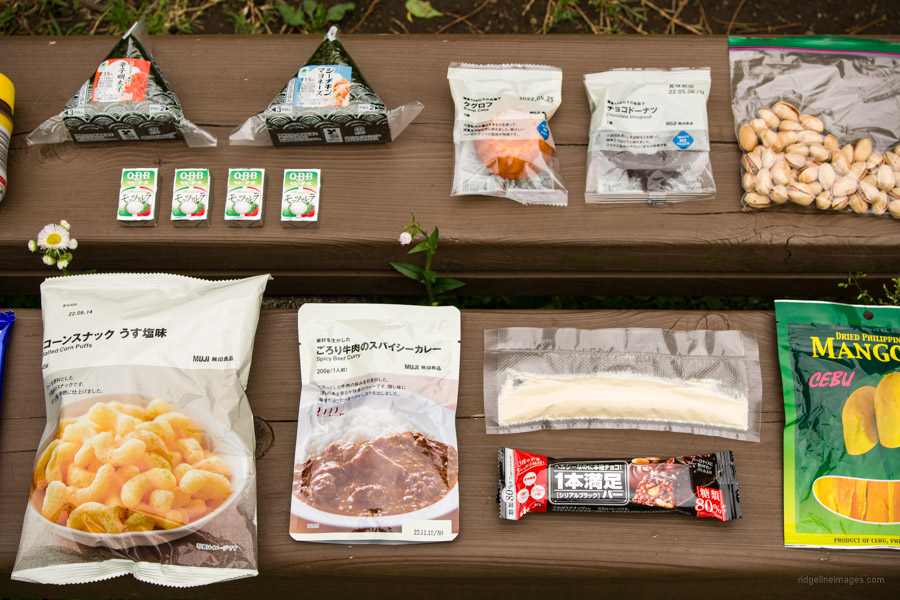 Food for a 1-Night Backpacking Trip in Japan
| Food item | *Weight (g) | Kilocalorie (kcal) |
| --- | --- | --- |
| Asahi protein bar | 41 | 179 |
| MUJI Bundt Cake | 36 | 148 |
| MUJI Chocolate Doughnut | 32 | 141 |
| Muji Spicy Beef Curry | 213 | 500 |
| Dehydrated mashed potatoes | 39 | 141 |
| Tuna Mayo onigiri rice ball | 111 | 233 |
| Spicy Cod Roe onigiri rice ball | 109 | 187 |
| OBB baby cheese | 62 | 192 |
| Dried mangoes | 109 | 336 |
| Pistachios | 70 | 438 |
| Alfort mini chocolate | 66 | 313 |
| MUJI Salted Corn Puffs | 52 | 232 |
| Morinaga Creap creamy powder | 70 | 250 |
| | 1010 g | 3290 kcal |
.


*Weight incl. packaging
.