Warm and Lightweight 3-Season Sleeping Bag
When it comes time to bed down for the night, getting a good kip is of upmost importance irrespective whether on a leisurely overnight hike or a multi-day trek. Key to this of course is a warm, comfortable, and lightweight sleeping bag. Since 2013, I have been using a Nanga Swellbag 760 Fill Power with 380 grams of duck down. It has served me incredibly well over the years with few complaints. Thus, when it came time to finding a replacement, my immediate thought was to gravitate towards another from this well-regarded Japanese sleeping bag manufacturer. Outside of Japan, Nanga is relatively unknown which is a shame as their high-quality craftsmanship is on par with the likes of Western Mountaineering and Feathered Friends.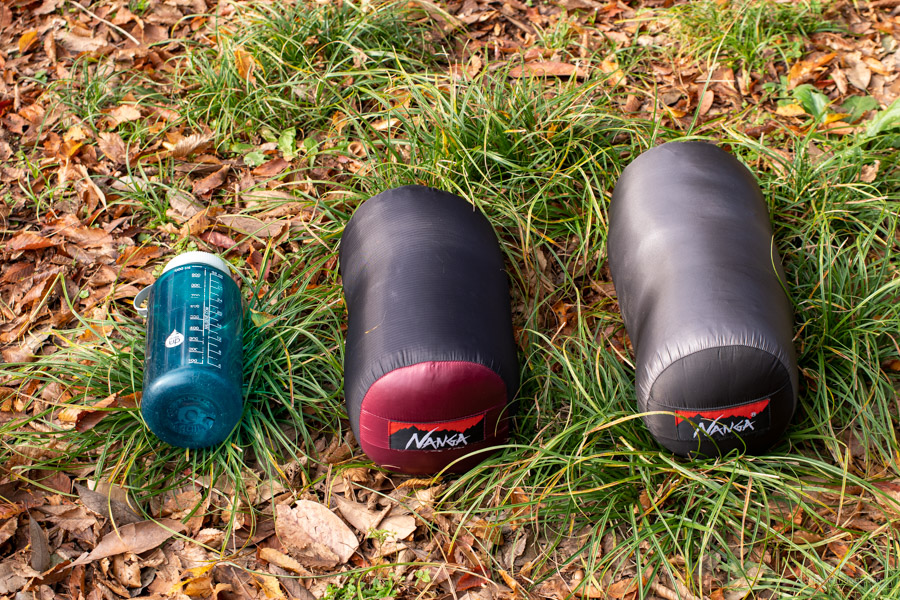 Nanga Swellbag 380 DX vs Aurora Light 450 DX.
As I mention in the Nanga Swellbag review, of the three big Japanese sleeping bag brands Nanga is the only one that produces their sleeping bags locally in Maibara City, Shiga Prefecture. Montbell makes theirs in Vietnam while Isuka sources some of their materials in Japan while most of the fabrication is done in China. This is not to say there are quality issues when it comes to Montbell and Isuka bags, it's just that I prefer to put my money towards supporting local outdoor industry jobs. All three manufacturers follow the European Standard EN13537 – a standard for determining temperature ratings for sleeping bags.
First Impressions
Unfurling the Aurora Light 450 DX my first impression is that it exudes style. The two-tone black and dark navy (added fall 2021) looks amazing. It's a personal preference but I far prefer Nanga's darker hues then 'Big Bird' yellow offered by Montbell and Izuka in their equivalent models. One small but noticeable change is, the shell fabric has switched from 20 denier to 15 denier and rather than a standard DWR finish now sports an Aurora-Tex waterproof coating with a 20,000 mm hydrostatic head. As a point of reference Feathered Friends bags use Pertex Endurance (10,000 mm hydrostatic head). This waterproofness adds an extra 40 grams of weight compared to models that don't such as the UDD Bag 450DX.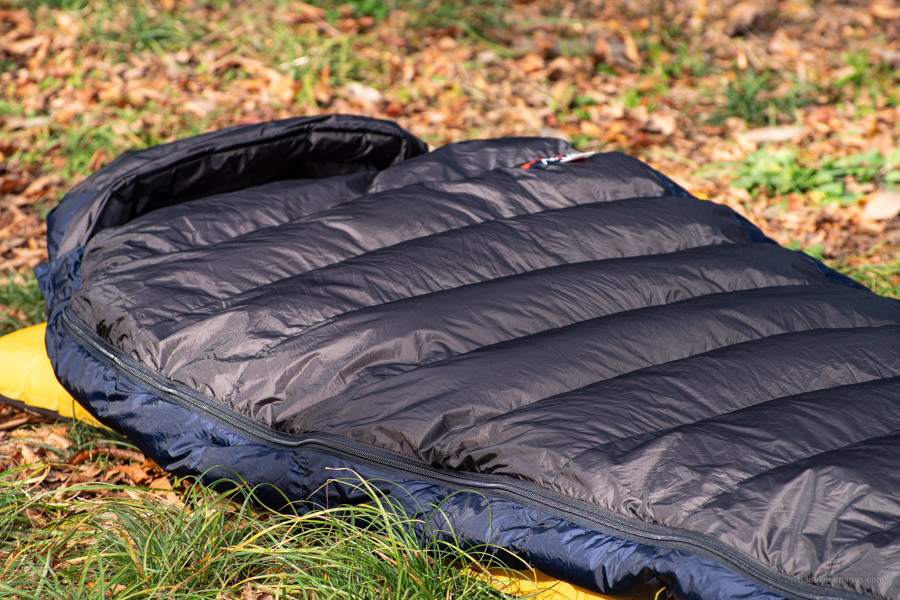 Nanga Aurora Light 450 DX sleeping bag.
The Aurora Light uses ethically sourced Spanish white duck down, washed in Japan and divided into ten horizontal baffles. The footbox is filled with a higher ratio of down to keep your feet warm. Made primarily for the Japanese market the regular bag is for sleepers up to 178 cm in height. Believe it or not this is a step-up on the Nanga Swellbag that tapped out at 175 cm! Even for a shortish person like myself (171 cm) it was only just long enough so this extra leg room is very much welcomed. The Aurora Light 450 DX also comes in a long (185 cm) as well as a short (165 cm) version. Other features include a shoulder warmer to prevent warm air escaping, a draft tube around the neck to block cold air from entering and a drawing string to cinch down the hood. A nice final touch is a phosphorescent tag on the snag free YKK zipper slider and a Velcro closure to stop it from being unintentionally undone while sleeping.
While the dimensions are identical to the Nanga Swellbag the Aurora Light 450 DX feels roomier with a snug hood. It very packable, compressing to a respectable 14×30 cm. The stuff sack Nanga includes with the Aurora Light is a feathery 19 g. A nice bonus is the included drawstring mesh bag making it perfect for long-term storage. Lastly, a strong point of any Nanga bag is the is the lifetime warranty. They can be repaired free of charge throughout the lifetime of the product. As far as I'm aware they are still the only sleeping manufacturer that for a fee will 'top-up' the down.
Performance in the Field
So far, I have used the Aurora Light 450 DX around half a dozen times this autumn with overnight lows ranging from around 8 to -2 degrees (snowy conditions). On colder nights I slept in a Montbell Warm Up Sheet with a lightweight Polartec fleece and thermal pants and remained comfortably warm. Layered with additional clothing I feel the Aurora Light would be fine to its Lower Limit EN temperature rating of -5 degrees. What I probably love most is waking up on high condensation mornings to the find the footbox completely dry thanks to the Aurora-Tex coating. Seems like a minor point but stuffing away a semi damp bag, yearning for some warm rays at the next campsite to dry it out isn't ideal. While it's a minor issue, re-stuffing the Aurora Light is more of a chore than it was with the Nanga Swellbag.
How it Compares
.
Final Thoughts
As a 3-season bag the Aurora Light 450 DX ticks most boxes. It will keep you warm down to at least its -5ºC temperature rating and also dry thanks to its breathable Aurora-Tex waterproof coating. Its compressed volume of 5.2 L means it takes up minimal room in your pack. A slight weakness of the Aurora Light however is the 760 Fill Power. I believe the bag would be a more attractive purchase with an 800FP even if with a price premium. Which brings me to another detail, the insane price of the Aurora Light 450 SPDX. I could understand if the bag was 20,000 yen more expensive but over double price for 860FP is nuts. With a street price of under 40,000 yen makes the Aurora Light 450 DX one of the best sleeping bags in its class and a compelling choice.
.
BOTTOM LINE
A well-priced, premium bag that combines warmth, low weight, and excellent packability backed by Nanga's lifetime warranty.
.
* When you use our affiliate links to make your purchase, the seller will contribute a portion of the sale to help support this site.