Tokyo's Best Public BBQ Spot
As far as hassle-free BBQ spots in Tokyo go, they don't get much better than Fuchu Kyodonomori BBQ Park. Believe me, I've been to many over the years. So, what sets it apart from the likes of Showa Memorial Park, Tamagawa Green Space BBQ Area, Sona Area Barbecue Garden near Odaiba, and Kawai Camping Ground in Okutama? The simple answer is that there are no fees and no reservations. I can't overstate how rare this is for a BBQ facility in the suburbs of Tokyo. On top of that, if you're lucky enough to grab one of the forested sites, you can feel like you've been teleported to the mountainous reaches of the prefecture. Just make sure to arrive early, especially if you plan on heading there on a weekend. The other nice thing is that it doesn't have any overly officious handlers watching over your every movement. In fact, the laidback nature of Kyodonomori BBQ Park is one of its most endearing features. Hopefully, it remains that way.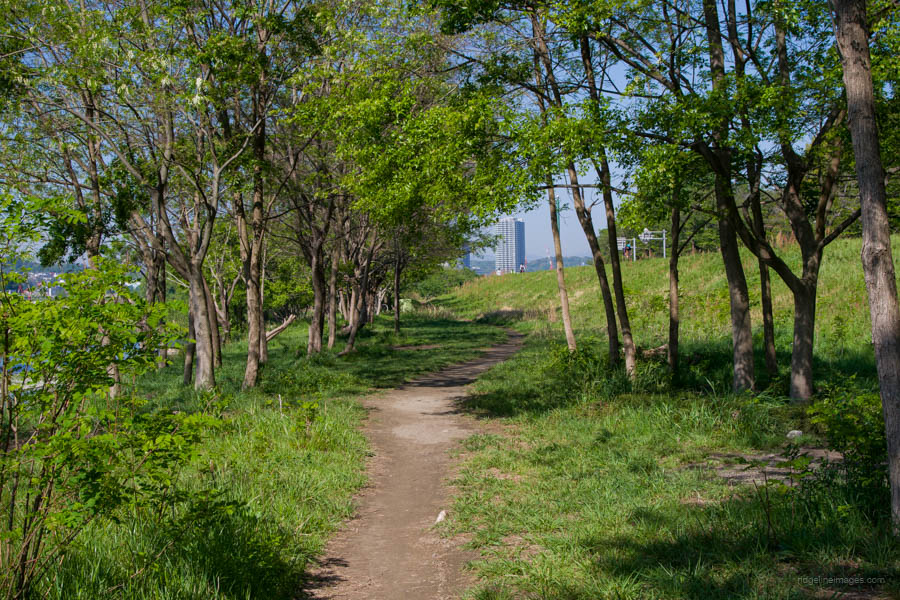 Kyodonomori BBQ Park in Fuchu City.
The only frustrating part is that it's taken so long to happen upon it. On a recent bike ride with a Japanese friend, I noticed some tents and hammocks alongside the Tama River, just past the Koremasa Bridge. He mentioned it was a day campsite, which naturally made me curious. So, after doing some basic research, I decided to pack my tent and portable BBQ and head down there on a weekday morning. I had no idea how popular it was going to be, so I thought it best to get there as close as possible to the official opening time. It was a good hour before the next campers showed up, which meant I could take my pick from the best spots, which, as it happens, are many. The day campsite has a sizeable riverside frontage of around 600 metres, which is a good thing as busy weekends pull in more than 2,000 people!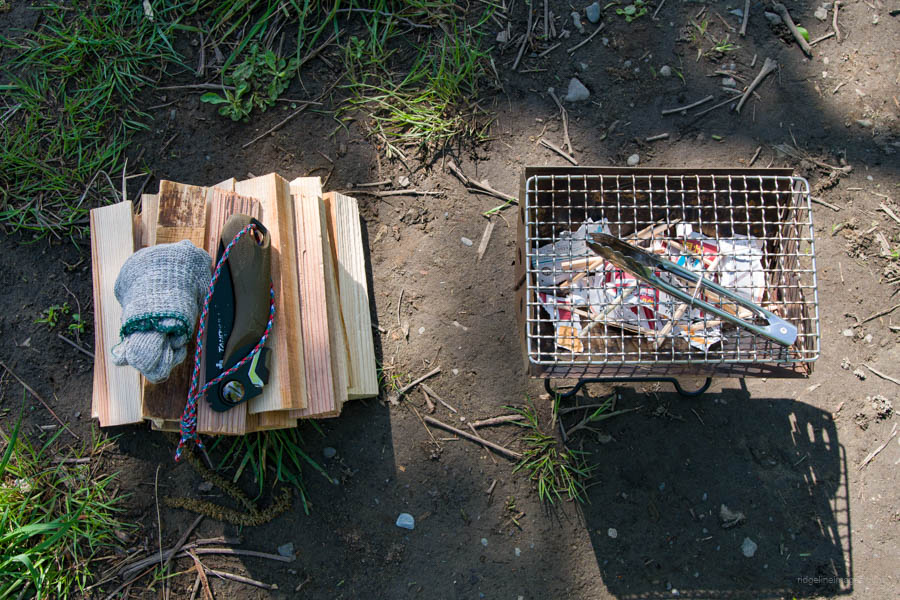 Prepping the UCO Mini Flatpack Firepit.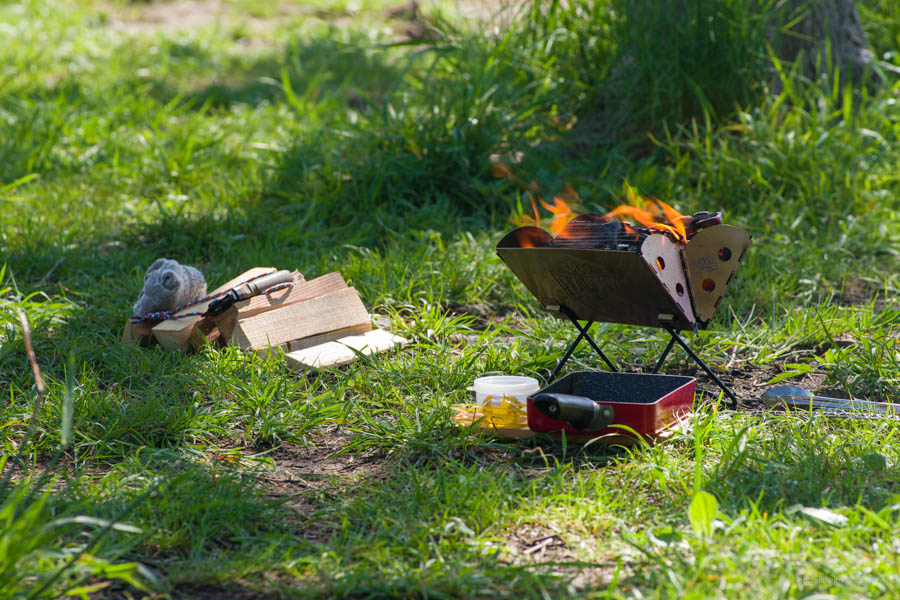 UCO Mini Flatpack Grill and Firepit.
After settling on a location nestled amongst some trees, I went about setting up my old Hubba MSR tent, which can be pitched with just the fly and footprint, allowing for plentiful airflow. Apart from the eyesore of an incinerator on the opposite side of the river, the park feels far removed from the hustle and bustle of the city. Along the riverbank, fishermen parked themselves patiently as I prepped my trusty UCO mini flatpack grill. The near-perfect conditions with only a slight wind made it ideal for a BBQ. On the menu was steak and a side of pan-fried potatoes, the cornerstone of any nutritious breakfast. After demolishing that, I took a walk and retreated to the sanctuary of my tent for a brief kip.
.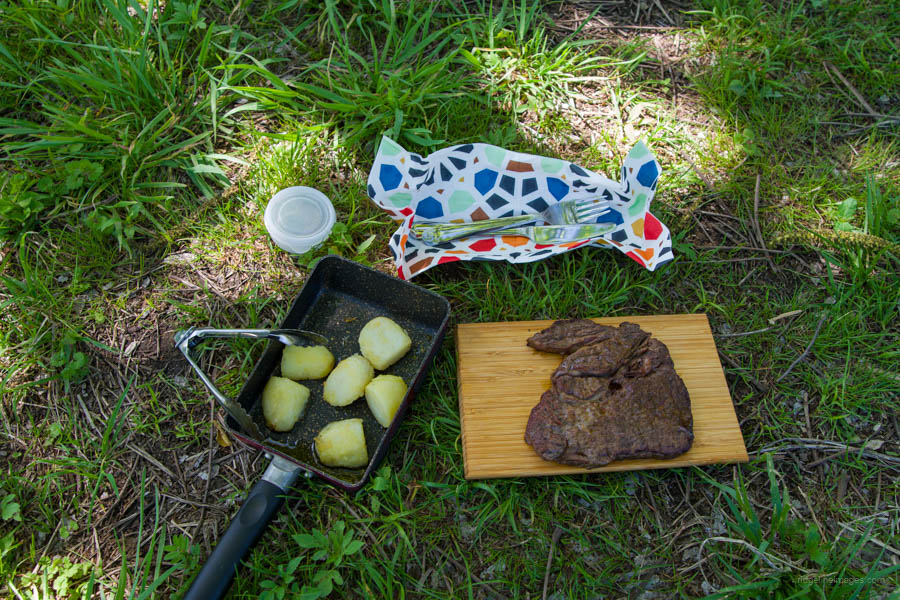 Itadakimasu.
Need to Know
The barbecue park is nestled between the Tama River and the Tamagawa Cycling Path in west Tokyo. Only groups with 50 or more people are required to make a reservation, which needs to be done a week in advance. Open all year round from 8:00 am to 9:00 pm; no overnight stays. Bring your own barbecue grill as campfires can't be lit directly on the ground. Drinking water, washup sinks, and public toilets.
Access
50 minutes by car from central Tokyo (10 minutes from the Chuo Expressway, "Kunitachi Fuchu IC"). There is a nearby parking area provided free of charge. By public transport, you're looking at a 20-minute walk from either Fuchu Honmachi Station (JR Musashino Line) or Koremasa Station (Seibu Tamagawa Line).