3-Day, 3-Season Backpacking Gear (Updated 2022)
It's been a couple of years since I last whipped out the scales and took inventory of the gear, I take with me on a three-season, three-day hike. Not surprisingly the bulk of the stuff I carry is mostly unchanged. Notable additions this time round include a KS Ultralight Gear KS50 backpack, Nanga Aurora Light 450 DX sleeping bag and Pentax K-3 Mark III. For a period of time, I experimented with the Canon PowerShot G7 X Mark III point-and-shoot but ended up selling it, as while pocket-sized I wasn't overly thrilled with the image quality. Although the base weight (the total weight, excluding consumables such as food, water, and fuel) has decreased a little the total weight of my entire gear kit hasn't gotten any lighter as I now carry an Aoka lightweight carbon tripod. I'm still a ways off satisfying the criteria needed to call myself an ultralight backpacker (sub 5 kg base weight). This is mainly due to creature comforts such as a regular length sleeping pad that I am loath to part with to reach that benchmark.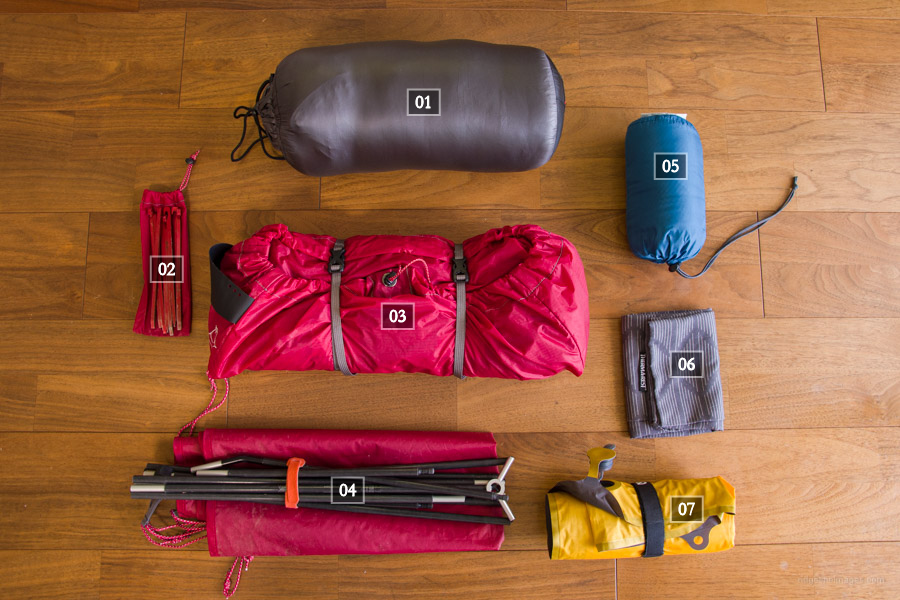 .
Sleep System
① Nanga Aurora Light 450 DX ② Needle stakes ③ MSR FreeLite 1 Ultralight ④ Easton Syclone pole ⑤ Montbell Warm Up Sheet ⑥ MSR Trekker pillow case ⑦ Nemo Tensor Insulated Regular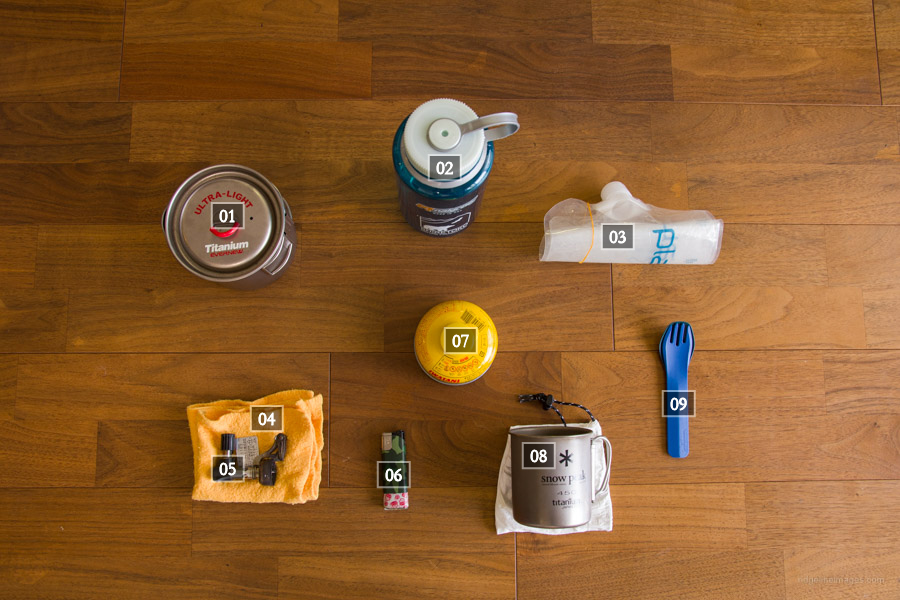 .
Cook System
① Evernew Ti Mug Pot 900 ② Nalgene wide-mouth 1 litre ③ Platypus 2.5 litre ④ Quick dry towel ⑤ Primus Femto Stove P-115 ⑥ Butane lighter ⑦ Primus Power Gas IP-110 ⑧ Snow Peak Titanium 450 ⑨ Humangear GoBites Duo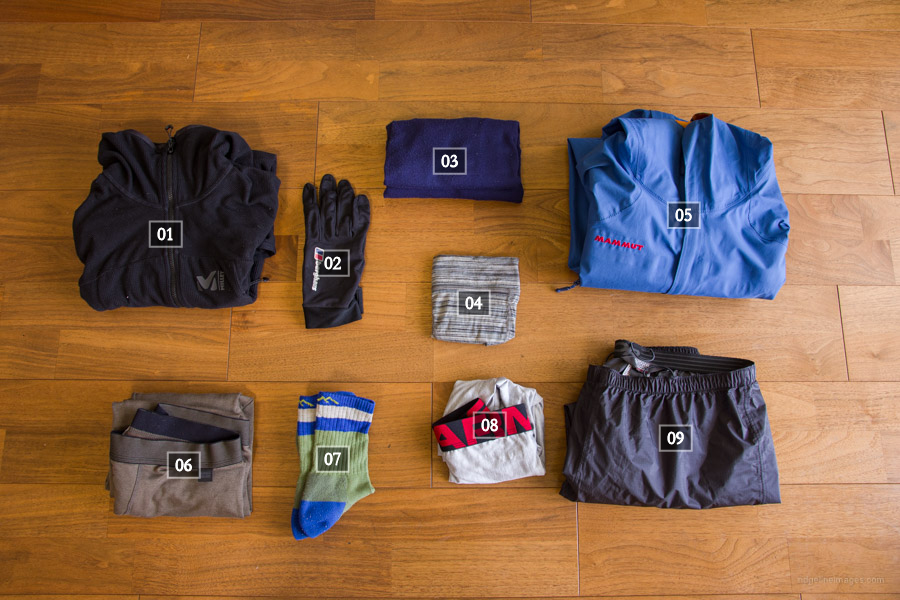 .
Clothing (Packed)
① Millet K Lightgrid Hoodie M ② Berghaus trekking mesh glove ③ Polypropylene crew top ④ Mammut Merino Helmet Beanie ⑤ Mammut Quantum II GORE-TEX Pro-Shell ⑥ Uniqlo Heattech Extra Warm ⑦ Darn Tough Light Hiker Micro Crew ⑧ UA Original Series 6″ Boxerjock ⑨ Outdoor Research Helium pants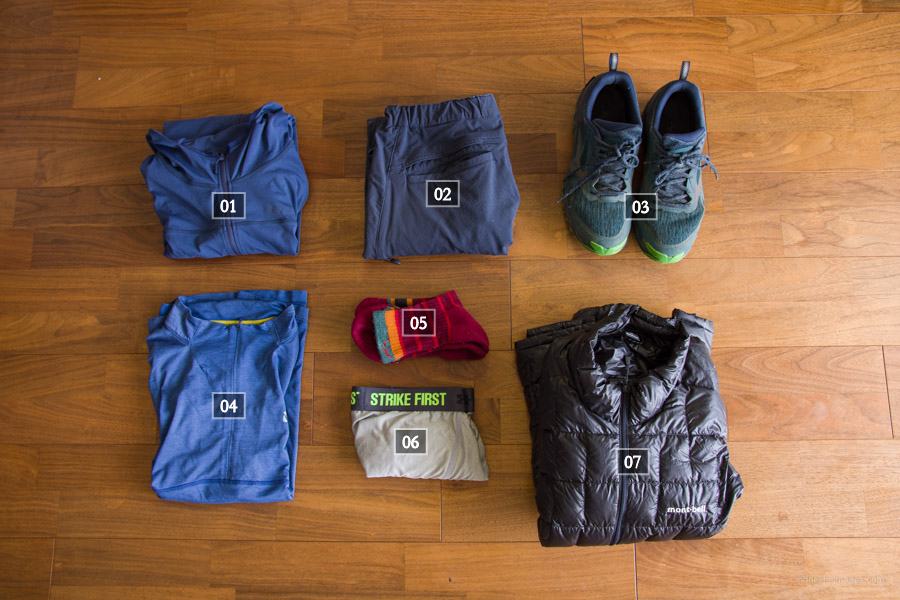 .
Clothing (Worn)
① Marmot sunscreen light hoody ② Phenix Alert Pants ③ Mizuno Wave Ibuki GORE-TEX ④ Millet Kuhtai wool zip ⑤ Darn Tough Light Hiker Micro Crew ⑥ UA Original Series 6″ Boxerjock ⑦ Montbell Plasma 1000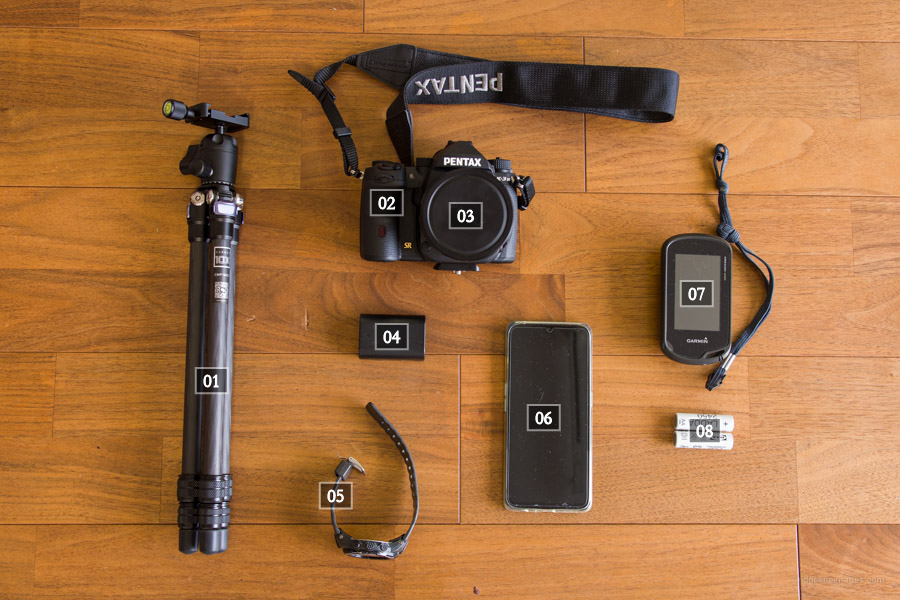 .
Photography & Electronics
① Aoka CMP163CL ② Pentax K-3 Mark III ③ Pentax-DA 20-40mm ④ Pentax D-LI90P ⑤ Casio Protrek PRW-3000 ⑥ Oppo Reno3 A ⑦ Garmin Oregon 600t with batteries ⑧ IKEA LADDA 2450mAh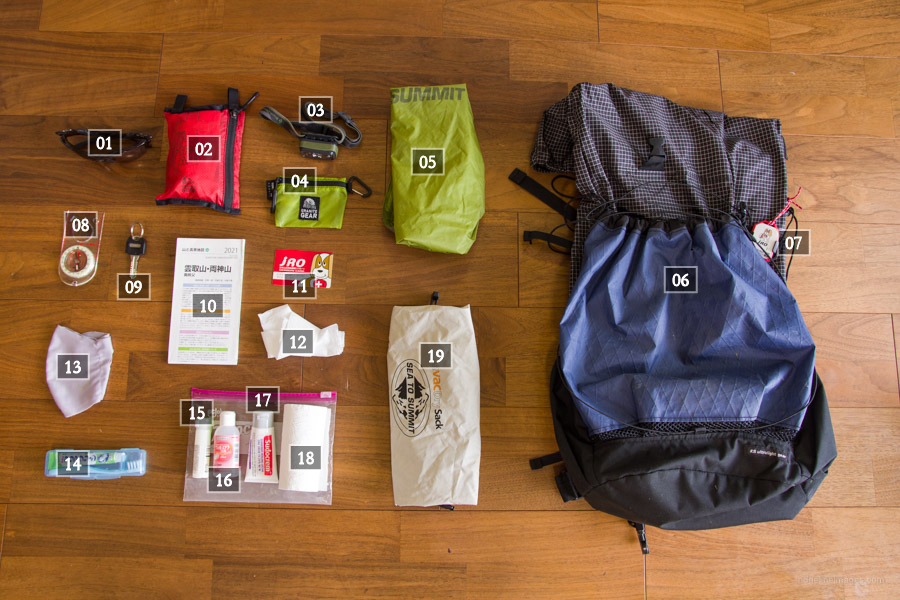 .
Misc.
① Oakley Half Jacket 2.0 sport ② Granite Gear First Aid Air Pocket ③ Black Diamond SpotLite 160 Lumens ④ Granite Gear trail wallet ⑤ Sea to Summit Ultra-Sil ⑥ KS Ultralight Gear KS50 ⑦ COCOHELI radio transmitter ⑧ Suunto A-30 L CM Explorer ⑨ House key ⑩ Yama to Kogen Chizu ⑪ jRO insurance card ⑫ Plastic film bag ⑬ Mizuno mask ⑭ Toothbrush & paste ⑮ Sunscreen ⑯ Hand sanitiser ⑰ Sudocrem ⑱ Toilet paper ⑲ Sea to Summit eVAC Dry Sack
3-Day, 3-Season Backpacking Gear (Updated 2022)
*Not included in base weight
Purchased after May 2020
Total base weight: 6570 g (- 320 g compared to 2020)
Consumables incl water: 4298 g
Camera, lens, and spare battery: 1595 g (+ 1277 g compared to 2020)
Fully packed: Including food, 2 litres of water and camera gear 12463 g (+ 873 g compared to 2020)