A Dependable Lightweight Tent from MSR
Mountain Safety Research has been at the forefront of lightweight durable tent design for many years and the MSR Hubba HP solo backpacking tent is no exception. While this tent is no longer sold in the North American market it remains available in Europe and Japan. The HP refers to High Performance and contains lighter, stronger and higher preforming fabrics over the regular Hubba solo model which has a mesh canopy. Other features include a more hard-wearing 10,000mm DuraShield polyurethane floor fabric, a gear loft, top vented rainfly, welded reinforcements and a marginally heavier frame weight. The tent is suitable for 3 season plus camping though its lightweight design is not designed for mid-winter expeditions and heavy snowfalls.
Having now spent a few nights now in the Hubba HP solo, I thought it would be opportune to write a review highlighting some of the tent's finer features as well as limitations.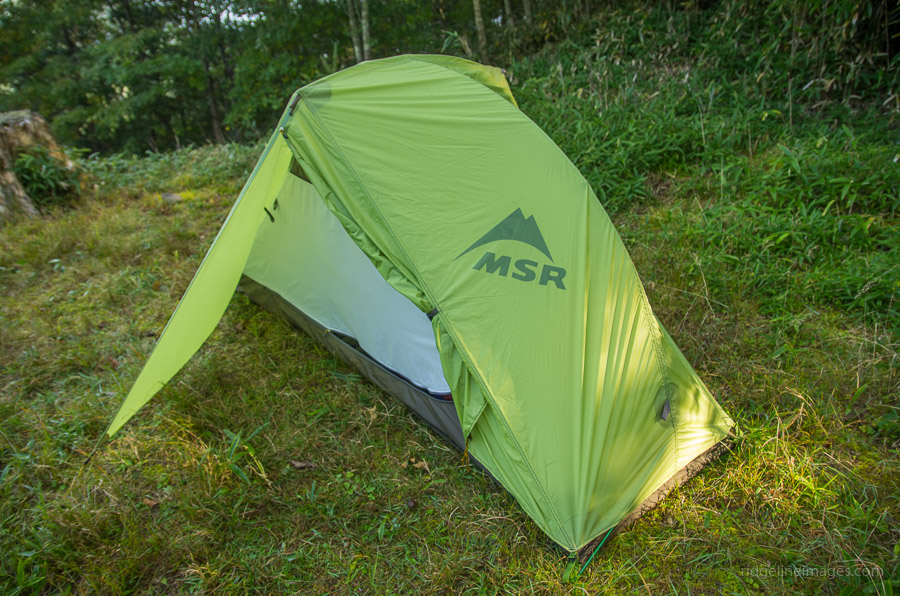 Freestanding MSR Hubba HP Solo.
First Impressions
When compared with my now aging Sierra Designs tent its weight and size presents a stark difference. Notable is the one piece lightweight aluminium alloy DAC pole which employees a hub-and-swivel design making setting up a breeze. It is freestanding which differentiates itself from the similarly appointed though lighter Carbon Reflex 1. The tent comes with six lightweight aluminium stakes, extra guy cord, a repair kit including a pole splint and clear patch. The side facing entry door is well thought out and a good sized vestibule provides indispensable space for keeping your gear out of the elements. A smaller vestibule exists on the opposite door side but isn't accessible from inside the tent. The canopy uses an ultralight ripstop fabric with a parachute like quality. Rounding it off are welded reinforcements judiciously positioned on the rainfly where the poles attach to the grommets. On first assembly the short cross pole proved rather unyielding and took some manoeuvring to get into position.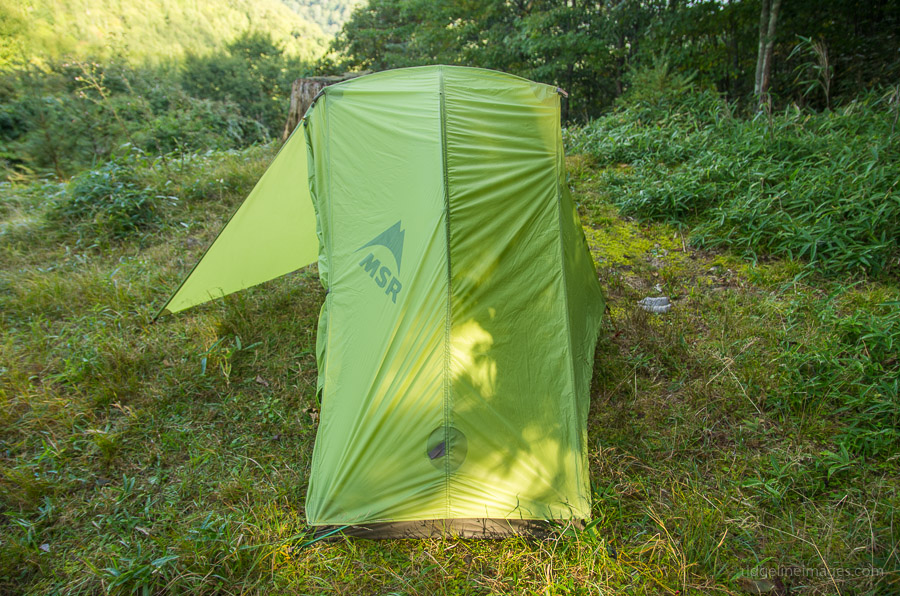 MSR Hubba HP Solo side view.
Weather Resistance
The tent seems to hold its own in the rain. Recently after spending a night camped out in the wet I was pleasantly surprised the tent's interior remained incredibly dry. As the tent utilises a double wall design condensation is seldom an issue even after heavy dew. The tent's single DAC pole does a fine job of keeping the canopy and rainfly from rubbing and thus reducing potential spots for condensation. On occasions where rubbing has occurred the resulting condensation has been rather benign. The rainfly's waterproofed zippers run smoothly and seams are fully weather sealed as one might expect from this calibre of tent. Although it has a 10,000mm DuraShield coated bathtub floor, I would recommend pairing it with the Hubba HP Footprint to keep the underside clean, cut down on abrasion and help extend the life of your tent.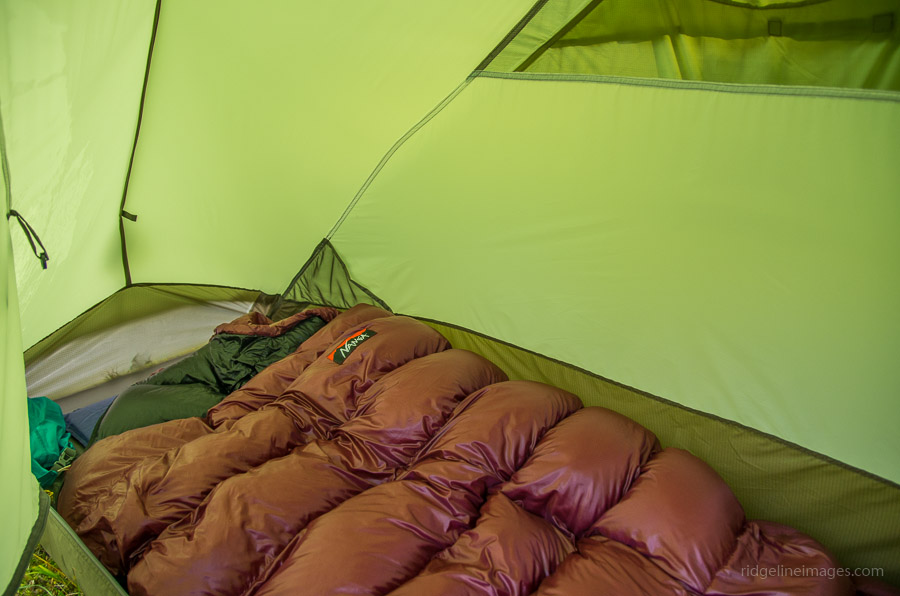 MSR Hubba HP solo inside.
Liveability
For a single person tent the Hubba HP is reasonable spacious at 218 cm in length and has a width of 70 cm giving a total liveable area of 1.4 sq.m. After laying out a full length Therm-a-Rest adequate storage space remains for personal belongings or a medium size pack. An added feature with this tent is the removable mesh gear loft which comes in handy for drying wet clothes and keeping your sleeping space organised. In addition there are two internal pockets for storing smaller items. The headroom is also plenty enough for moving about and getting dressed. For a compact size tent the Hubba HP is snug without exuding a feeling of claustrophobia.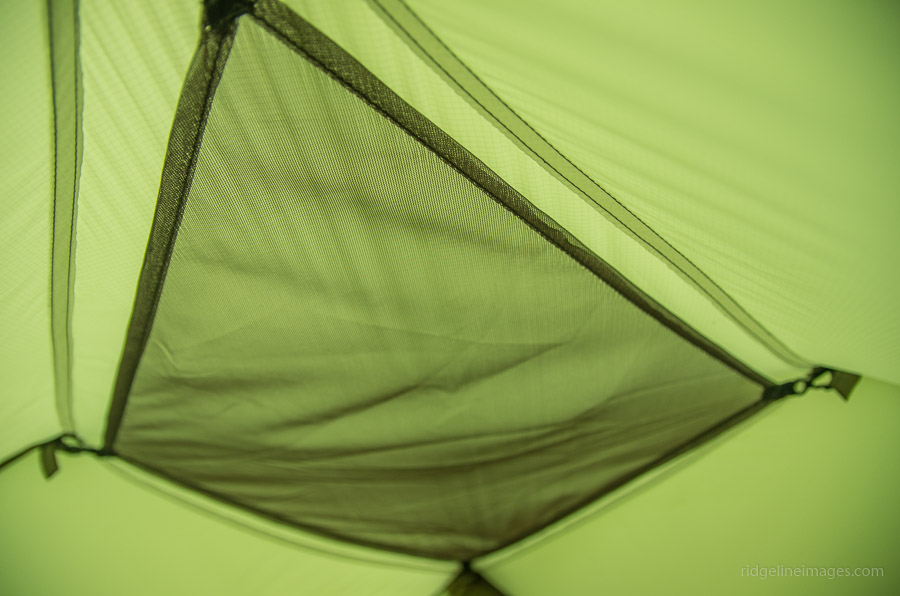 Mesh gear loft.
Performance in the Field
The trail weight including the Footprint comes in at a respectable 1.5kg. Depending on the climate it is possible to run with just the rainfly, poles and Footprint or the canopy without the rainfly for further weight savings. Putting up the tent can be accomplished in under five minutes with a little practice which is an important consideration when dealing with changeable weather. The tent provides sufficient ventilation through mesh built into the upper sections of the canopy and remains stable in strong winds when staked out. There are three additional guy loops on the rainfly that can be taken advantage of in more extreme conditions. The rainfly is also top vented to help with air circulation. Having slept through a few windy nights I am confident of staying comfortable and dry under most circumstances.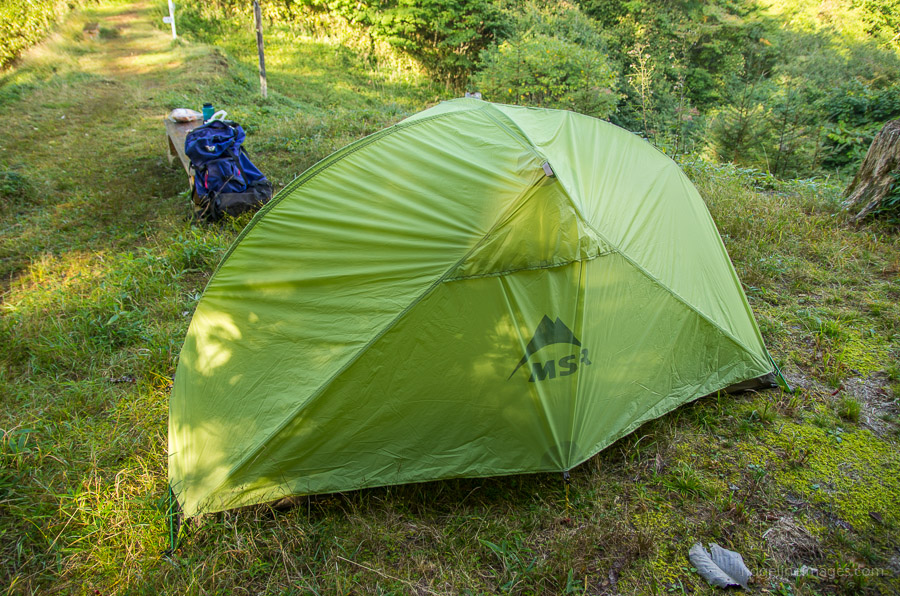 View from rear view.
Best Applications
The tent is best suited to any outdoor adventures where weight saving is a priority. Neutral tones help it blend in well with environment and a small footprint means it can be pitched in tight quarters. While I haven't used it in the snow MSR rates the tent at 3 season plus which should meet the needs of most backcountry enthusiasts. Owing to the tent's lightweight design it would be prudent to remove accumulated snow before it presents a hazard. For hikers looking for a regular three season tent the standard Hubba solo may have a better cost performance ratio and thus worth also considering.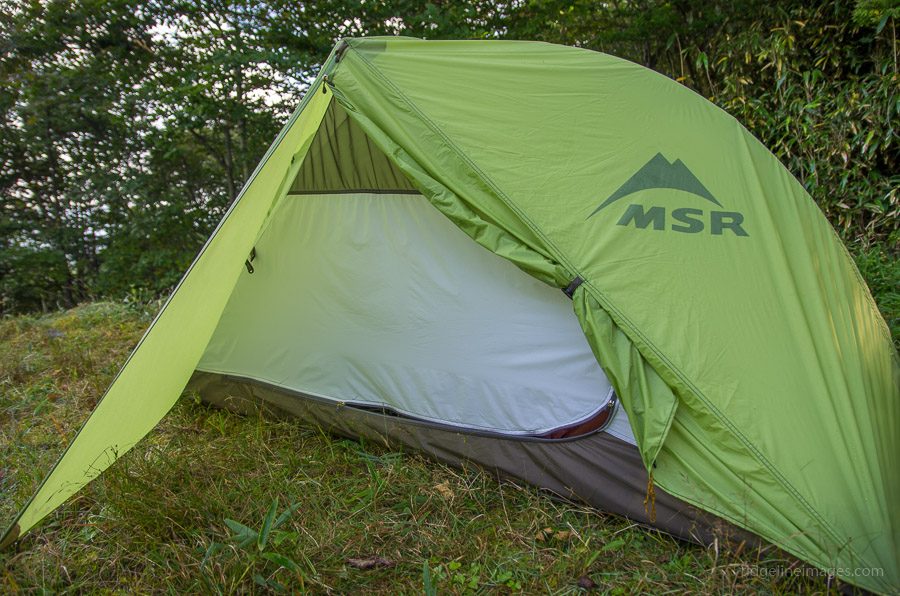 Side opening door.
Final Thoughts
Overall I have been very satisfied the MSR Hubba HP solo, the tent so far demonstrates itself to be a reliable companion on backcountry outings. It has performed according to its specifications and due to advancements in fabric technology over the past twenty years, means tents such as this one can now be both lightweight without having to compromise on features. Ideally a couple of extra centimetres of leg room would be nice, though the conundrum remains about achieving the right weight / performance balance which MSR seems to have pulled off. The only minor qualm was the poles were initially quite stiff but loosened up after a few uses and now fit more comfortably. While the tent is a little on the pricey side I am sure it will serve me well over the coming years.
BOTTOM LINE
Lightweight one person tent for 3+ season backpacking with multiple setup configurations for additional versatility.
  MSR Hubba HP solo tent: Specs
Capacity: 1
Number of doors: 1
Freestanding: yes
Number of poles: 1 DAC Featherlite NSL Green
Number of stakes: 6
Length: 2.18 m
Width: 0.70 m
Vestibule width: 0.84m
Floor + vestibule: 1.4 + 0.9 sq.m.
Interior peak height: 102cm
Packed size: 51 x 15 cm
Frame weight: 354 g
Fly with Footprint weight: 870g
Minimum weight: 1.16 kg
Packaged weight: 1.36 kg
Fly: 20D ripstop nylon 1000mm DuraShield polyurethane & silcon coated
Floor: 40D ripstop 10,000mm DuraShield polyurethane coated
Footprint: 68D polyester fabric with 2,000mm waterproof polyurethane coating
Country of origin: Taiwan / Footprint China
MSR Hubba HP solo: ($419 USD) (as at Oct 11, 2013)
*AVAILABLE AT: AMAZON JAPAN
.
* When you use our affiliate links to make your purchase, the seller will contribute a portion of the sale to help support this site.