Navigation Toolkit You Need to Safely Hit the Trail
Over the years one thing this blog has tried to hammer home probably the most is keeping safe and out of harm's way on the trail. Even with the best preparation it doesn't take much for things to go seriously awry. Part of this hike planning revolves around having a navigation toolkit to deal with various scenarios you may come up against. To start with, before heading out your best ally to garner dependable information about the latest trail conditions are YamaReco and YAMAP. It's worth signing up to one of these services if only to download the all-important GPX track. Personally, I wouldn't go for a hike without first uploading the GPX track to my Garmin Oregon. Along with my Garmin I carry a topographic map, ABC watch, compass, smartphone, and COCOHELI radio transmitter all of which are discussed below.
Contents
1. Map: Yama to Kogen Chizu
2. Handheld GPS: Oregon 600t
3. Compass: Suunto A-30L
4. ABC Watch: Casio Protrek PRW-3000
5. Smartphone: Oppo Reno3 A
6. COCOHELI radio transmitter
1. 

Map: Yama to Kogen Chizu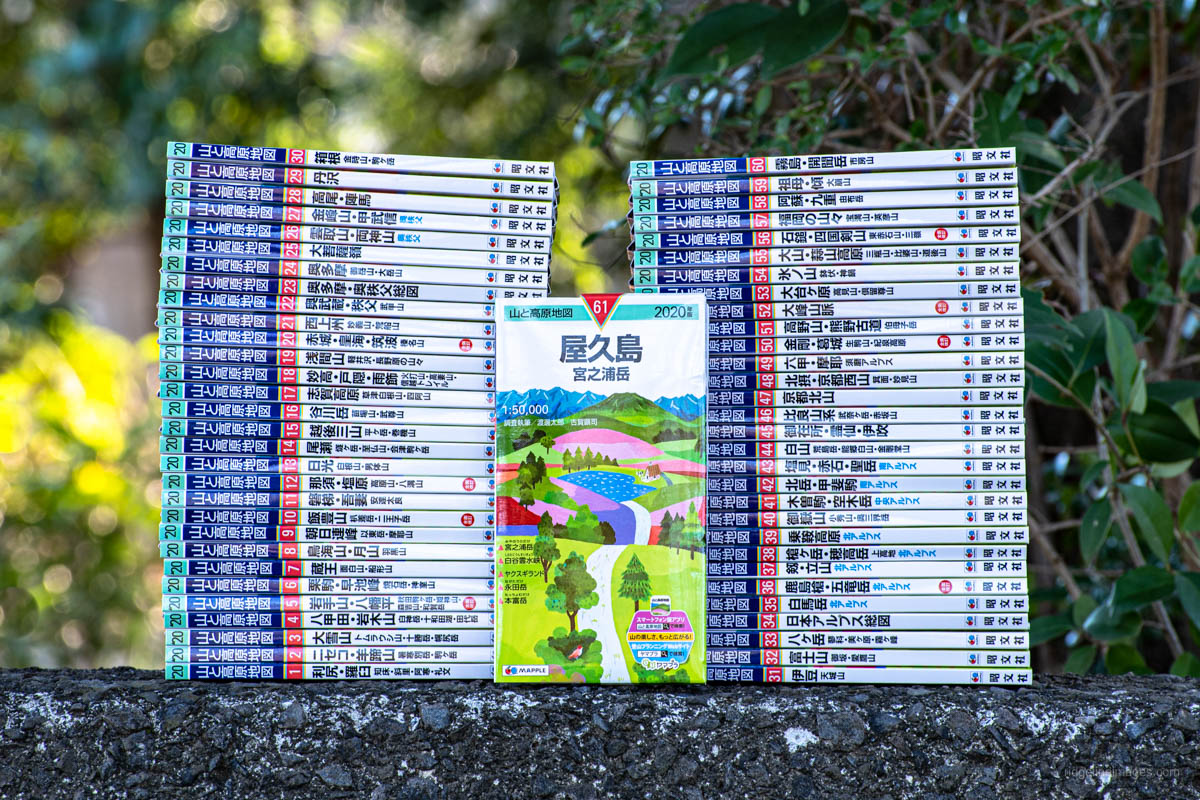 Apart from the shortest of day hikes, it's a wise idea to carry a proper topographic map. Basically, they come in two flavours. First are the official the 1:25,000 scale Geospatial Information Authority of Japan (GSI) map sheets readily available at large bookshops such as Kinokuniya, Maruzen and Junkudo along with many outdoor stores. They are stored in flat drawers so you may need the staff assist you tracking down a specific map. You'll probably only want to reach for a GSI map when either the hike falls outside one of the Yama to Kogen map sheets or you require the extra detail of a small-scale map. For more information about reading GSI topo maps check out this how-to guide.
Second and most popular are the annually updated (2022 58th ed.) Yama to Kogen Chizu "Maps of Mountains and Plateaus" by Shobunsha Publications a.k.a. MAPPLE (generally 1:50,000 scale). Hiking oriented topo maps such as Yama to Kogen Chizu include course times, information about steep and hazardous terrain with stylised colour coding tailored to hiking. Only the map sheet name and 100, 200 and 300 Famous Japanese Mountains include English translations. A full catalogue of their 61 maps for 2021 can be found here along with a how-to guide to reading them.
Price wise you're looking at 435 yen for multicoloured GSI maps and 356 yen for the former three-coloured ones vs. 1,210 yen including tax for Yama to Kogen Chizu (for the 2022 edition Shobunsha bumped up the price by 100 yen).
2. 

Handheld GPS: Oregon 600t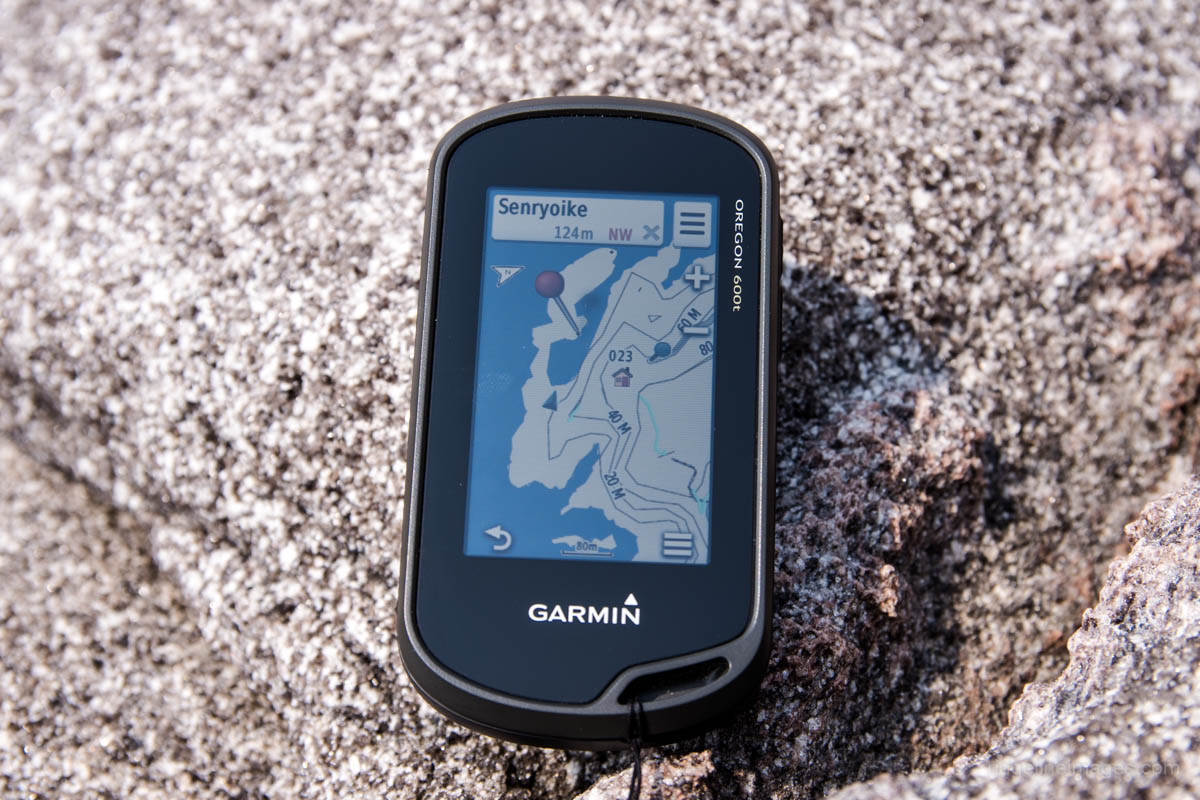 This one is going to come down more to personal preference but a standalone GPS has some distinct advantages over a GPS capable smartphone. Up until 5 years ago, I never bothered carrying either and felt safe relying on a paper map along with the altimeter on my Casio Protrek. The problem with this is the 1:50,000 scale Yama to Kogen Chizu maps don't provide sufficient granularity. Contour lines are spaced too close together, minor trails, bridges, and waterways are often omitted which can make it tricky to pinpoint your precise location and remain 'staying found' (keeping track of your position on the map). The obvious appeal of the Oregon 600t over a smartphone is shock resistance, waterproofness, the bright 3-inch touchscreen display cuts down on glare, remains readable in direct sunlight, and uses rechargeable nickel-metal hydride (NiMH) batteries. A pair of IKEA LADDA 2450mAh last a full day of heavy use and more often than not an entire weekend. Importantly for readability the Garmin base map has contour lines every 10 meters as opposed to 20 metre intervals on the Yama to Kogen Chizu.
A drawback of the Garmin Oregon is it doesn't offer live tracking like the Garmin inReach mini that allows friends or family to follow your trip progress via a map website page. Another advantage of the inReach mini is you can send and receive text messages and get weather updates, though for these capabilities you need an active satellite subscription to access the Iridium satellite network. With a bit of luck, the Oregon 800 series if it ever gets released will have this functionality baked in.
3. 

Compass: Suunto A-30L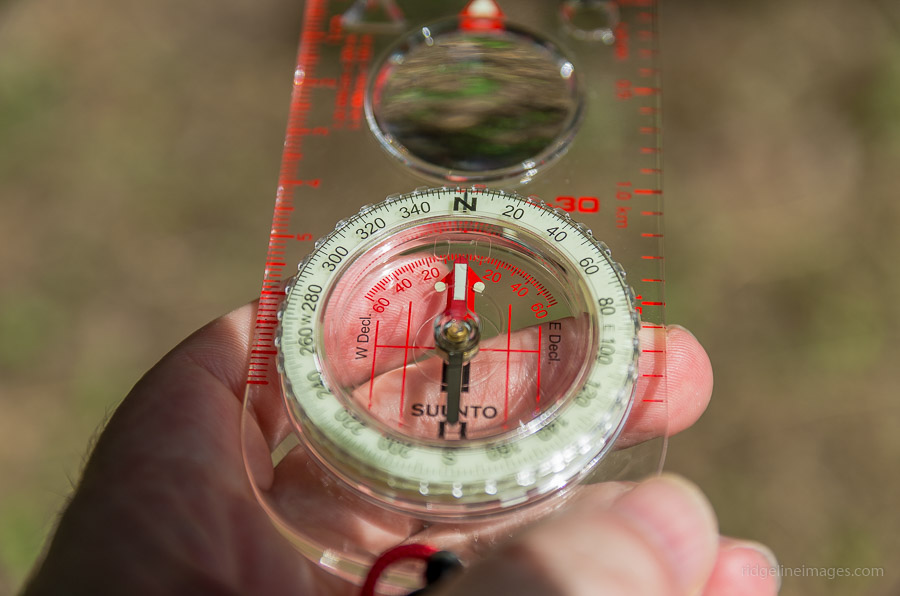 For a miserly weight penalty of around 30 grams carry a compass (and know how to use it). In most cases a simple baseplate compass like the Suunto A-30L with a declination correction scale, magnifying lens and ruler will do the trick. More advanced navigation compasses such as those with a sighting mirror aren't necessary – having said that, a mirror can be useful as a signalling tool. As a plus the Suunto can be operated in low light thanks to its luminescent markings. In an average hiking season, I'd be lucky to reach for a compass more than a couple of times and only then usually at unmarked trail junctions. A compass however can't tell you where you are or where you've been which is the biggest advantage of using a GPS-enabled device. For those looking to brush up on your map and compass skills I recommend Staying Found by June Fleming.
4. 

ABC Watch: Casio Protrek PRW-3000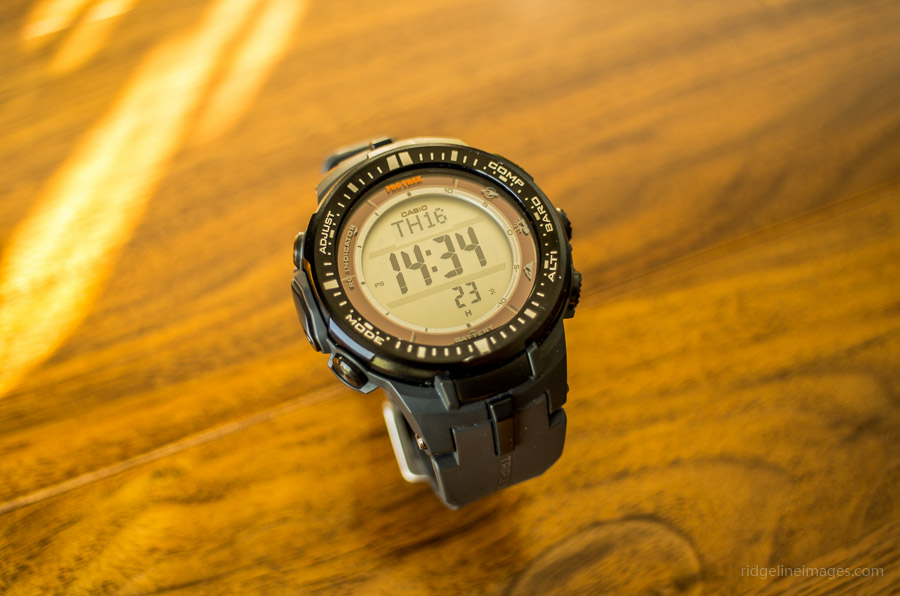 Sport watches such as the Casio Protrek PRW-3000 include miniature sensors for measuring altitude (Altimeter), barometric pressure (Barometer), and directions (Compass) hence the moniker ABC. Before picking up the Garmin Oregon I would use the altimeter to help pinpoint my elevation on a topographic map. The altimeter determines the altitude at your current location based on accumulated atmospheric pressure changes measured by the pressure sensor. The trouble is it isn't particularly accurate and it can be out by a magnitude of one hundred metres or more. Given such deviations it's a good idea to calibrate at known heights for keeping a relatively good accuracy.
5. 

Smartphone: Oppo Reno3 A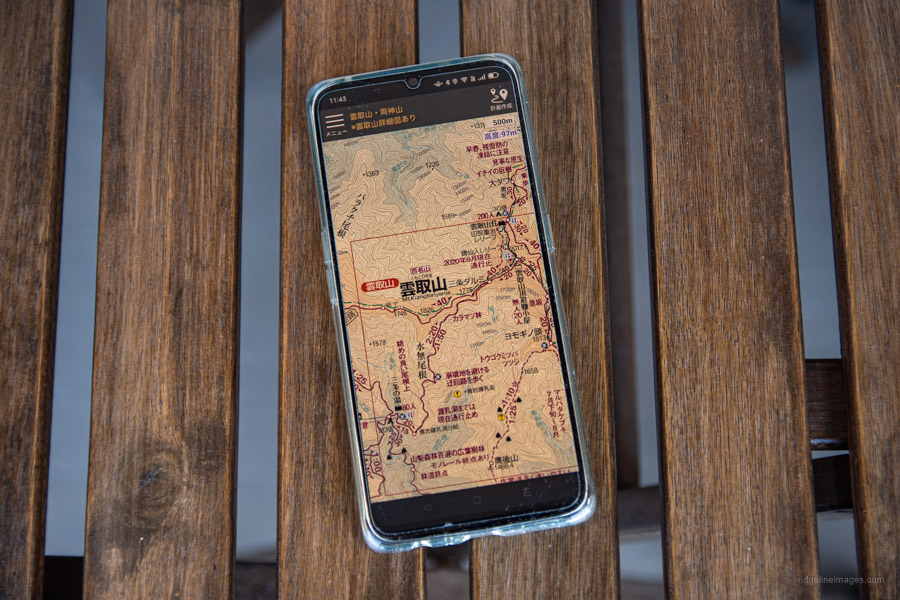 For those of you that prefer the convenience of your smartphone there quite a few GPS apps at your disposal. Yama to Kogen Chizu offers an app for iOS (iPhone/iPad) and Android where you can buy individual maps for 500 yen or have access to all maps for 400 yen per month. The downside is due to the screen size it can be hard to get a grasp of the wider area and therefore best used in conjunction with a paper map. Like last year (2021) if you install Shobunsha Publication's Yama to Kogen Chizu Hodai app you receive one year of free digital map access corresponding to the paper map you purchased. Simply install the Hodai app and to launch the app version of the map scan the QR code at the back of the accompanying booklet (QR code valid until March 31, 2023). Other standalone GPS apps to check the latest trail conditions and weather include YAMAP premium annual membership 3,480 yen, YamaReco premium annual membership 3,400 yen, Geographica one-time fee 1,500 yen and Windy.com (free and without ads). For route planning try Ride with GPS, arguably the most comprehensive bike (and hiker friendly!) tool out there.
6. 

COCOHELI radio transmitter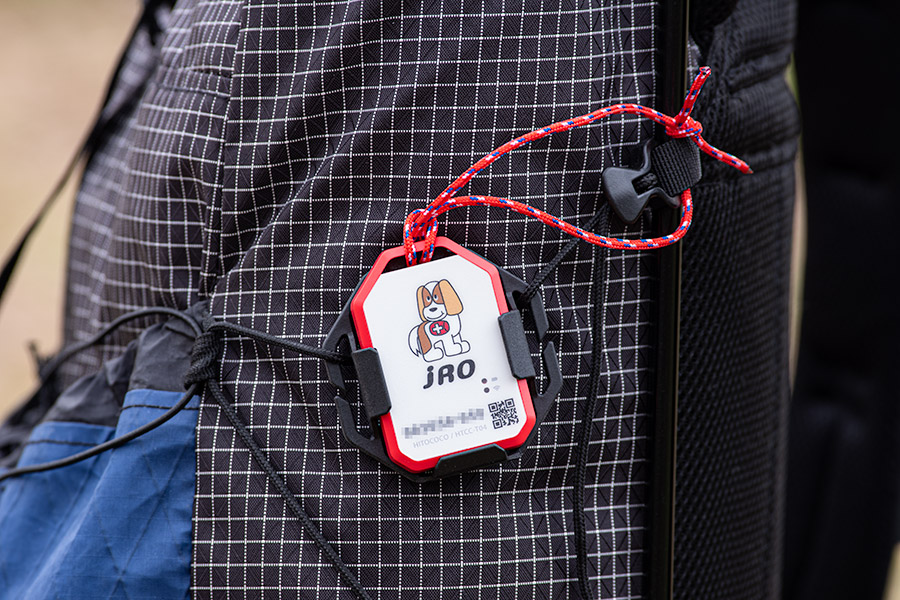 COCOHELI is a membership-based helicopter search service run by Fukuoka based AUTHENTIC JAPAN that covers most mountainous areas. The service is worth subscribing to if you hike regularly. Members receive a small lightweight (20 g) radio transmitter with a unique ID number that can transmit radio signals up to 16 km. In the event that a member is lost or injured a search helicopter is dispatched. The emergency call can be made by either the member provided they have cell phone reception or by a friend or loved one on failure to return. Once in the search area a dedicated receiver picks up the radio waves emitted from the transmitter helping to quickly locate the missing hiker. Additional helicopter support may be needed to winch the person or depending on weather and terrain they may need to wait for a mountain rescue team. In other words, COCOHELI finds out where you are, and mountain insurance such as jRO (Japan Rescue Organization) is needed in case rescue costs are incurred. Their 'Simple' annual membership plan starts at an affordable 4,015 yen (plus a one-time admission fee of 3,300 yen plus tax). For those without a jRO membership can enrol in the full package with a significant discount here.