Viewing Interactive GPS Maps Then & Now
Not long after starting this blog I began using the pro version of WP Google Maps, a WordPress plugin to plot 'polylines' to display my hiking routes on Google Maps. As I commented at the time not having a map associated with each hike was a drawback of the site. Each new polyline was defined by clicking on the map to insert or move each vertex (waypoint) which was both time consuming and not exactly accurate. In many cases it was just a best guess of the route as Google Maps typically doesn't display contour lines or hiking trails. For comparison I've included below an example of the polyline hiking route side-by-side with new interactive map app.
Another issue was and still is the polyline data can only be downloaded to a CSV file for use in a spreadsheet program, such as Microsoft Excel as the plugin doesn't have compatibility with GPX coordinates. Finally, WP Google Maps doesn't provide a means to display the elevation profile of the route such as sites like YamaReco and AllTrails.
Ride (and Hike) with GPS
So, bye-bye WP Google Maps and hello Ride with GPS arguably the most comprehensive bike (and hiker friendly!) route planner out there. This is also a good time to give a shout-out to Rob Thomson at Hokkaido Wilds for his assistance in helping me get started with the app. With over 80 hikes on Ridgeline Images I thought it would take at least a month to switch them over to Ride with GPS, but thanks to its user-friendly interface getting the workflow dialled in was a breeze and ended up taking less time than expected. Rather than tidying up existing GPX files I found it more time-efficient to replot most of the hiking trails using the route planner that just snaps onto roads and trails you tap. Anyhow, instead of waxing lyrical about the benefits of switching to Ride with GPS let's talk about some of the tweaks I've made to each hike report and map. In this example I'll use Mitosan a perennial favourite amongst Tokyo based hikers.
Mt. Iyo イヨ山 – Mt. Nukazasu ヌカザス山 – Mt. Mito 三頭山
Duration:
5 hours
Distance:
11.4 km
Elevation change:
991 metres
Highest point:
1531‬ metres
Difficulty:
Start:
Ogouchi Jinja Bus Stop
Finish:
Kazuma Bus Stop
Map:
Yama to Kogen Chizu
山と高原地図 [No.24 奥多摩 OKUTAMA]
.
GPX Track
KML Track
GSI MAP
PDF Topo Map
.
The summary table now includes the GPX track and KML files.
Additions to the Hike Summary Overview
Straight off the bat the summary table now includes the ability to print a PDF topo map. The default size is A3 however can be scaled according to the paper size. These simplified topographic maps are designed to show 'at a glance' an overview of the hiking route annotated with POIs (Points of Interest) rather than the granular detail found on the Yama to Kogen map sheets. Hopefully, a useful aid when initially planning out the hike though not meant as a substitute for carrying a proper topographic map.
Downloadable PDF topo map showing the route and POIs in the margin.
Google Earth like a Boss
Next up is the GPX track file which includes POIs seen on the embedded maps saved as waypoints. You can also download directly from the Ride with GPS GPX URL but will strip it of POIs unless you're a premium subscriber. Last of all is the Keyhole Markup Language (KML) file for use in the Google Earth platform. This nifty file provides a bird's-eye view of the hiking route in its full glory. Terrific for previewing what the passes look like, places you'll be camping and overall terrain you'll be up against. Just download and open the file in Google Earth and it will teleport you to the hike (zoom down closer to ground level to see the three-dimensionality come to life).
.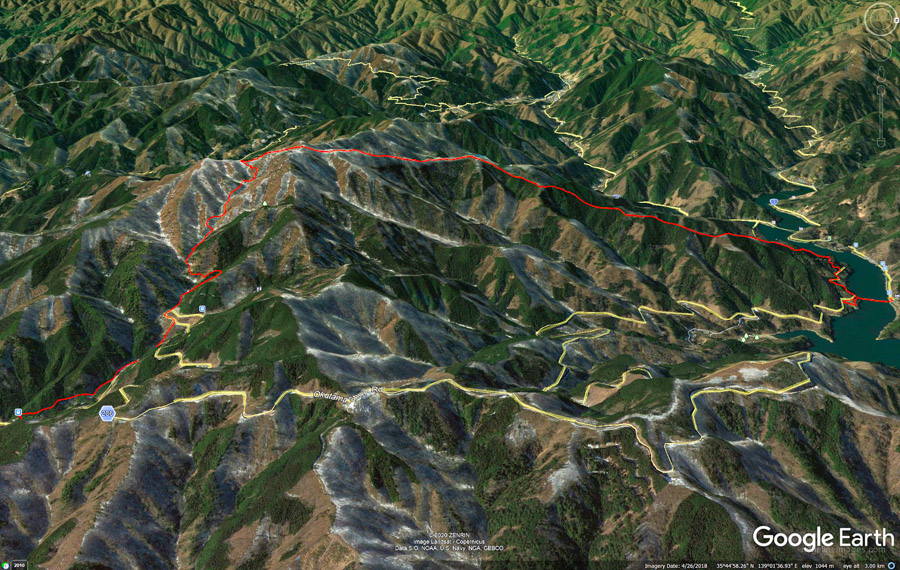 The Google Earth platform allows the hiking route 'come to life' in 3D.
Sharing Your Hiking Adventures With Ride With GPS
This brings us to the Ride with GPS embedded hiking route itself. Each interactive map shows the POIs which can be hovered over or clicked to show more information along with the elevation profile underneath. Unlike the WP Google Maps plugin where you are constrained to Google Maps roadmap, terrain, satellite and hybrid variants, Ride with GPS also includes a further five styles for use outside the U.S. (excl. USGS Topo & USGS Scans) which can be changed on the fly. These include ESRI Topo and the rather excellent OSM Outdoor and RWGPS: Ride with GPS signature map both of which are based on Open Street Maps. You can also click and drag the elevation graph to select parts of the route.
Clicking "View Full Version" goes to the ride page for additional metrics, export and sharing options. After installing the Ride with GPS app on your device, clicking "Send to Device" is an easy two-step process to send the route to an iPhone or Android device (also compatible with iPad, Apple Watch, Android Wear and Garmin Edge). After doing this tap the notification on your smartphone where you will be prompted to view or download the route and Bob's your uncle. Note only basic and premium subscribers can download their routes to their phones and navigate without a data connection. Alternatively download the GPX track and use it on any handheld GPS unit such as the Garmin Oregon 600t.
.
Ride with GPS interactive map and POIs.
Using the WP Google Maps plugin to display a 'polyline' hiking route.
Over the years I've had numerous requests to upload GPX tracks from my hikes and hope that implementing Ride with GPS on Ridgeline Images goes some way towards redressing this shortcoming. As always if you have any feedback, suggestions or pearls of wisdom please leave a comment.
.