MAPPLE Special Online Maps Campaign for 2021
The map images and contents of this article have been obtained with the permission of the publisher (Shobunsha).
Come February or March each year Shobunsha Publications a.k.a. MAPPLE release an annual update of their popular Yama to Kōgen Chizu "Maps of Mountains and Plateaus", and this year is no exception. According to their website revising this year's edition (2021 57th ed.) was challenging owing to the pandemic and compounded by States of Emergency reducing the time available to carry out detailed field surveys. Having said that they still managed to completely revise 46 maps of the entire suite of 61 listed below. On February 22, 40 maps are scheduled for release with the remaining 21 to be released on March 5. The price remains unchanged at 1,100 yen including tax. For more information about reading Yama to Kōgen Chizu topo maps check out this how-to guide.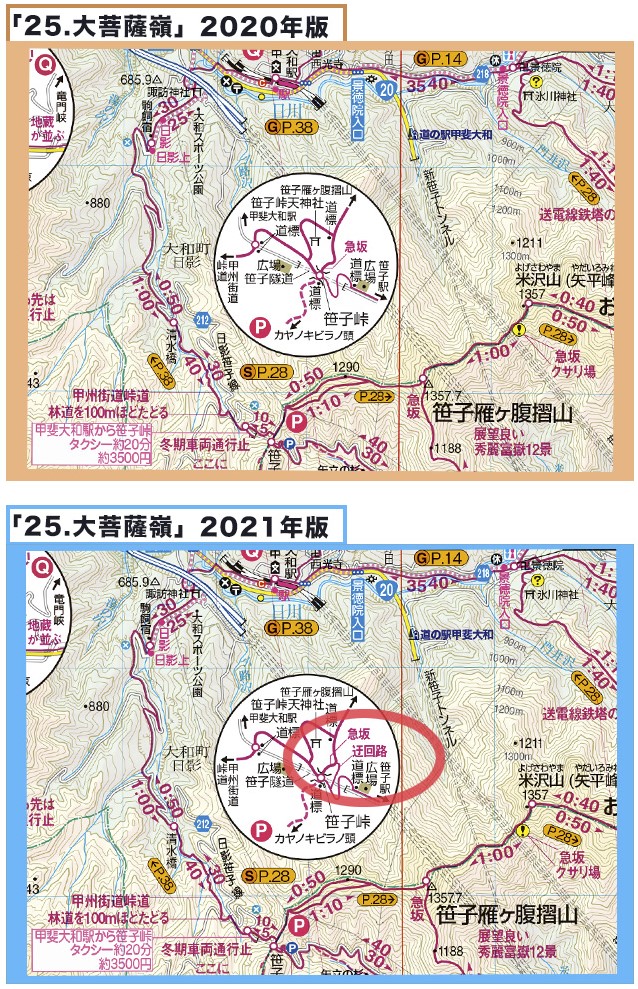 DAIBOSATSU-REI map insert showing an ukairo 迂回路 alternative route. Image: Shobunsha.
Minor adjustments were made to each map layout such as the magnified map inserts at confusing trail branches and road junctures to simplify direction-finding. While these enlargements have been in use since 2015, they now include more detail in spots where there is an increased likelihood of getting lost. The map maker has also drawn more attention to information that can greatly affect climbing plans such as road closures due to landslides or construction work. The updated maps reflect changes (presumably reductions) in the number of buses running to and near trailheads thanks to the pandemic.


TANZAWA map showing tsūkōdome 通行止め road closure information. Image: Shobunsha.
To finish with, as a special offer this year if you install Shobunsha Publication's Yama to Kōgen Chizu Hōdai app you receive one year of free digital map access corresponding to the paper map you purchased. Simply install the Hōdai app and to launch the app version of the map scan the QR code at the back of the accompanying booklet (QR code valid until March 31, 2022). Along with displaying your current location and recording track data you can create hiking routes by marking waypoints on the map. Alternatively, access to all 61 online maps is available for 400 yen per month through the Yama to Kōgen Chizu Hōdai app and in app purchases of individual maps are 500 yen though the Yama to Kōgen Chizu app.
Yama-to-Kōgen Map List 2021 【山と高原地図 2021年版】
※ Denotes custom map scale (standard Yama-to-Kōgen Chizu scale 1:50000)