Getting Down to the Nuts and Bolts
From July 21st to July 29th, 2023, I completed a full-length traverse of the entire Southern Alps from Hirogawara in Yamanashi Prefecture to Akaishi Onsen Shirakabaso hot spring in Shizuoka Prefecture, a distance of some 94 km. It was my fourth hike to the area and my first time further south than Mt. Warusawa. I took it on as both a personal challenge and something I had been eager to try since reading about it in Lonely Planet Hiking in Japan.
It was on the cards to do it last year, but with some huts and transport services still impacted thanks to COVID and other pressing issues at home, I decided to postpone it. In the following post, I describe the planning I undertook, with a particular focus on the logistics and practicalities of undertaking this multi-day adventure. It also includes a deep dive into the gear and food I brought along with me.
It goes without saying that this is one long, tough hike through some of Japan's most stunning and remote mountains. In the Cicerone guidebook, which covers the trek, the author's Tom Fay and Wes Lang make no bones about it, declaring that it's "Japan's toughest yet most rewarding multi-day hike". In total, it traverses six of the 100 Famous Japanese Mountains or Hyakumeizan, including four I hadn't yet climbed. Rather than staying in huts along the way, which would have made it decidedly easier, I did it completely self-supported. It also included a side trip to Mt. Tekari, which lies in the deepest part of the Southern Alps.
"Japan's toughest yet most rewarding multi-day hike". (Tom Fay and Wes Lang, The Japan Alps and Mount Fuji Cicerone guidebook)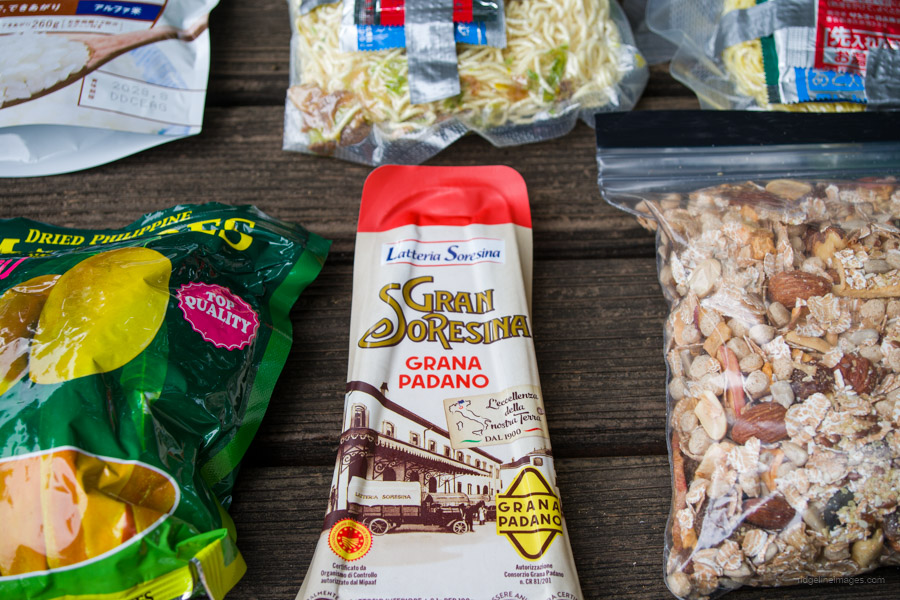 Southern Alps Traverse food including Grana Padano cheese.
Why 9 Days?
Both Lonely Planet Hiking in Japan and the Cicerone guidebook, which cover the trek, suggest 8 days, including the return trip to Mt. Tekari. By all means, if you're a strong hiker who doesn't mind long days, this is a good way to tackle it. It's also possible to finish it even quicker in 6 days, although to do this expect to put in 13-plus hour days. My personal preference was to limit my days to no more than 10 hours. I find that if I am hiking any longer, fatigue starts to kick in, and the fun factor quickly fades. Whichever way you decide, try to stick to it, as the final two campsites at Hijiridaira Hut and Chausu Hut require advanced reservations, along with, of course, the return bus to Shizuoka Station.
Some other reasons you might want to consider a more 'leisurely' 9-day approach include:
▪ Provided you get an early start you can have most of the hiking done by lunchtime.
▪ Breaks up stages 3 to 5 that have back-to-back 10-plus hour days.
▪ Ensures Mt. Akaishi and Mt. Hijiri are not climbed on the same day. The two toughest Hyakumeizan on this hike are Mt. Shiomi from Kumanodaira Hut and Mt. Hijiri from Hyakkenbora Hut.
▪ The weather in the Southern Alps is fickle at the best of times, and thus the best views are usually early in the morning. Expect clouds and mist, particularly on the higher peaks, to start rolling in from 10 am onward.
▪ Offers some extra wiggle room due to unforeseen events, such as being held up by bad weather. 
.
As a general rule, I was packed up and on the trail by 4:30 am each day, arriving at the next campsite no later than 2 pm. While the temperature in the morning and nights were cool, hiking at 2,500 metres or more can still feel blazingly hot in the middle of the day, and it is really easy to get sunburnt walking on the exposed ridges above the tree line if you're not careful. Thunderstorms are also an all-too-common threat in the mid-to-late summer afternoons. On two separate occasions, it bucketed down. An advantage of arriving at the campsite a bit earlier is the chance to rinse out your socks and sun hoodie, dry them in the sun, and score one of the better campsites.
GPX Track
KML Track
GSI MAP
Southern Alps Traverse July 21st to July 29th, 2023
Hirogawara to Akaishi Onsen Shirakabaso hot spring (9 days approx. 94 km)
Day 1: Hirogawara 広河原 (water available) ➩ Shiraneoike-goya 白根御池小屋 (water available) ➩ Kitadake Katano-koya 北岳肩ノ小屋 (tent 1,500 yen) (water available 1 litre 200 yen!) or water source 30 min return. 5hrs 30mins / 5.2km
https://katanokoya.com/stay/
Day 2: Kitadake Katano-koya 北岳肩ノ小屋 ➩ Kitadake-sanso 北岳山荘 (water available) ➩ Aino-dake 間ノ岳 ➩ Kumanodaira-goya 熊ノ平小屋 (tent 2,000 yen) (water available) 6hrs / 7.7km
https://nanpusu.jp/yamagoya/report08.html
Day 3: Kumanodaira-goya 熊ノ平小屋 ➩ Shiomi-goya 塩見小屋 (only bottled water 500ml 450 yen!) ➩ Sanpukutoge-goya 三伏峠小屋 (tent 1,600 yen) (lunch served from 10:00-13:00) (water source 20 min return) 10hrs 30mins / 14.4km
http://sanpukutouge.com/service/
Day 4: Sanpukutoge-goya 三伏峠小屋 ➩ Takayamaura hinan-goya 高山裏避難小屋 (tent 2,000 yen) (water source 20 min return) 6hrs / 8.9km
https://www.t-forest.com/alpsinfo/climber/lodgeinfo/
Day 5: Takayamaura hinan-goya 高山裏避難小屋 ➩ Hyakkenborayama-no-ie 百間洞山の家 (tent 2,000 yen) (water available) 10hrs / 12.5km
https://www.t-forest.com/alpsinfo/climber/lodgeinfo/
Day 6: Hyakkenborayama-no-ie hinan-goya 百間洞山の家 ➩ Hijiridaira-goya 聖平小屋 (tent 2,000 yen advanced reservation required) (water available) 7hrs 30 mins / 9.6km
https://ikawa-kanko.com/#hijiridaira
Day 7: Hijiridaira-goya 聖平小屋 ➩ Chausu-goya 茶臼小屋 (tent 2,000 yen x 2 advanced reservation required) (water available) 4hrs 30mins/ 6.4km https://nanpusu.jp/yamagoya/report02.html
Day 8: Chausu-goya 茶臼小屋 ➩ Tekari-dake 光岳 (water available) ➩ Chausu-goya 茶臼小屋 9hrs 30mins / 18.3km
https://www.chillnn.com/1863f95fe2d74
Day 9: Chausu-goya 茶臼小屋 ➩ Hatanagi Daichi Dam 畑薙第一ダム ➩ Akaishi Onsen Shirakabaso hot spring 赤石温泉白樺荘 6hrs 30mins / 15.7km
https://www.justline.co.jp/news/20230627/13849/
Access
Getting to and from the respective trailheads is via public transportation. For 2023 buses from Kofu Station to Hirogawara run from June 23rd to November 5th with additional daily buses from July 15th to August 20th (no booking required) (2,300 yen, 2 hrs). To give myself plenty of time on the first day, I caught the 6:55 am bus. For the return journey, there is one daily bus that leaves the Hatanagi Dachi Dam at 2:25 pm (arrives at Akaishi Onsen Shirakabaso hot spring bus stop at 14:35) to Shizuoka Station that runs from July 15th to August 27th. This bus needs to be booked online prior to departure (3,500 yen, 3hrs and 30mins). Outside of these dates it may be possible to catch a bus from the Akaishi Onsen Shirakabaso to Ikawa Station, but as this is a community bus, priority is given to local residents.
Budget
Camping meant the costs were kept to a minimum. Post-COVID, however, most huts have doubled their campsite fees and are now charging 2,000 yen a night. Needless to say, if you plan to stay in huts, it will be significantly more expensive, as the huts have also increased the cost of accommodation, with the average hovering around 13,000 yen per person per night, including dinner and breakfast. The cost breakdown was as follows:
Buses to and from the trailheads: 5,800 yen
Campsite fees: 13,100 yen
Miscellaneous: Water, toilet, drinks, and snacks, approx. 3,200 yen
Total: 22,100 yen vs. (staying in huts) 110,900 yen
Cut and Run
If, for whatever reason, I felt I couldn't continue with the hike, it was necessary to figure out where to cut and run. For this I identified two such locations. The first was on day four near Sanpuku-toge, where there are two daily buses to Ina-Oshima Station on the JR Iida Line. On my previous hike to Mt. Warusawa four years ago, I also finished here. On day seven, it was possible to make a long descent off the ridgeline down to the Sawarajima Lodge. For this option to pan out, I would have needed to spend a night at one of the Tokushu Tokai Forest huts, for example, the Takayamaura-goya or Hyakkenbora huts, in order to meet the pre-conditions to board the shuttle bus back to the Hatanagi Dachi Dam bus stop.
Fitness
Personally, I think I'm not in too bad shape. I run and workout 2-3 days a week at my local gym, and I sauna 4-6 times a week. The point to be made here is that not only do saunas reduce your blood pressure, but this study showed that post-exercise sauna bathing is an effective way to enhance performance in hot environments. At the same time, I'd have to return to the halcyon days of university to recall the last time I embarked on a week-long hike. Fast forward to now, just months away from my 50th birthday, and the situation called for a slightly different approach. Rather than stretching myself to my limits each day, which I might have done in more youthful times, the goal at the end of each day was to arrive feeling like I could have gone further if I had to.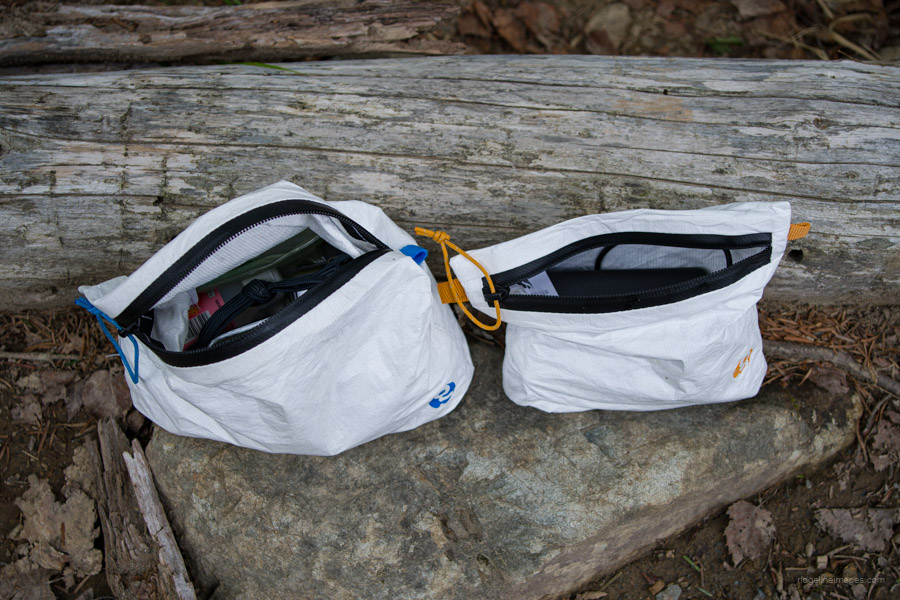 Gossamer Gear ditty bags.
Gear
As with any overnight hike, you need to strike a balance between bringing the absolute essentials and those little extras, which add weight but help make the trip just a little safer and more comfortable. The challenge this time is that it all needed to fit into my 48-litre KS Ultralight Gear KS50. This is by far the longest hike I had done with this pack, and I was not overly enthused about fitting the gear puzzle together each morning. In order to make the process just that little bit easier, I did a pack shakedown item-by-item to help identify areas where I could shed weight including dispensing with superfluous stuff sacks. Inside the pack, I used an extra-thick plastic pack liner to keep things dry.
Having said that, a few luxury items included an AOKA carbon tripod, indispensable for any trailblazing solo content creator. The nice thing about this tripod is that you can ditch the ball head, making it only 350 g. The other two items were a Merino wool T-shirt and lightweight shorts with a combined weight of 200 g. After a long day hiking, there was nothing better than slipping into a light pair of shorts and a top to mill around the campsite. All told the pack came in at just on 14 kg including food, and with water added to the mix, it made for a heavyish pack, at least at the beginning stages.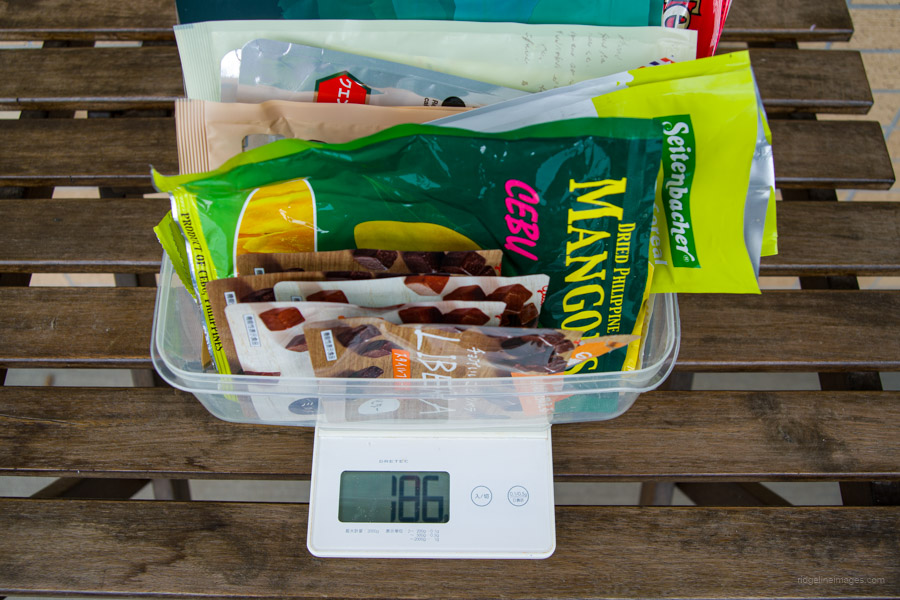 Weight reduced by repackaging.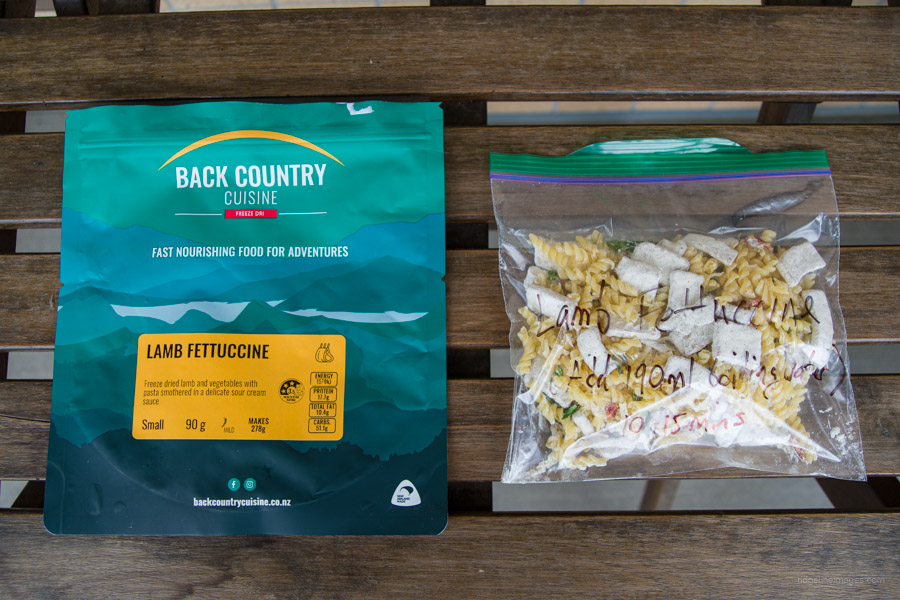 Foodstuffs repackaged into individual Ziplock bags.
Food:
Breakfasts consisted of muesli and dried mangoes, with snacks for lunch and dehydrated food for dinner. Given the dearth of dehydrated foods in Japan which also tend to be low on calories, I brought some Back Country Cuisine meals that I picked up last time I was in Australia. I also ditched the retort kare or boil-in-the-bag curries that I'd normally bring due to their heft. To further reduce weight, I repackaged foodstuffs into individual Ziplock bags and vacuum sealed meals such as ramen and yakisoba. During the first few days, I had Grana Padano cheese, which kept all right, along with Hagoromo tuna in canola oil eaten with pita bread.
To replenish sodium and electrolytes on the hike, I had Morinaga inTablet Salt Plus which includes sodium, calcium, and vitamins, and Morinaga Salted Caramel, which includes magnesium, calcium, and sodium. For drinks, gone was the tea and coffee, and instead, returned to an old childhood favourite, Milo with powdered milk. The advantage of Milo is that it can be consumed hot or cold.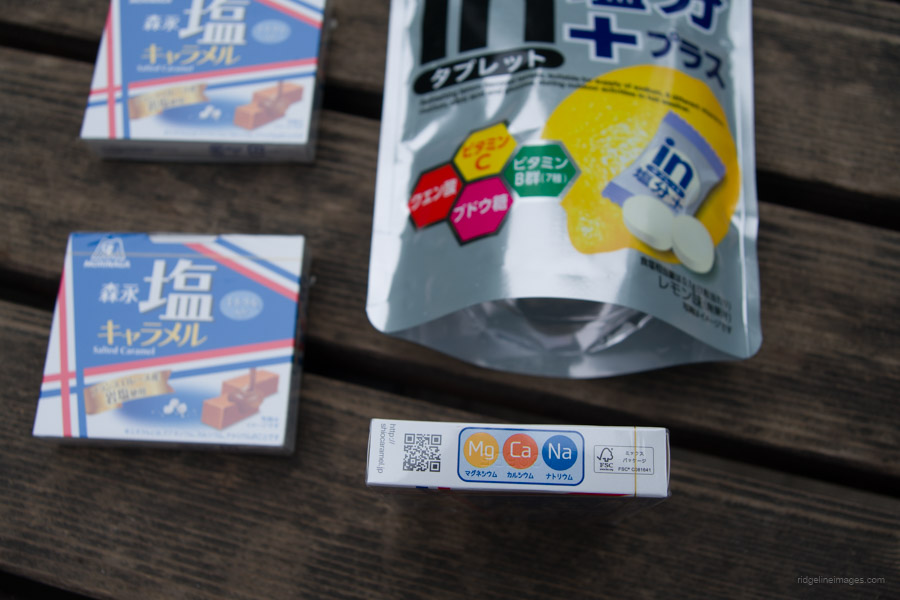 Morinaga inTablet Salt Plus and Morinaga Salted Caramel.
Along the way, I plotted a couple of strategic stops at huts to supplement my fare. I hoped to grab a curry and rice at the Sanpuku-toge hut for lunch on day three but unfortunately missed the cut off time, though did manage to get dinner at the at the Chausu-goya hut on day seven. I also the bought cup of noodles at the Hijiridaira Hut.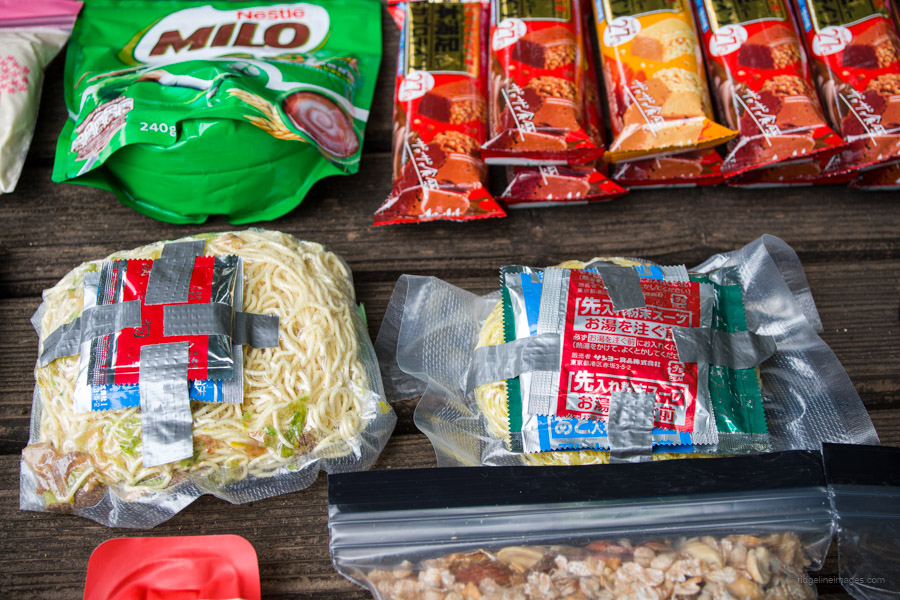 Ramen and yakisoba vacuum sealed.
It worked out to be 2200 kcal/day, which, was sufficient as I didn't drop any weight. I tend to lose my appetite when I hike, so I think I would have struggled to have consumed much more. My 'secret weapon' this time around was to add flaxseed oil, which is very rich in fatty acids and is calorie-dense (9 calories per gram), to most meals. The nice thing about flaxseed oil is that it has a fairly neutral taste. I endeavoured to pack foods with high kcals, with an overall average of approximately 4.2 calories per gram. In total, the food weight came in at 4.7 kg for the nine days. Included below is a comprehensive list of the food and gear I brought with me.
.
9-Day, Southern Alps Traverse Gear List
*Not included in overall pack weight