Best Backpacking Tripod for Lightweight Adventures
Let's start with why even bother bringing a travel tripod along when hiking. Many readers no doubt see a tripod as kind of ridiculous luxury especially when the majority weigh something akin to lugging around a second sleeping bag! This is totally understandable because if you're not a solo content creator, videographer, or serious photographer they're likely be more of a hindrance than a help out on the trail. For myself the reasons for carrying a tripod are numerous and varied. It starts with hiking alone and the very limited means to capture yourself in action. Finding somewhere stable to prop your camera, be it a rock, log, or backpack isn't always possible or practicable. A made for purpose tripod is also a whole lot better when it comes to long exposures, low-light settings, and sharpness for example photographing landscapes you want to use an aperture of at least f/8 to get a wide depth of field with everything clearly in focus, and of course shooting video. On the flip side, apart from weight considerations a tripod takes time to set up thus slows you down.
For the past couple of years, I have been using a Velbon UT-3AR. I chose it because it folds up compactly and is relatively lightweight (786 g) and had a great working height of 135 cm. It was light enough to take on day and overnight outings but anything longer it wasn't much fun. In my search for a replacement, I first had a look at what some Youtubers had in their kit bag. For example, Kraig Adams packs a SIRUI AM-254 with a Joby BallHead 1165 g (120 cm) while Darwin othetrail takes the opposite approach sporting a Pedco UltraPod 119 g (18 cm). Neither of these options particularly appealed nor was a JOBY GorillaPod. Anything heavier than I was already carrying was going to be a no-goer but didn't want something so short that it always needed to be propped up on something.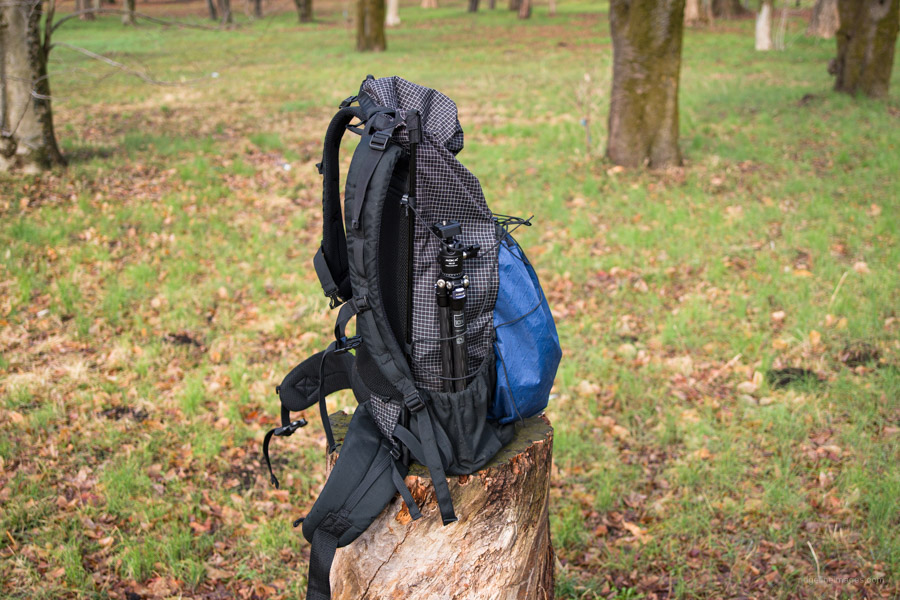 AOKA Carbon Tripod very compact and lightweight.
After researching some potential candidates, I settled on the AOKA CMP163CL+KB20 Carbon Travel Tripod. At 500 g including the ball head and 71 cm in height meant it just about split the difference between the above-mentioned tripods. Best described perhaps as a bridge between a full-size travel tripod and a tabletop tripod. In my quest for a lightweight, yet sturdy tripod I could only find two that reached a height of 1 metre or more and weighed less than a kilogram. These were the Velbon UT-3AR which I previously owned along with the SLIK Airy M100. While the AOKA might be only 286 g lighter than the Velbon it matters on multiday day hikes where every gram counts. So, let's dive in and find out why I feel the AOKA CMP163CL is quite possibly the best lightweight hiking tripod out there.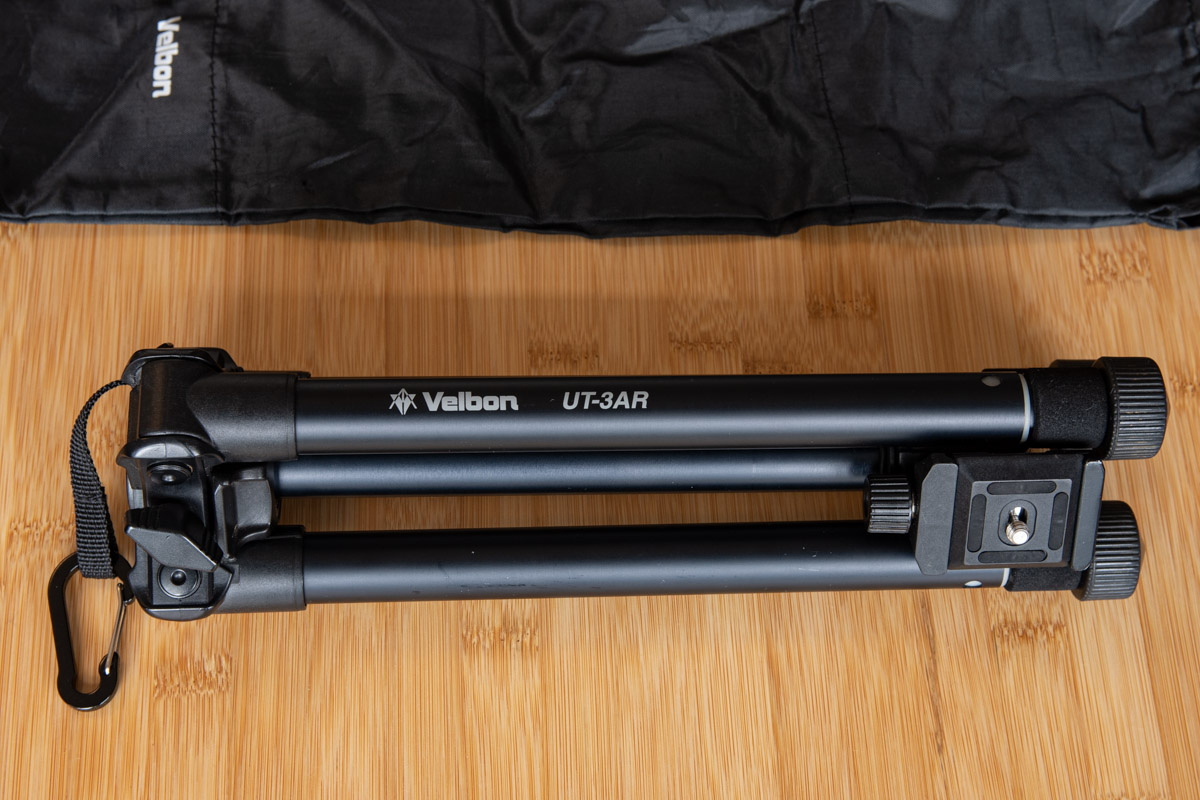 My previous Velbon UT-3AR tripod.
How it Compares
| Brand | Model | Maximum height | Tripod weight | Price | Origin |
| --- | --- | --- | --- | --- | --- |
| AOKA | CMP163CL+KB20 | 710 mm (1290 mm with extension pole) | 500 g (562 g with extension pole) | ¥15000 | China |
| Velbon | UT-3AR | 1355 mm | 786 g | ¥11000 | Myanmar |
| SLIK | Airy M100 | 1241 mm | 895 g | ¥14300 | Thailand |
.
First Impressions
While the name AOKA sounds Japanese it's made by Zhongshan AOKA Photographic Equipment in Guangdong, China. According to their website they specialise in the fabrication of carbon fiber tripods. Carbon fiber tripods are generally, stiffer, lighter, more weather resistant, and stronger than their aluminium counterparts. I purchased it online for 15,000 yen which I feel is reasonably priced for what it is and after selling the Velbon for close to the price I paid for it effectively made it half price. The overall design and build quality is extremely solid and feels premium on par with the likes of Leofoto. The tripod has three main components; the KB20 ball head which supports horizontal and vertical shooting modes, the 3-section CMP163CL carbon tripod with three-way angle adjustment, and the extension rod.
The KB20 ball head includes an Arca-Swiss quick release plate, angle adjustment knob, and a panoramic shooting scale. The rubberised feet can be removed to expose metal spikes to improve tripod stability on awkward terrain such as ice, mud, sand, or snow. The tripod head mounting plate comes equipped with a 1/4-inch threaded screw enabling it to be used with other ball heads. The joints which retain the carbon fiber legs are CNC Aluminium with a screw in carabiner that acts as a counterweight to help stabilise the tripod. The legs however can't be closed when it's attached. It is possible to re-tension the legs using one of the included Allen keys.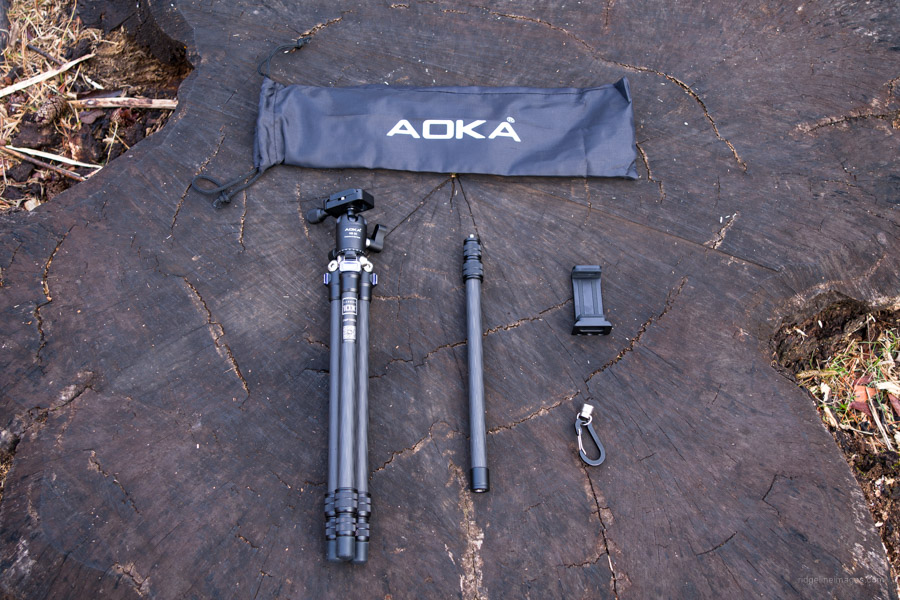 AOKA CMP163CL Tripod contents.
Performance in the Field
So far, I have taken the AOKA on a few day hikes and overall, I've been very satisfied how it has preformed. A key practicality when hiking is how fast the tripod can be deployed and put away again. In the case of the AOKA – quite speedily. An issue I had with the Velbon was the amount of force needed to lock the legs in place so they wouldn't slip. Fortunately, it hasn't been an issue with the AOKA helped by the fact the threads have aluminium non-slip serrations which make it easy to lock the leg sections in position. Further to that you can turn all three screws on the leg at the same time which correlates to time-saving and a heap less hassle. Having three rather than four leg sections to deal with also helps. The ball head holds the camera very securely with little to no creep.
Regarding stability if you stick to the tripod plus pan head configuration i.e., 71 cm (28 inch) it remains perfectly stable even with a DSLR and telephoto lens with a combined weight of around 1.5 kg. The extension pole however is an entirely different matter, and I would hazard that full extension (129 cm) is strictly for indoor use and only then coupled with a smartphone. Using the extension pole also has the inconvenience of having to store and assemble two sections. Even using the included carabiner to hang a weight to stabilize the tripod wouldn't help much as the stability is related to the rigidity of the extension rod.
The nice thing about this tripod is if you really want to cut down the weight you can ditch the KB20 ball head and use the tripod without the pan head making it even lighter at 350 g. A minor point to be aware of is the 1/4-to-3/8-inch adapter screw. Whenever you disassemble the two sections there is the potential for the adapter screw to come loose. While replacement adapters are widely available if it drops and goes missing out on the trail you will no longer be able to attach the head to the legs.
Final Thoughts
Taken as a whole, I have found the AOKA CMP163CL to be an excellent lightweight travel tripod that enhances my hikes and allows me to capture images that wouldn't be possible, otherwise. The privilege of carrying such a light tripod naturally means you have to sacrifice working height. Be that as it may shooting at waist height, I haven't felt it too much of an encumbrance framing most of the shots I want. In fact, a lot of the time with my previous Velbon tripod I wasn't fully extending it. The AOKA could be further improved by jettisoning the extension pole and instead including a fixed elevator (centre column) that would add some valuable height without compromising too much in weight and stability. If weight and size is the top priority and you're willing to forgo some height the AOKA CMP163CL is currently the best backpacking tripod for lightweight adventures.
BOTTOM LINE
As far as lightweight tripods go the AOKA CMP163CL is without peer. It combines excellent build quality, packability, and is quick to deploy. The ball head adjustments are smooth and precise and while you might have to sacrifice working height the strength and stability overall is excellent.
  AOKA CMP163CL Carbon Tripod + KB20 Ball Head: Specs
Size collapsed: 305 mm (360 mm with ball head)
Pole stages: 3
Pipe diameter: 16 mm
Maximum load capacity: 2.5 kg
Maximum height: 710 mm
Maximum height: 1,290 mm (with extension pole)
Minimum height: 120mm
Tripod weight: 350 g
Ball head weight: 150 g
Weight including extension pole: 562 g
Head type: 3-way ball, fluid, pan
Feet: Rubber and spike
Leg locks: Friction and twist
Material: 10X carbon fiber
Accessories: Storage case, smartphone adapter, 3/8″ carabiner with screw, 2 Allen keys
AOKA CMP163CL Carbon Tripod + KB20 Ball Head: 15,085 yen (Including tax) (as at Mar 9, 2022)
*AVAILABLE AT: AMAZON JAPAN
.
* When you use our affiliate links to make your purchase, the seller will contribute a portion of the sale to help support this site.