Choice Storage Container for your Backpacking Gear
Hiking by its very nature almost guarantees that over time you'll acquire a range of gear that requires a home when not stuffed in a backpack. Easier said than done, until you remember you live in Japan and that the average Japanese dwelling doesn't have a whole lot of room for such appurtenances. Here is where a lightweight, well-designed yet cavernous storage unit comes in handy. After a long-lasting search, I recently happened upon such a storage solution – enter THOR. It's made by Trust Commercial a Chinese outfit base out of Taizhou, China. The cynic in me thinks it looks awfully like a Rubbermaid BRUTE storage bin.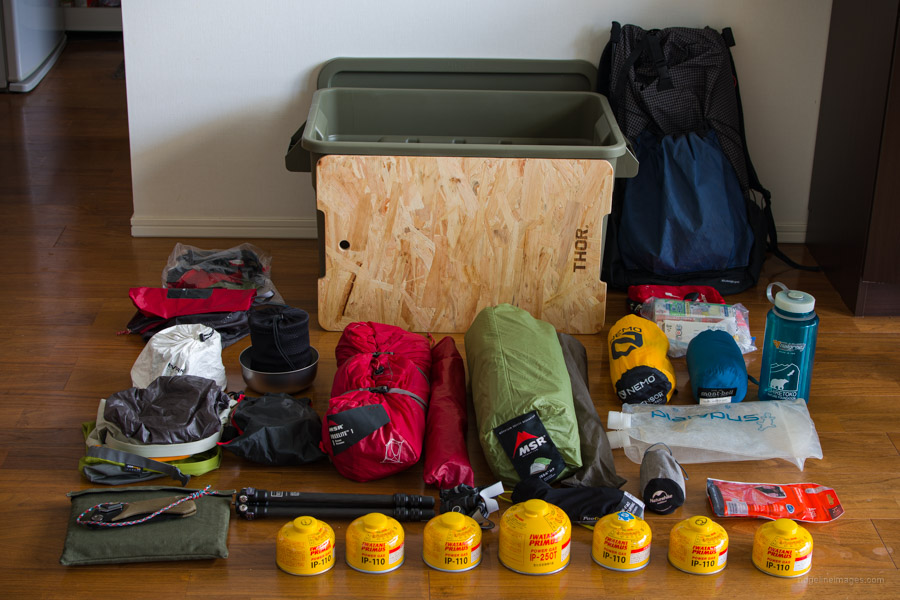 In need of a new home.
THOR storage bins come in three sizes 22L, 53L, and 75L along with five colour variations namely, black, white, coyote, olive drab, and grey. They are simple, rugged, have good impact resistance and stylish for what is a plastic container, if that is something you care about. Given that it takes pride of place in my man cave I didn't want something that looked like it belonged on the balcony. They are made from Polypropylene (PP) which is lighter than High-Density Polyethylene (HDPE) though somewhat less rigid. For my purposes the 75L litre bin was spot-on, with left over room even for the backpack.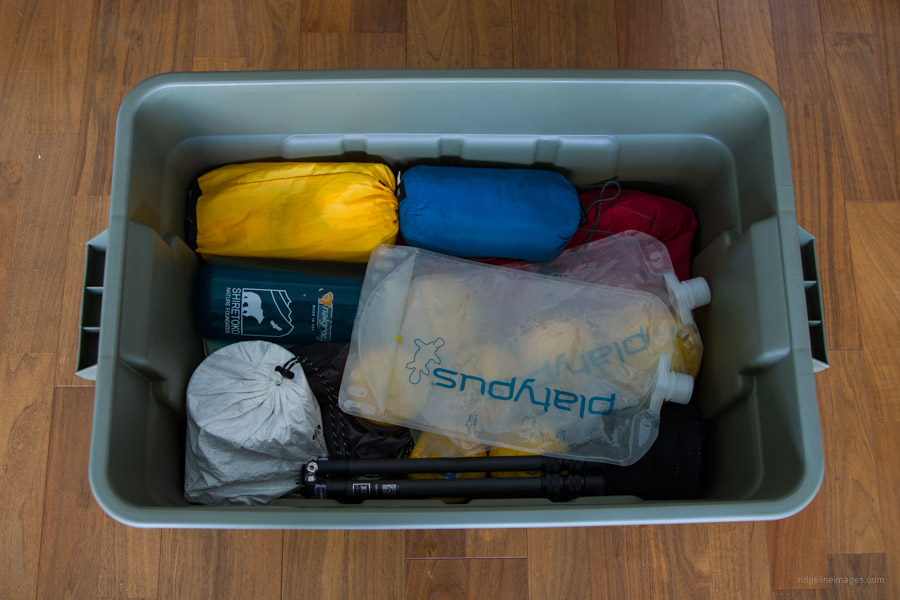 Storage solution I wish I'd known about sooner.
Thanks to its rounded ergonomic handles it's easy to move about even with heavy loads. Holes in the handle part are designed so that water does not accumulate, helpful when used in the outdoors. The lid clicks and locks in place and is easy to open and close without unnecessary force. The slightly recessed lid makes it stackable or alternatively can be combined with an optional water repellent, oriented strand board (OSB) thereby turning it into an attractive table-top.
.
Cheaper solutions absolutely exist, but given I'll look at it most days, I wanted something that was not only functional but looked aesthetically pleasing, deserving of both a place for my precious gear and a spot where I can pop a refreshing beer and side of edamame.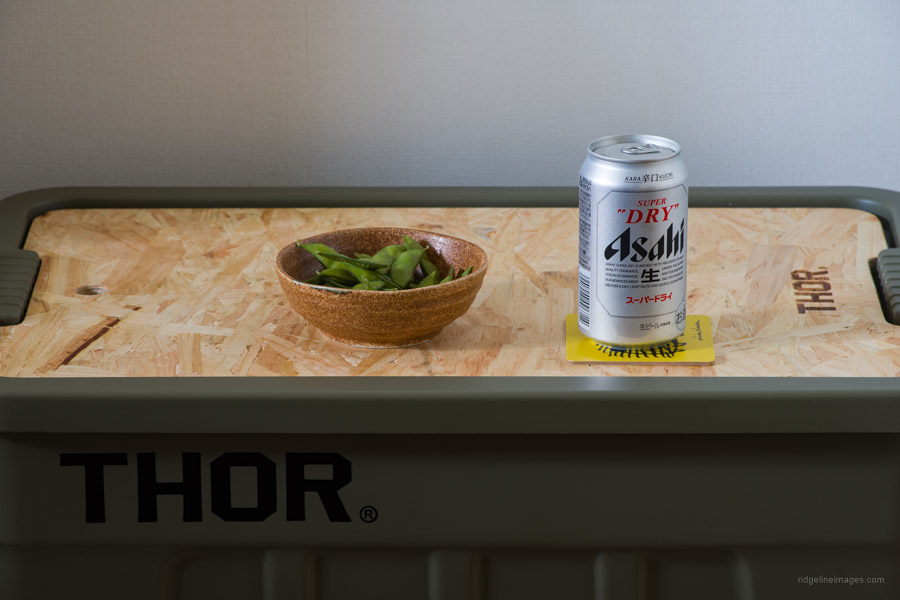 Perfect addition to any man cave.
BOTTOM LINE
With a load capacity of up to 80 kg, this durable, stackable, and voluminous storage solution is equally at home in a man cave as it is on a camping trip.
  THOR 75L Storage Container: Specs
Size: 75 litres
Dimensions (external): W 71 cm x D 43.5 cm x H 39 cm
Dimensions (internal): W 52 cm x D 35 cm x H 37 cm
Weight: 3.4 kg
Load capacity: 80 kg (approx.)
Material: Polypropylene (PP)
Colour: Olive drab
Country of origin: China
*THOR 75L Storage Container: 6,930 yen (Incl. tax) AMAZON JAPAN
*THOR 53L/75L OSB table board: 2,200 yen (Incl. tax) AMAZON JAPAN
.
* When you use our affiliate links to make your purchase, the seller will contribute a portion of the sale to help support this site.