Lightweight, Double-wall Backcountry Workhorse
Choosing a lightweight solo backpacking tent is no easy undertaking especially with an ever-expanding range of brands and designs to choose from. However, after much deliberation I settled on an MSR. This was partly due to my positive experiences with my previous Hubba HP solo tent which served me loyally for 6 years including well over a hundred nights pitched in every imaginable weather Mother Nature could throw my way. This coupled with the reality that camping in Japan almost mandates tents have a small footprint so they can be pitched in tight quarters and MSR tents do this in spades.
Of the five backpacking tents MSR markets to lightweight backpackers it became a toss-up between the FreeLite and Carbon Reflex. The former narrowly won out as some reviewers made mention of concerns, they had with the vestibule door on the latter which uses metal hooks with the Velcro tabs rather than a zipper. But honestly either would have probably been fine or even the perennial favourite the Hubba NX with a slight weight penalty.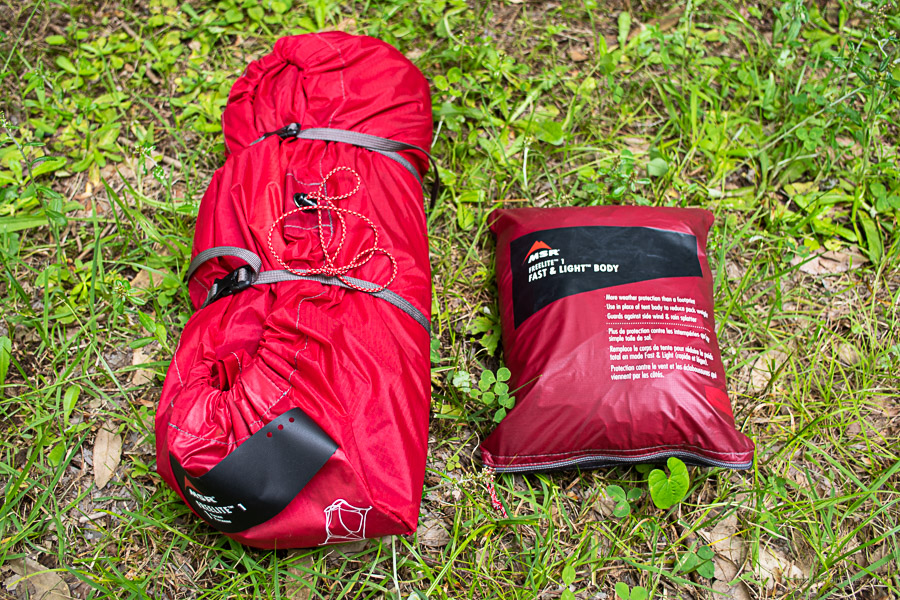 FreeLite 1 alongside the Fast & Light body.
First Impressions
One thing I look forward to shopping for a new tent is seeing new technological advancements. Many as it happens are apparent in MSR's 2020 tent line-up. Let's start with the FreeLite 1 Syclone poles. MSR teamed up with Easton to manufacture aerospace-grade composite poles that are both lightweight and stronger than equivalent aluminium and carbon fibre offerings. And probably explains the omission of the tent pole splint. As much as I loved my old DAC Featherlite NSL Green Poles, the Syclone frame is 20 percent lighter and pole segments 5 cm shorter at 46 cm (18 in.). While this doesn't sound like much, it makes a huge difference when it comes to fitting it in your pack.
Other technological endowments include long-lasting weatherproof and improved sun protection. As you might expect from a premium tent the stitching and fabrication is by and large excellent with double and triple stitching to reinforce seams. It packs down small using the compression straps on the innovative draw string stuff sack or can be separated into its discrete components to fill out nooks and crannies in your pack.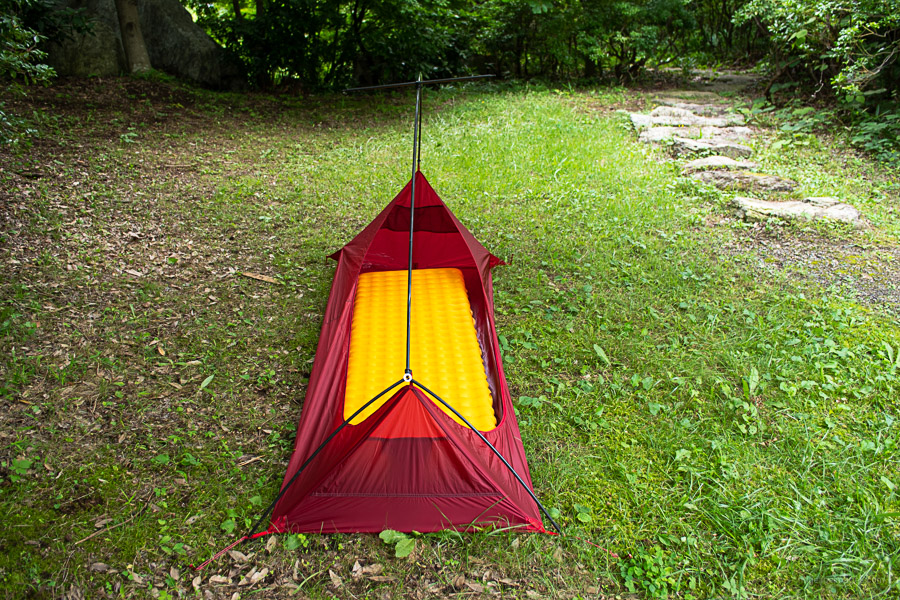 Side view of Fast & Light minimalist body configuration.
Weather Resistance
Like my previous Hubba HP solo the FreeLite 1 has sound waterproofing. MSR claims the Xtreme Shield waterproof coated rainfly and floor is 3 times more durable than standard coatings. Haven't had the tent long enough to attest to this however after a rainy night the floor stayed completely dry. It should be noted the water column of the floor fabric is somewhat less than found on the Hubba NX i.e. 1200 mm vs 3000 mm.
I'm pleased to report MSR has done away with their factory seam taping that tended to breakdown and flake off. It plagued my old tent fly even though it was well cared for and stored dry. Instead they now use what they call precision-stitched seams. The seam is made by placing one edge inside a folded edge of fabric, then stitched with a poly-cotton thread that swells when wet making it watertight. Even so it would probably be wise to use Seam Grip in high tension areas or as your tent ages. The FreeLite 1 is fairly resilient in strong winds thanks to the Syclone poles that promptly bounces back into shape making the tent feel quite robust.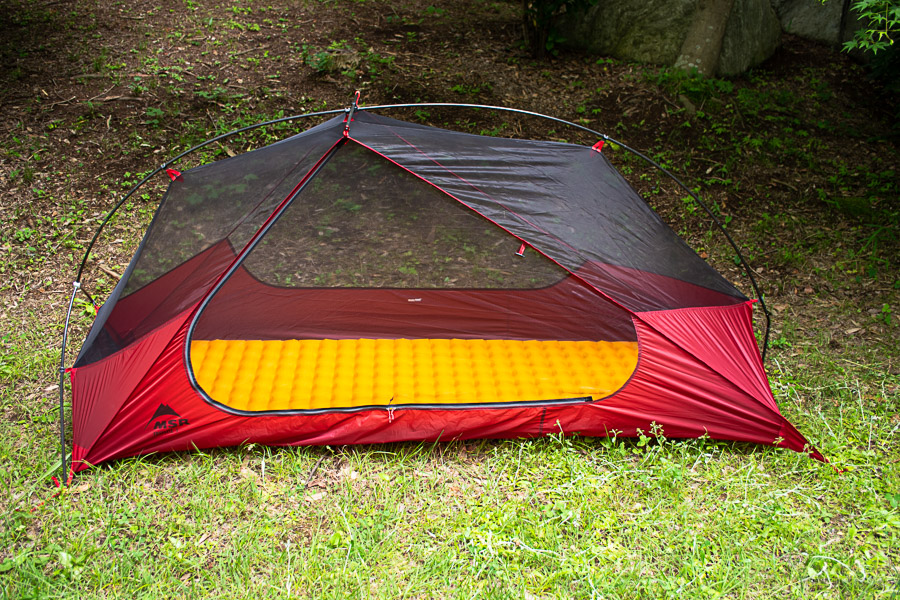 Micromesh canopy offers ventilation and bug protection.
Liveability
The internal dimensions are reasonably spacious, though being lightweight means, it's less roomy compared to other tents in the same category. There is just enough room to stash a medium size pack at the foot end of the tent or under one or both sides of the vestibule doors. The interior peak height is 91 cm (36 in.) which I felt was plenty (I'm 172 cm). Sitting upright on a 3-inch sleeping pad my head has enough clearance but may present a problem for taller folk. For those looking for a little more head room try the Zoic or Elixir at 100 cm (39 in.). Having said that it means it cops less wind, adding to general stability and options when looking for somewhere to pitch.
Where the tent really shows versatility is its pairing with the optional Fast & Light Body. With the micromesh canopy removed the internal living space feels positively voluminous. I haven't slept out in this configuration yet but look forward to putting it to the test later in the year. The Hubba HP could be set up with just the fly and footprint but only went this route a couple of times as you are one downpour away from a sodden sleeping bag or worse. Whereas the Fast & Light bathtub floor shields against the wind and rain splatter.
The zipper on the single large door slides smoothly making for easy entering and exiting. Unlike the Fast & Light Body which has two mesh storage pockets sewn to the body, the micromesh tent body has only one pocket which hangs down for stowing a headlamp and personal knickknacks. I'm guessing this is because you can only truly sleep with your head at the hub end due to the single pole configuration on the opposite side. Sewn to the upper mesh are five gear loops for drying things or attaching a gear loft.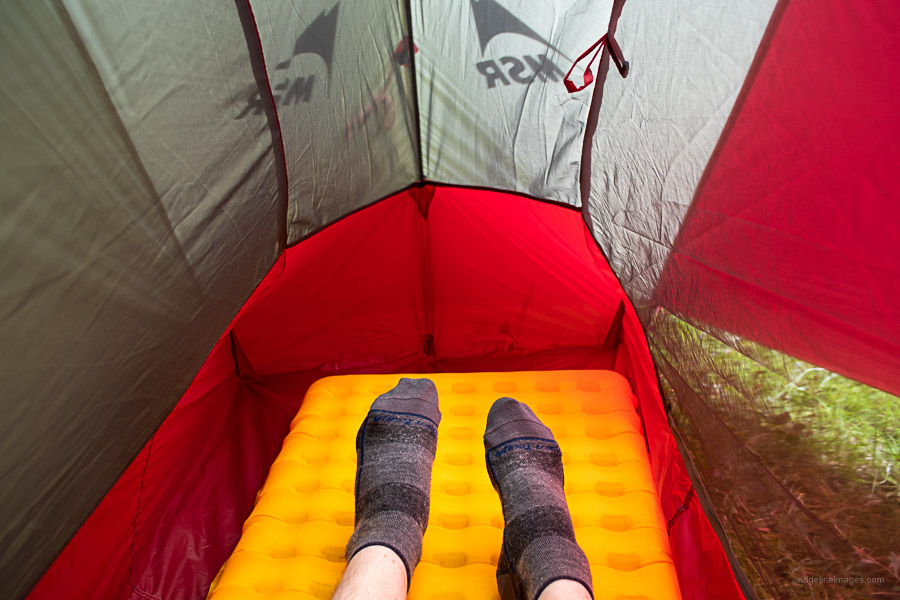 Floor dimensions 218 x 76 cm.
Performance in the Field
The tent is semi-freestanding requiring five stakes to setup i.e. one at each corner and one for the vestibule door (included are 9 MSR needle stakes). There are four reinforced guy lines that can be staked out in windy conditions for additional stability. The FreeLite 1 is straightforward to pitch. First spread out and tightly stake the tent body. Next insert the tips of the poles into the two front and one rear aluminium grommets. Finally attach the plastic clips to the tent frame, insert the cross pole into the grommets above the door and lay out the tent fly.
On clear nights, the tent fly can be removed providing an unencumbered view of the stars. You got to love that! The FreeLite 1 appears to handle condensation rather well as there is a good amount of space between the fly and tent body. When conditions permit unzipping and tying back one of the vestibule doors helps to improve air flow. A nice touch is having a red colour coded door making orienting it a breeze. The vestibule is designed not to flap around too much in the wind although it can take some jockeying to make taut. Given the floor fabric is a super-thin 15D a footprint is well advised for all but the most forgiving terrain. I've repurposed my old Hubba 68D footprint 140 g (4.9 oz.) with 2,000 mm waterproof coating, even though it's a tad narrow it gets the job done.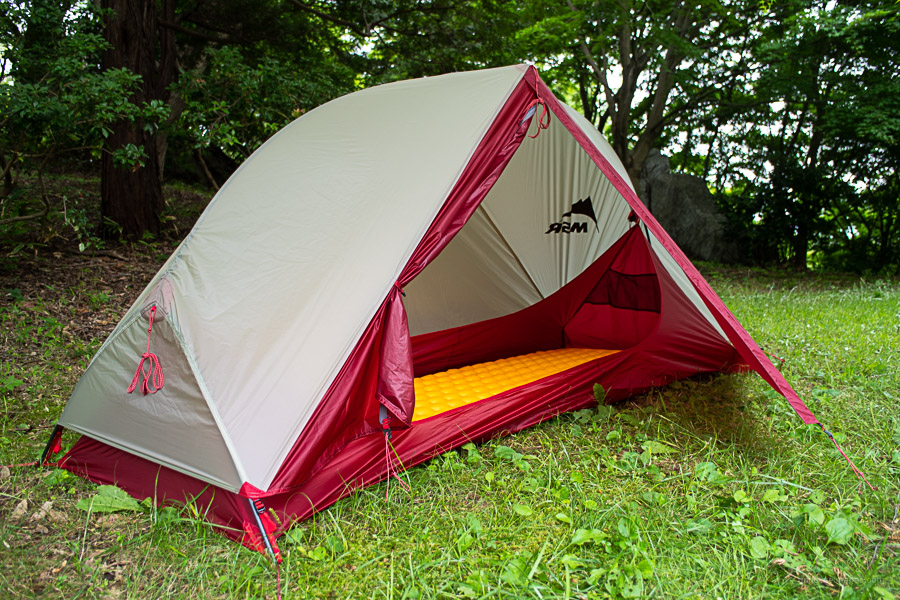 Fast & light configuration with rainfly.
Final Thoughts
The FreeLite 1 is a dependable 3-season double-walled tent thanks to its low profile and super strong Syclone poles making it suitable to pitch in a variety of weather conditions. The sizeable mesh canopy ensures the tent has good ventilation cutting down on condensation. Having taken the tent on a couple of overnight hikes I would have to say I'm rather smitten with it. On the first hike I carried the included stuff sack but the following one I ditched it to save some grams as well as making it easier to pack. However, for a tent in this price range it would be nice if it shipped with a gear loft and repair patch similar to what was included with the Hubba HP.
If weight saving is a priority the FreeLite 1 is a solid choice especially when used in a Fast & Light configuration which brings the weight down to a meagre 0.77 kg (1.7 lb.) or about the same weight as the Carbon Reflex 1! Just need to be aware that as it only sports a 15D floor means either carrying a footprint or being selective where to pitch it.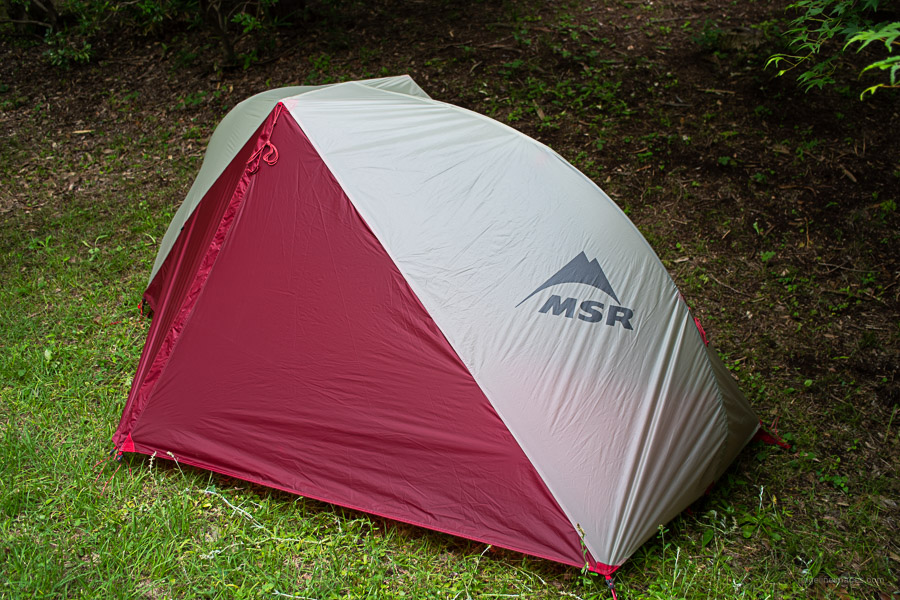 MSR FreeLite with rainfly.
BOTTOM LINE
Very lightweight especially when coupled with the fast & light body. Offers top-notch weather resistance and stability in the wind making it a great choice for your next backcountry adventure.
.
.
* When you use our affiliate links to make your purchase, the seller will contribute a portion of the sale to help support this site.