The World's Lightest Down Jacket
When it comes to lightweight down jackets, they don't come much lighter than the Montbell Plasma 1000 Down Jacket weighing in at a miserly 130 grams (medium size). In fact, according to this Reddit user's data sheet which compares down jackets it's currently the world's only sub 5 oz. (142 g) down jacket. The only jackets that come close are Haglofs L.I.M Essens, Yeti Strato UltraLight along with the Montbell Superior Down Round Neck Jacket all weighing between 5-6 oz.
Having put the Plasma 1000 jacket through its paces on several day and overnight hikes I feel ready to provide a rundown of its strengths as well as areas for improvement.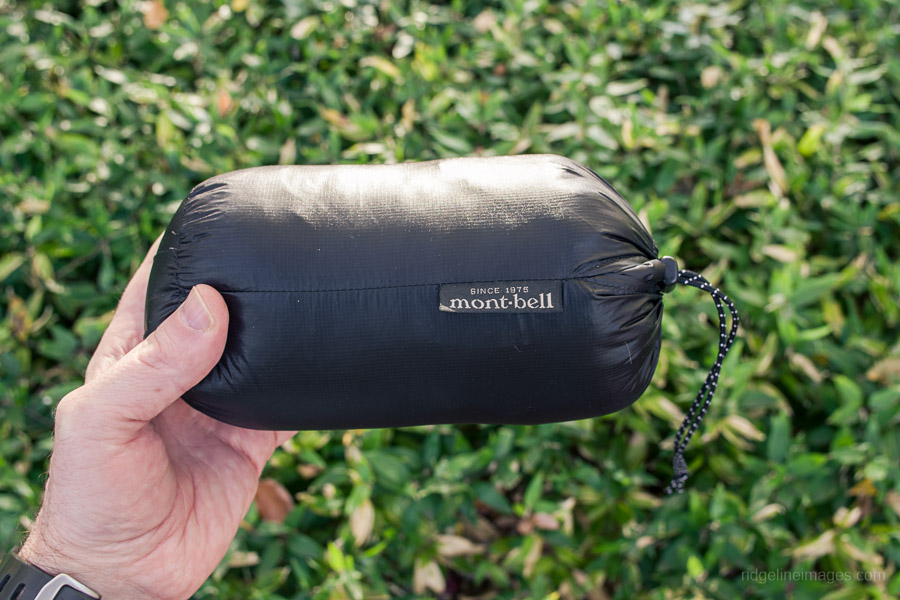 Excellent compressibility.
Weight and Material
So, what makes the Plasma 1000 Down Jacket so damn light? For starters it's packed with incredibly high quality down i.e. 1000 Fill Power with a warmth-to-weight ratio which is unsurpassed. Montbell's 1000FP EX Down comes from waterfowl that live in regions with seasonal temperature extremes. The down balls from such geese are much larger, meaning they retain heat more effectively ideal for high altitudes and low temperatures. The down is ethically sourced with the down plumes and feathers only collected as by-product of waterfowl raised to meet the demands of the food industry.
A downside is the fill weight is only 45 g (1.6 oz.) or slightly less 35% of the jacket weight as compared to say the Plasma 1000 Alpine Down Parka with more than 40% of the weight being high lofting goose down. Weight savings are also made with a super-light and durable 7-denier rip-stop nylon shell fabric. Note this fabric tends to be a little noisy with a slightly crinkly feel. Some reviewers have likened it to the look and feel of a garbage bag which is a bit unfair. Having no hood or hem drawcord also cuts down on the weight.
For added peace of mind Montbell offers a 3-year warranty on all EX Down garments with a Fill Power of 800+. How this differs from Montbell's warranty which covers all defects in materials and workmanship to the original owner for the lifetime of the product is unclear but seems related to problems that may arise from normal wear and washing of the jacket.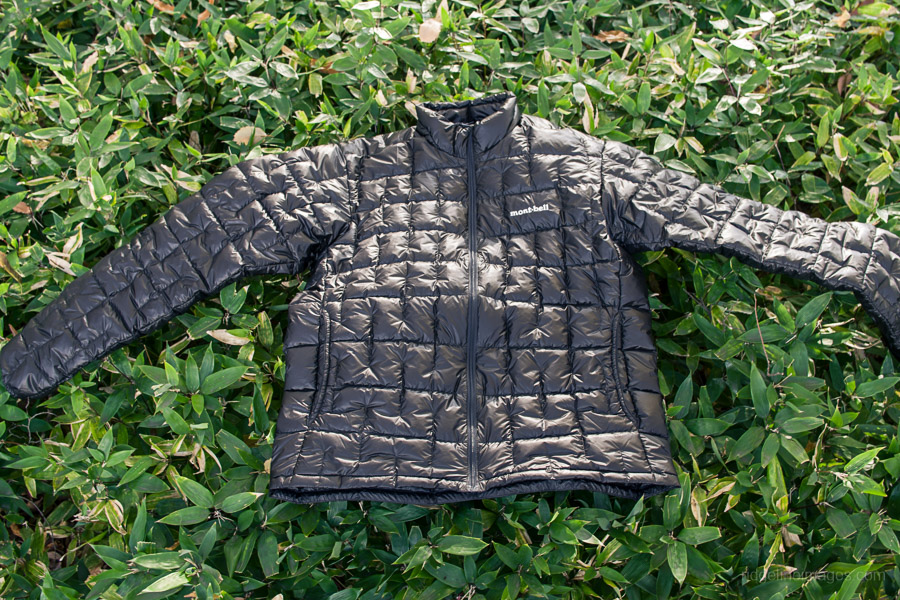 7-denier Ballistic Airlight rip-stop nylon.
Design and Fit
A criticism levelled at previous iterations of this jacket was the absence hand pockets. Thankfully this year's model (Japanese version) sees the inclusion of two hand pockets (non-zippered) to keep your mitts toasty on chilly mornings. Unfortunately, Montbell has failed to capitalise on this by not making one of the pockets double as a stuff sack. The jacket compresses down to a diminutive size with the included stuff sack which can be tied via a useful hanging loop so as not to lose it.
Similar to models in the past, the Plasma 1000 Down Jacket is hoodless, has elastic cuffs to seal out drafts along with a full length YKK front zipper. The jacket's cut is a tad shorter than some other Montbell models though quite similar I feel in length to the Patagonia Nano Puff. Some people might find the sleeves run a bit short but for me they are perfect.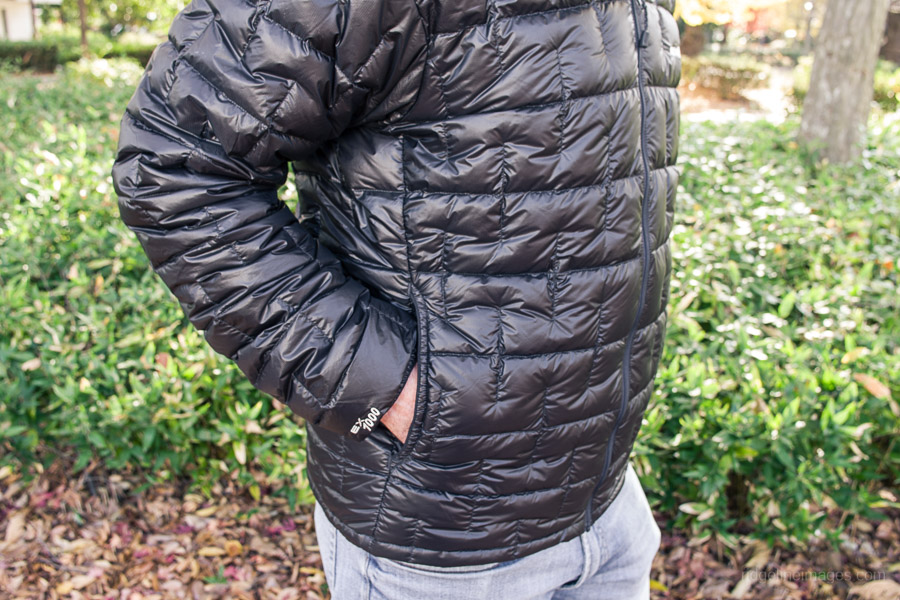 Includes two hand pockets.
Warmth and Performance
The Plasma 1000 punches above its weight and is surprisingly warm. The "Horizontal S" baffle sewn thru construction stabilises insulation helping maximising the loft. For hiking and active pursuits, the jacket can handle sub-zero temperatures though is best suited to campsite temperatures above freezing. I have found wearing it at night is a good option to extend the range of a sleeping bag. On occasions when it did rain, I found the DWR treatment made water droplets bead up although being only a 7-denier shell fabric I would be hesitant exposing it to significant moisture over a prolonged length of time. Overall, I consider it a functional 3 season jacket or used as a mid-layer in moderate alpine conditions.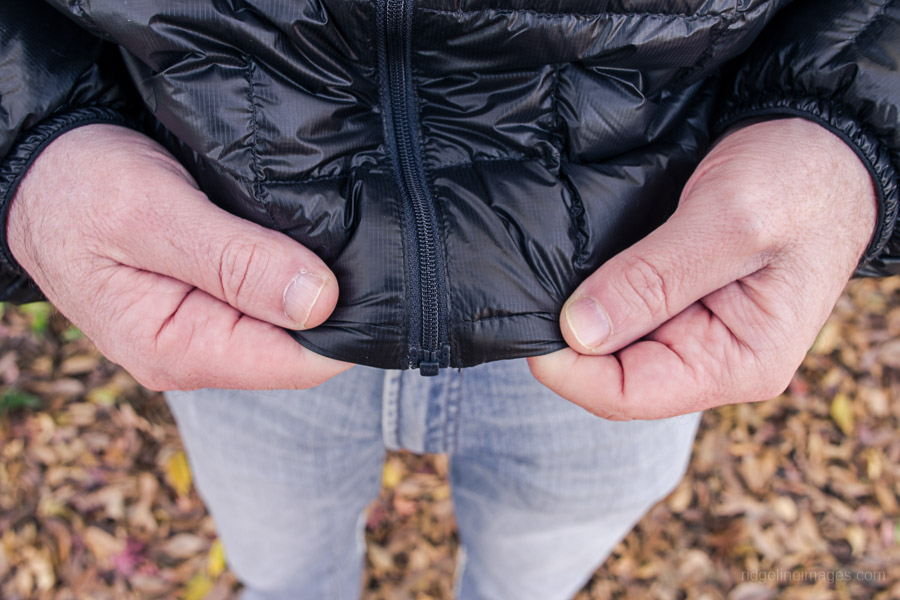 YKK front zipper and elastic cuffs.
Final Thoughts
Over the past few months of testing the Plasma 1000 it has shown itself to be a capable jacket which can be used for a wide variety of outdoor pursuits. Montbell has really shown what is possible when an ultralight shell is coupled with a high quality 1000 Fill Power. Although it can't compete with full-on winter down jackets it is far more packable and versatile. Despite it being feather light it has a superb warmth to weight ratio suitable most 3 season conditions. Having said that increasing the fill weight to least 40% of the jacket weight would add extra warmth with a negligible weight increase. The lack of a hem adjuster also means some warmth maybe lost through the bottom of the jacket if the fit is not snug.
If you're looking for a truly ultralight, highly compressible and minimalist high lofting goose down jacket you won't go wrong with the Plasma 1000.
Montbell are now shipping internationally which means you can purchase the Japanese version of this jacket through Montbell Japan. Free shipping (via EMS) on all international orders over 20,000 yen to quite a few countries including the US, Canada, New Zealand and UK. Check the drop-down list located above the shopping cart for a full list of countries.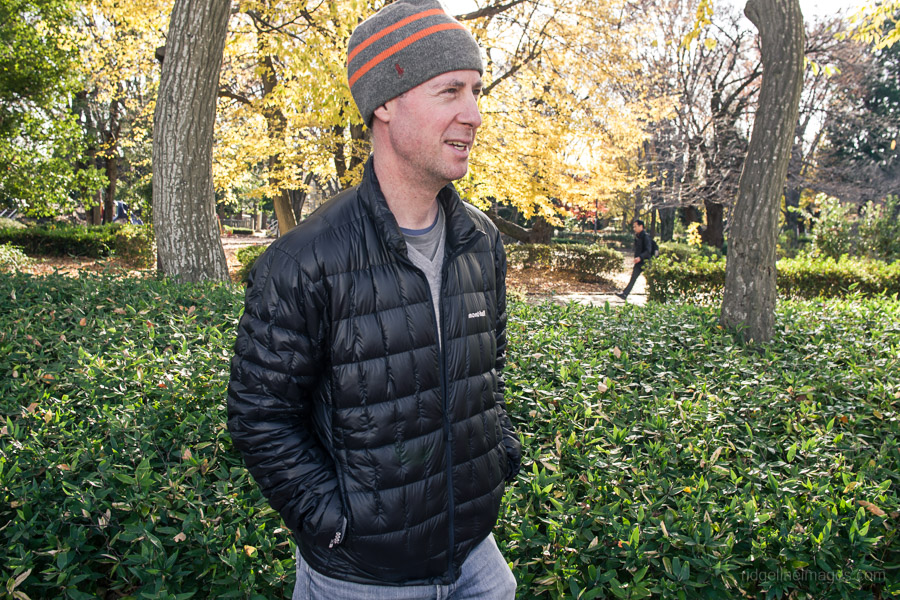 Montbell Plasma jacket in use.
BOTTOM LINE
An amazingly light 3 season down jacket for hikes where weight matters.
Montbell Plasma 1000 Down Jacket: Specs
Jacket weight: Medium 130 g (4.6 oz.) stuff sack 5 g (0.2 oz.)
Insulation: 1000 Fill Power
Fill weight: 45 g (1.6 oz.)
Material: 7-denier rip-stop nylon
Durable Water Repellent: Standard DWR treatment
Compressed size: 10 x 14 cm (3.9 x 5.5 in.)
Front zipper: YKK
Colour: Black
Country of origin: Vietnam
Plasma 1000 Down Jacket Men's: 25,400 yen plus tax ($232 USD) (as at Dec 14, 2019)
*AVAILABLE AT: AMAZON JAPAN MONTBELL
.
* When you use our affiliate links to make your purchase, the seller will contribute a portion of the sale to help support this site.