My Backpacking Gear
Deciding what gear to pack for a hike is a careful balancing act between saving weight and potentially putting your health and wellbeing in harm's way. As someone who readily admits to bringing along too much stuff, I have in recent years started to pay closer attention to those things that I really need and steering away from the inevitable overpacking that comes from fretting over worst-case scenarios. Nowadays at least, I consider myself to be a fledgling lightweight backpacker with a base weight hovering around 8.7 kg (19.2 lb) depending on the season and hike duration. In time, I hope to whittle this down with a lighter pack, using a tarp and air pad. There are however some things I won't compromise on. A big part of my hikes into the Japanese wilderness revolves around chronicling my adventures so jettisoning my Pentax K-70 and workhorse lens (combined weight 1.4 kg) in favour of a mirrorless or smartphone camera isn't something I'm looking to do anytime soon.
So let's get started. The gear list has been divided into six categories including; cooking, food, clothing / footwear, shelter / sleeping, medical and assorted items which I would typically carry with me on a 3-day hike in either early Spring or late Autumn. At these times of year based on elevation of 2,000 metres you could reasonably expect daytime temps around 10ºC (50ºF) and overnight temps dropping below zero.
Cooking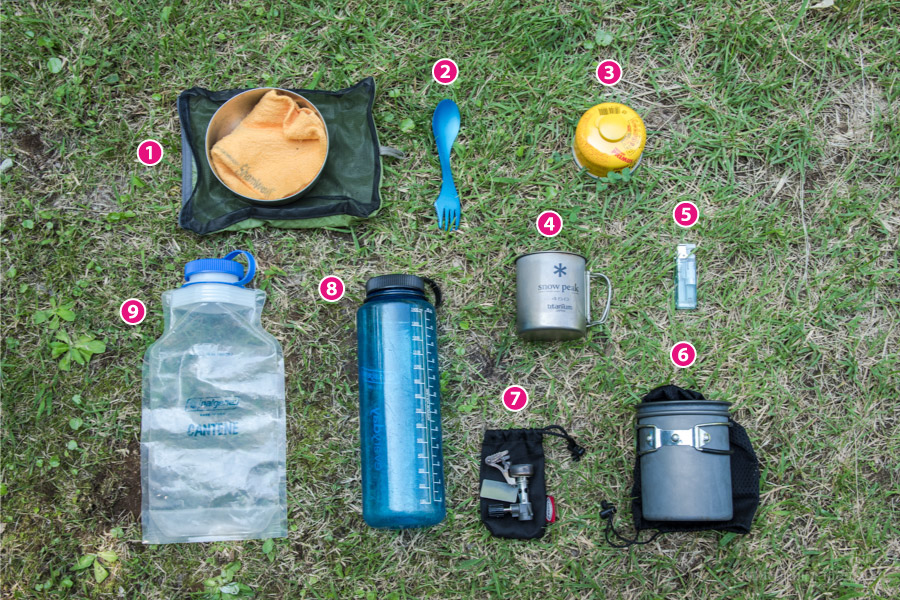 ❶ MSR aluminium bowl / quick-dry towel ❷ Light My Fire Spork ❸ Primus power gas canister IP-110 ❹ Snow Peak titanium 450 cup ❺ windproof butane jet flame cigarette lighter ❻ Primus solo cook set ❼ ultralight Primus Femto Stove P-115 ❽ Nalgene wide mouth silo 1.5 litre ❾ Nalgene wide mouth cantene 1.5 litre
Food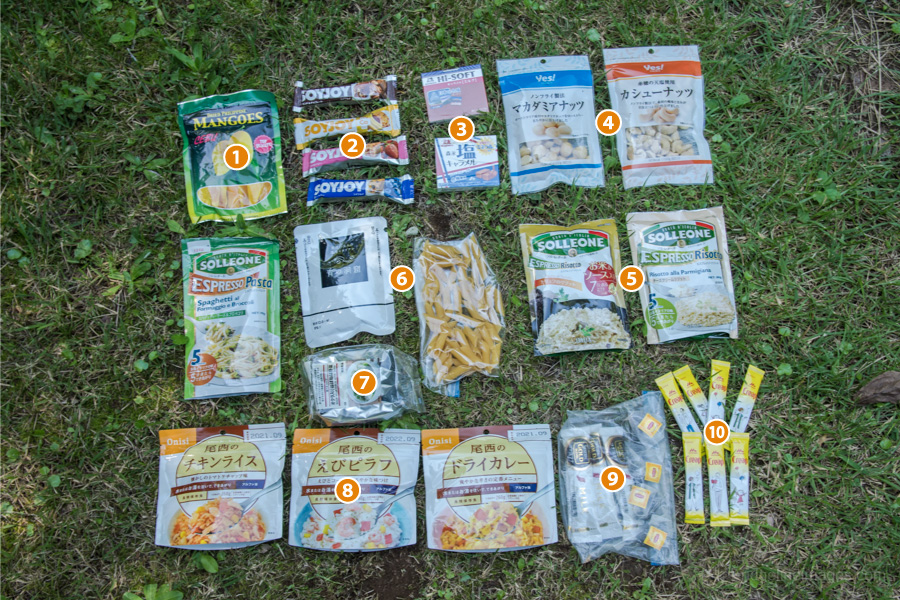 ❶ dried mangoes ❷ SOYJOY snack bars ❸ Morinaga salt butter caramel candy ❹ macadamia nuts / cashews ❺ Solleone risotto / spaghetti ❻ retort pasta sauce / dried pasta ❼ MUJI instant soup ❽ Onisi rice ❾ tea and coffee ❿ Morinaga creaming powder
Clothing / Footwear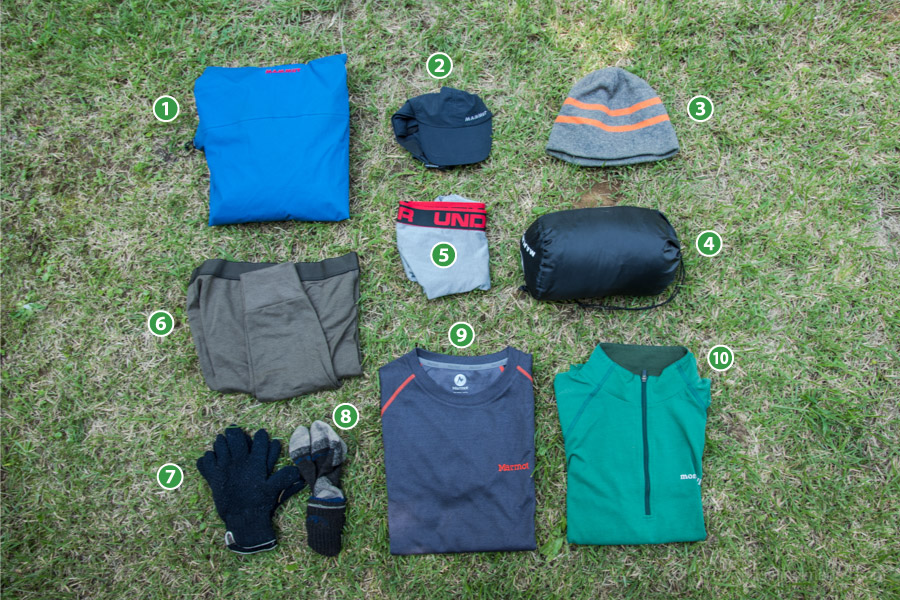 ❶ Mammut Quantum II GORE-TEX Pro-Shell jacket ❷ Mammut Runbold cap ❸ woollen beanie ❹ Mammut Atlas hooded down II 830+ fill power ❺ Under Armour original series 6" Boxerjock ❻ Uniqlo Heattech extra warm tights ❼ woollen mittens ❽ Darn Tough merino wool socks ❾ Marmot climb wool long sleeve crew ❿ Montbell Wickron zip shirt Worn clothing: ● Millet kuhtai wool zip ● Haglofs Mid Flex Pant ● Montbell aluminium buckle belt Shoes: ● Zamberlan 132 Airound GTX RR hiking shoes
Shelter / Sleeping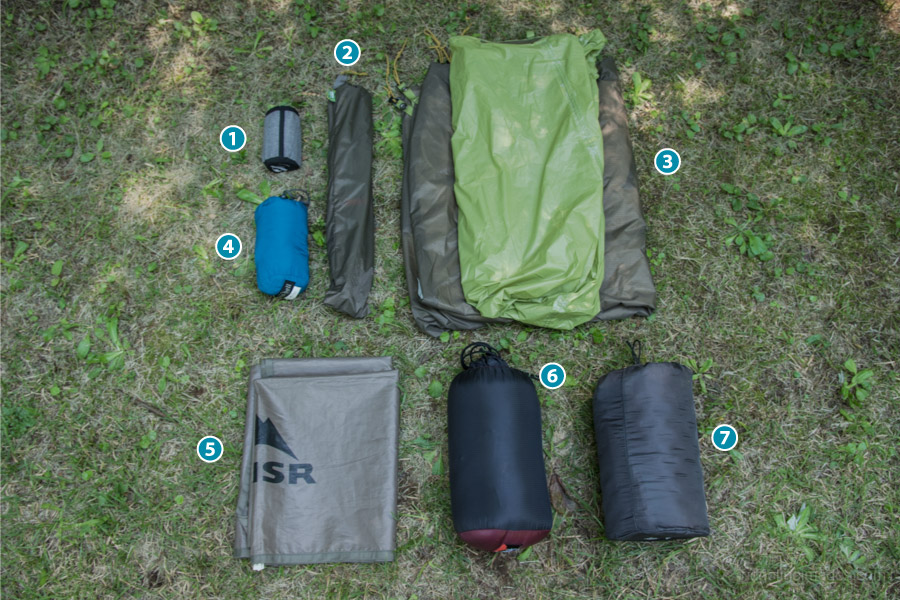 ❶ Naturehike Aeros pillow ❷ DAC Featherlite NSL GREEN poles ❸ MSR Hubba HP solo tent ❹ Montbell warm up sheet ❺ MSR Hubba HP Footprint ❻ Nanga 380SPDX 860+ fill power sleeping bag ❼ Therm-a-Rest ProLite Plus self-inflating mattress
Medical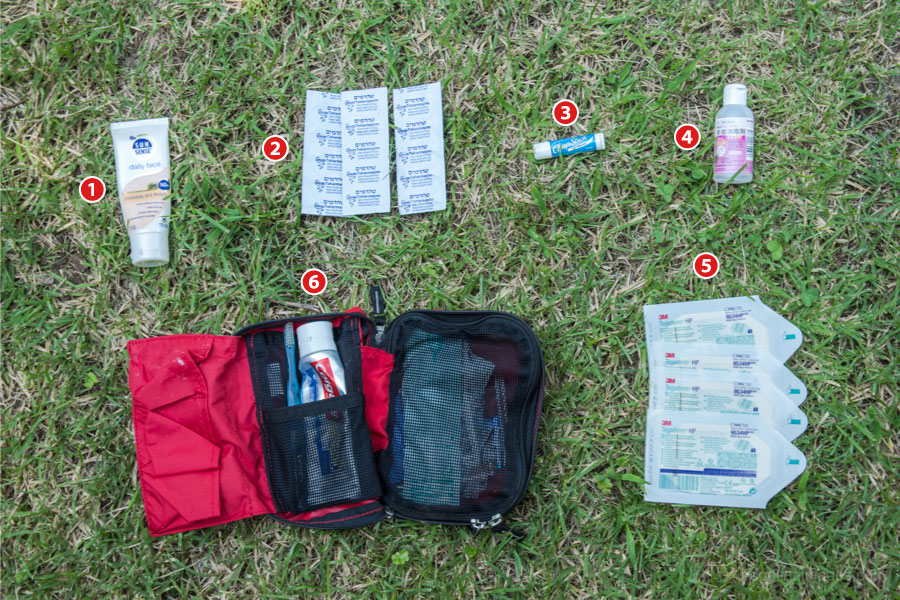 ❶ sunscreen ❷ Taharmayim water purification tablets ❸ lip balm ❹ hand sanitizer ❺ Tegaderm HP (Holding Power) film dressing ❻ first-aid kit
Other Items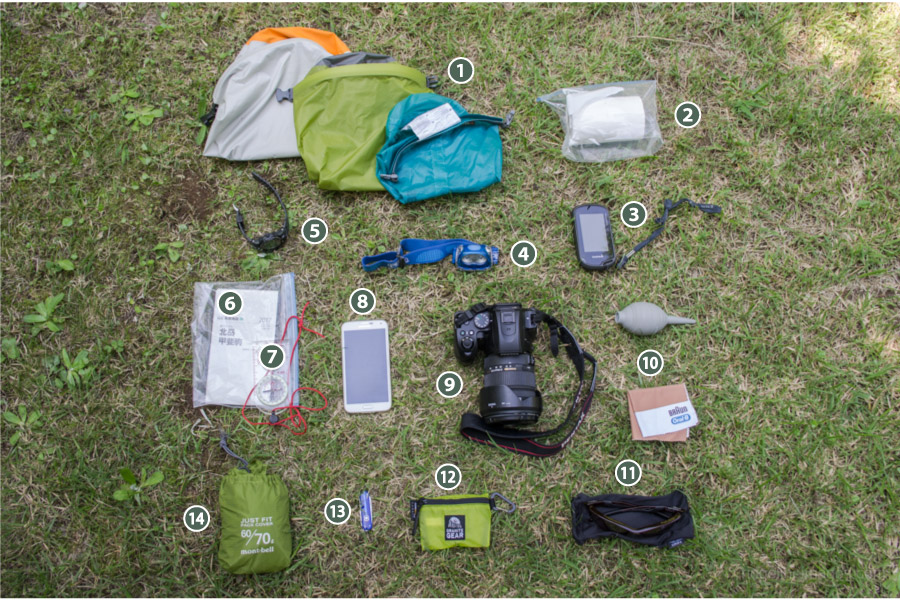 ❶ stuff sacks ❷ toilet paper ❸ Oregon 600t handheld GPS ❹ Petzl Tikkina 2 Headlamp ❺ Casio Protrek PRW-3000 ABC watch ❻ map (in ziplock bag) ❼ Suunto A-30L Compass ❽ Samsung Galaxy S5 ❾ Pentax K-70 ❿ dust blower / microfiber cloth ⓫ Oakley Half Jacket 2.0 sport sunglasses ⓬ Granite Gear hiker wallet ⓭ Victorinox Swiss Army Classic pocket knife ⓮ Montbell backpack rain cover Backpack: ● Montbell Expedition Pack 70
Weight Summary
Total base weight in pack 8.7 kg (19.2 lb)
Total weight of consumables 2.1 kg (4.6 lb)
Camera gear 1.5 kg (3.3 lb)
Full pack including food, 2 litres of water and camera gear 14.3 kg (31.5 lb)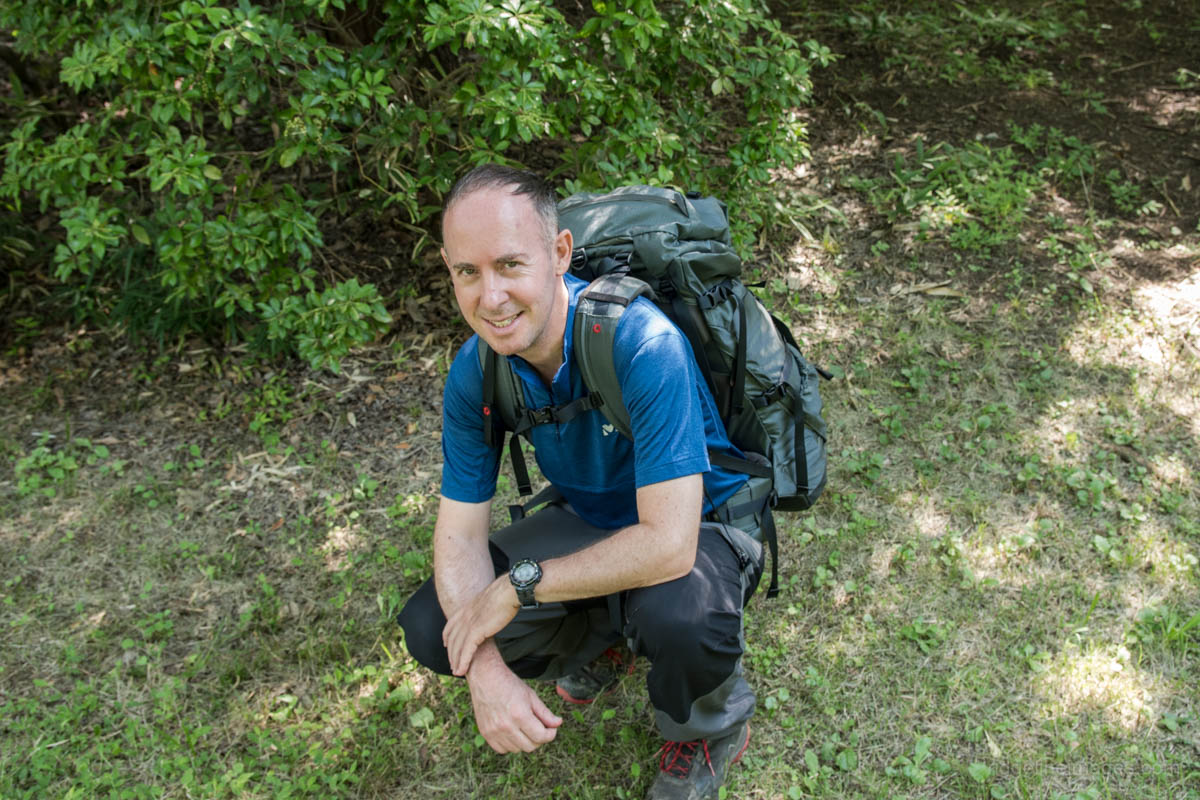 All packed up.