Bask in Fujisan's Shadow
On my latest getaway to try and sneak in one final hike before returning to my teaching post I spent a night at Fumotoppara campground just a hop, skip and a jump away from Mt. Ryugadake. Fumotoppara is located in Shizuoka Prefecture, resting in the lowlands of Mt. Fuji, which rises dramatically to the east with Mt. Kenashi to the rear. The colossal campground that I'm waging is Japan's largest (equivalent to 100 Tokyo Dome's) and can accommodate a jaw-dropping 1,500 tents! If you need any further convincing of its popularity, check out these pics of Fumotoppara during peak season.
It's open year-round, pets are OK, and you can set up your tent anywhere you like within the designated area. Thankfully, when I visited, it was relatively quiet, being both mid-week and still quite cold. It sits at 830 metres. Having said that, when I left the campground before 6:00 am to go hiking, no kidding there were already two cars idling at the gate. They were in for a long wait as admin doesn't get going until 8:30 am! For solo hikers, at least the price is a very reasonable 1,000 yen. It's accessible by bus from Kawaguchiko or Shin-Fuji stations. From the bus stop, it's an easy 20-minute walk. Just down the road from the bus stop is a FamilyMart if you need to stock up on supplies.
PROS
+ Same day online reservations
+ Set up your tent anywhere you like
+ Possible to access via public transportation
+ Well priced for solo travellers
+ Late checkout (14:00)
+ Helpful and friendly staff
+ Amenities are kept very clean, including heated seats and washlets!
+ If it's uncomfortably cold you can avail yourself of the cafeteria at night
+ Vending machines include both food and drinks
+ Nearby convenience store
+ Pet friendly
+ And of course, a killer view of Fujisan
CONS
– Can be cold in the shoulder seasons
– Exposed to the elements and subject to strong winds
– Very crowded on weekends and holidays
– Staking tents can be difficult due to stones mixed in with soil
– Communal bath only available during busy periods
– No paid showers
– Temporary toilets during peak seasons
– Nearest hot spring is Asagiri Onsen Kaze no Yu about 9 km away
.
Access: From Kawaguchiko Station take a bus bound for Shin-Fuji Station operated by Fujikyu Shizuoka Bus (59 mins, 1,490 yen). Closest bus stop Asagiri Green Park a 20 minute walk.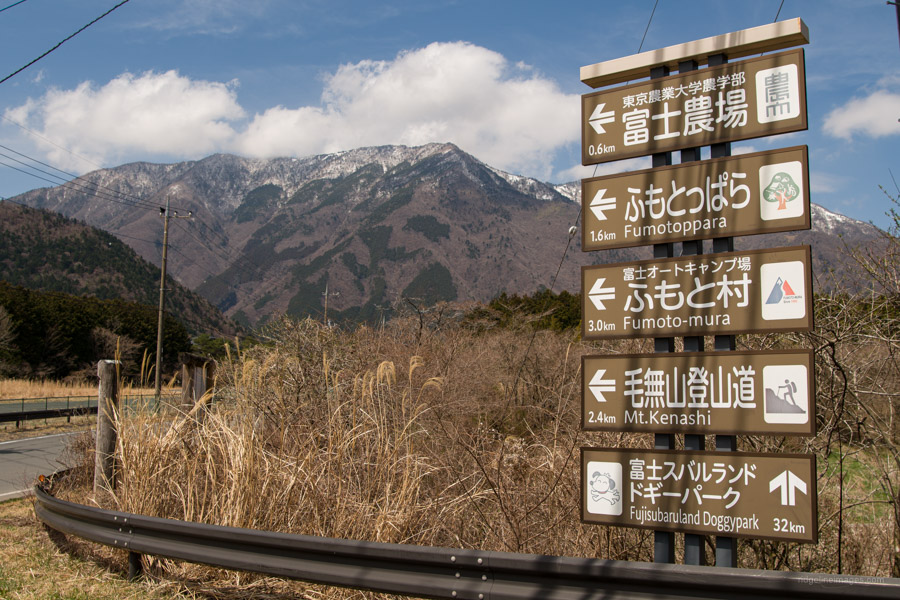 View from the Asagiri Green Park bus stop.
.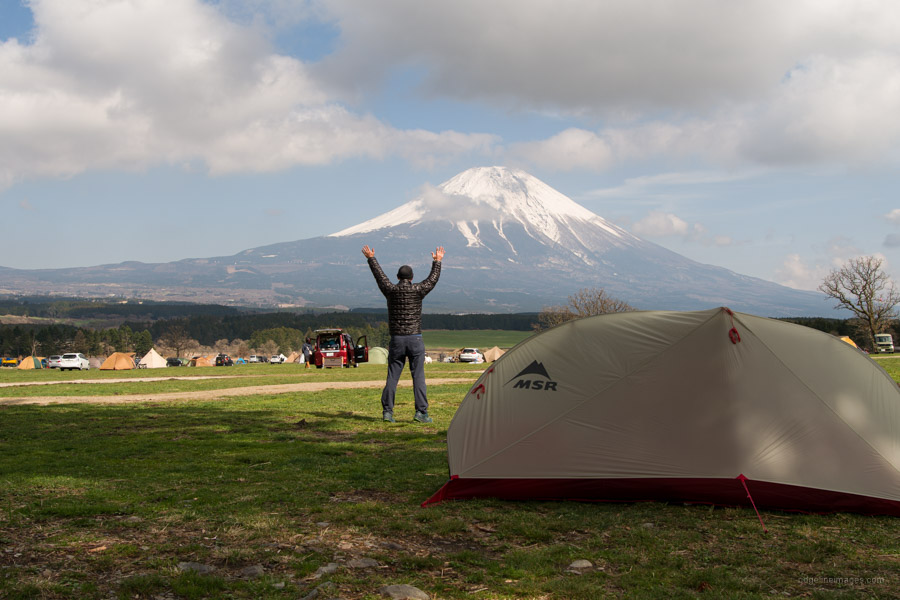 Basking under Fujisan.
.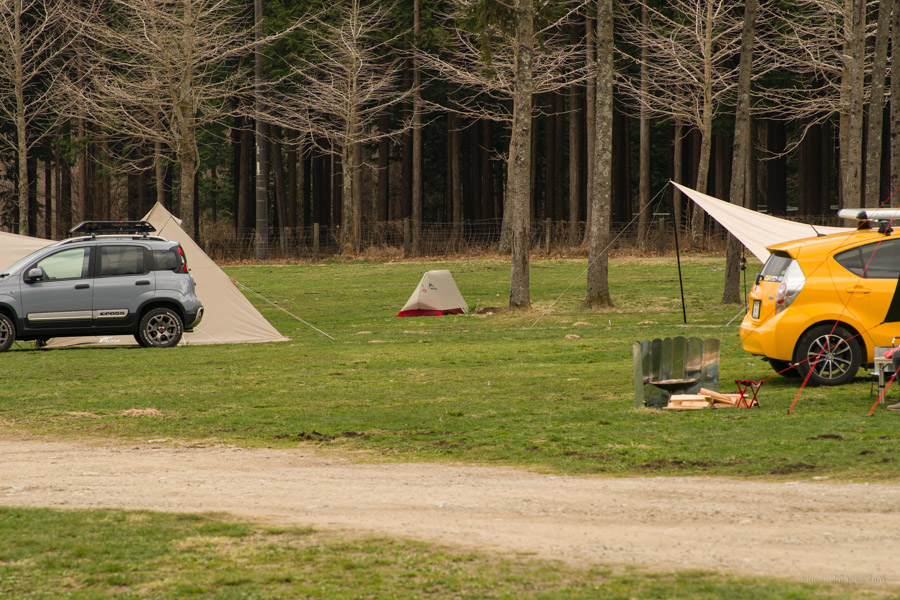 Hiding in the shadows.
.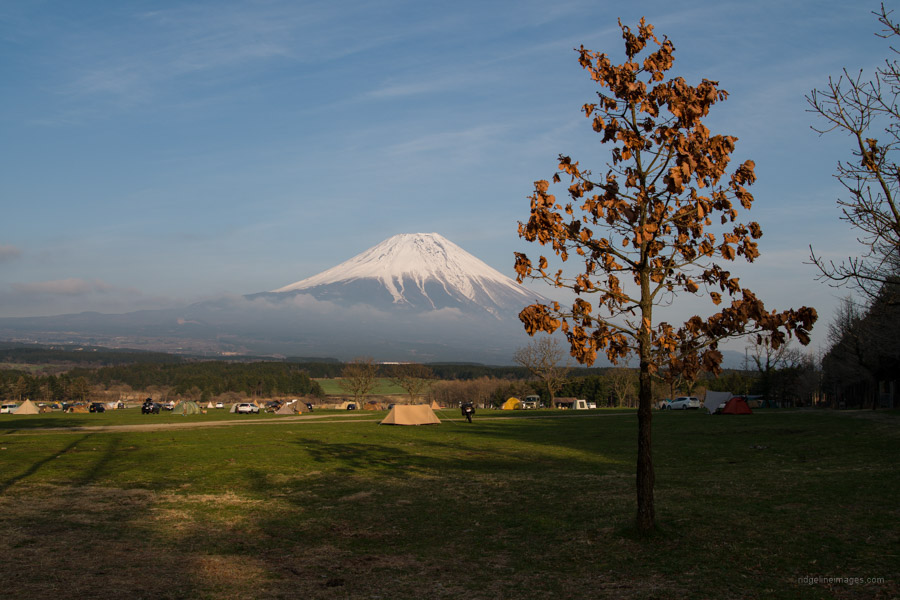 Around dusk at Fumotoppara Campground.
.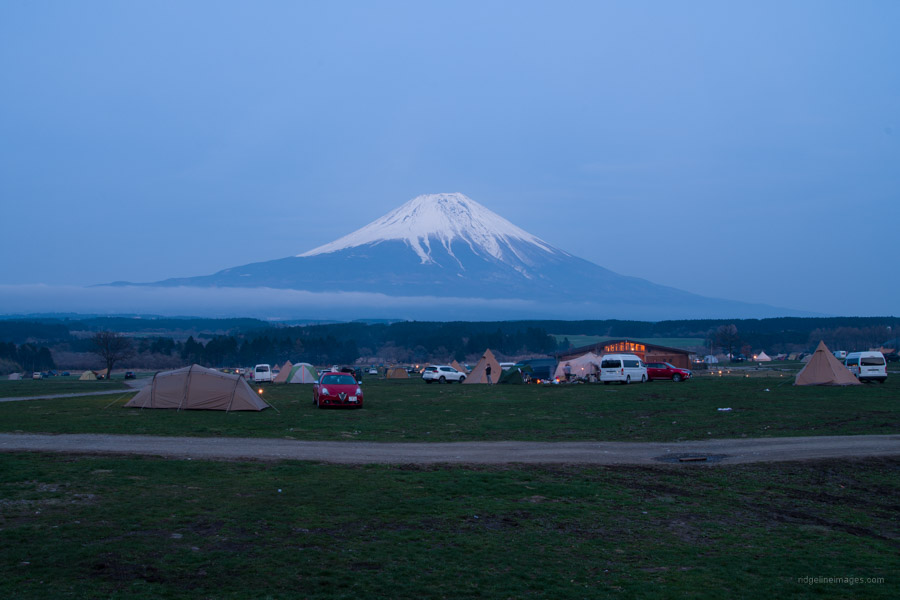 Fujisan after sundown.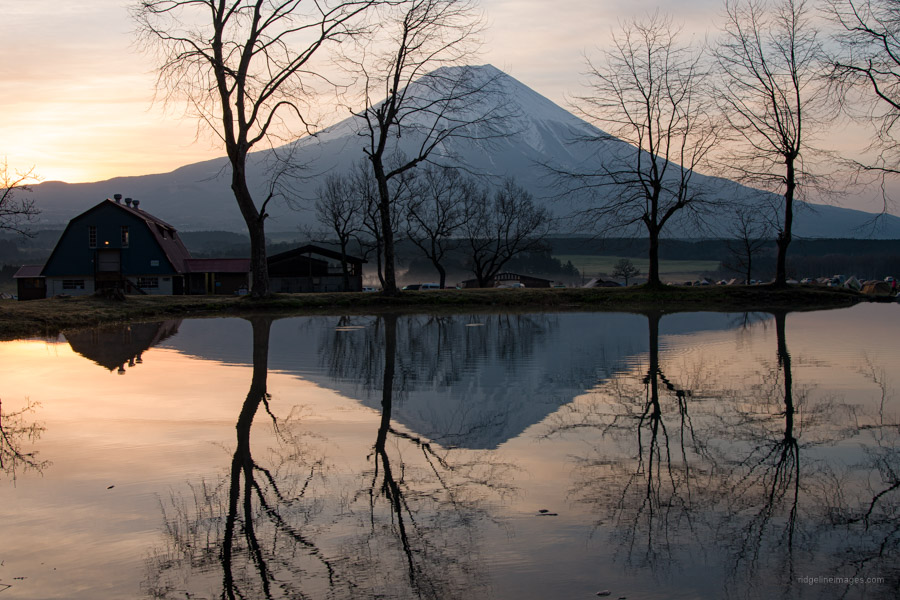 Mirror image.