Outdoor Bloggers to Follow in Japan (2022)
Putting together a list that celebrates the diverse international outdoor blogging community in Japan is something that I have wanted to do for some time. The reason is twofold. If there is one thing just as rewarding as writing and sharing my own outdoor adventures, it's sharing a few words about my fellow bloggers. Also the reality is many blogs don't receive the attention and readership they deserve, so anything I can do to lend a hand, is surely a worthwhile endeavour.
The last couple of years have been tumultuous to say the least, yet despite all these goings-on this resolute band of hiking and outdoor enthusiasts have continued to churn out inspiring content. Caps off to each and every one of you! If there's a silver lining to Japan's tough border restrictions it has been those whose plans have been thwarted, have at least been able to live vicariously through the experiences of these bloggers.
So here we have it, a rundown of sixteen stellar hiking and adventure blogs written from across Japan (and Switzerland!). They range from familiar websites that have withstood the test of time to others that have flown under the radar but are nonetheless real gems. The blogs (introduced in reverse-chronological order) have all published at least one blog post since the start of the pandemic, are primarily non-commercial, and focus on sharing personal experiences.

The Blogs 
Hiking Around Tokyo
Notes from the 'Nog
Climb Japan
Willie Walks
One Hundred Mountains
Hiking in Japan
The Tozan Tales
Tsubakuro's Blog
Gary J. Wolff
Susan Spann
Bizarre Journeys
Tokyo Hikeographer
Hokkaido Wilds
The Cheap Adventures
Mostly Japanese Mountains
Hike Master Japan
.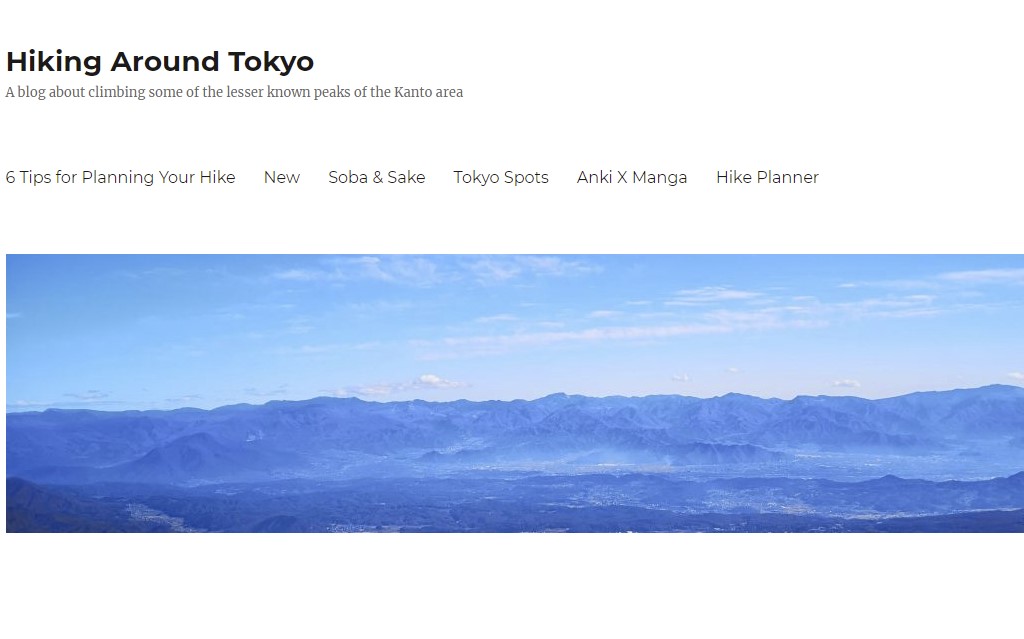 .
If you're looking for some quieter trails and lesser-known peaks to bag around the Kanto area then a good first stop is the vast cache of hikes on David Couvreur's Hiking Around Tokyo blog. At least according to my count, he has amassed well over 100 hikes to date which is no small achievement. David's hike write-ups have an engaging narrative style with plenty of info on the dangers and difficulties that you can expect accompanied with beautiful imagery. Helpfully many hikes conclude with onsen recommendations – essential after a long day out on the trail.
Written by: David Couvreur
Founded: 2003
---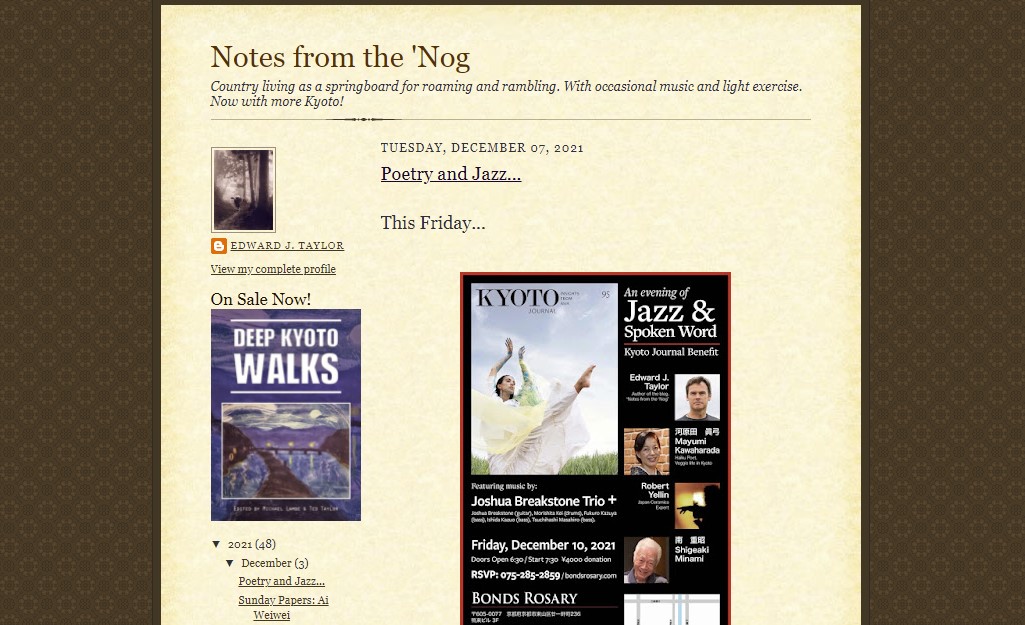 The long running Notes from the 'Nog is the handiwork of well-read Kyoto resident Edward J. Taylor and editor of Deep Kyoto: Walks. The blog is a treasure-trove with topics ranging from Basho to yamabushi as well as forgotten corners of Kyoto. Notwithstanding a repository of hikes that include the Daisetsuzan National Park, Shikoku 88 Pilgrimage, Nakasendo Trail, Tokai Nature Trail and Kumano Kodo. Always an engaging read as witnessed in this 'gripping' episode on Minagoyama a Kansai Hyakumeizan.
Written by: Edward J. Taylor
Founded: 2005
---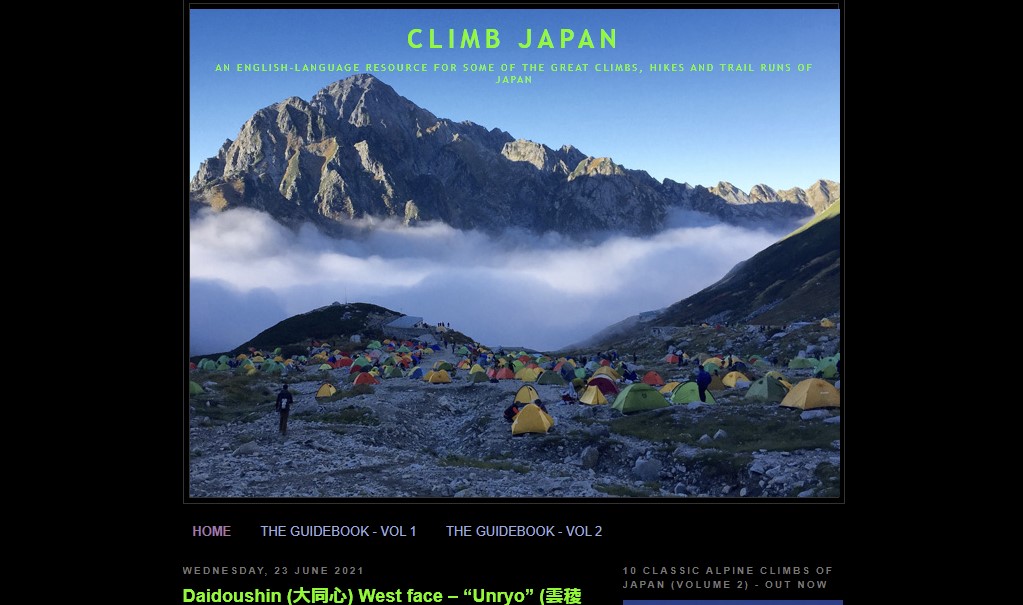 With a penchant for scaling towering rock walls, crags, and buttresses, Climb Japan introduces us to some of Japan's most iconic mountains – the hard way! If you think climbing Kita-dake the traditional route is tough, then try 'Kitadake Buttress – No.4 ridge Lower flank and Upper flank' with 5 pitches and vertical wall scrambling. Hikes suited to us mere mortals include Mt. Kinpu and Mt. Kentoku. Tony Grant is also the author of 10 Classic Alpine Climbs of Japan (Vols 1 & 2) sorely needed English-language guidebooks for foreign climbers.
Written by: Tony Grant
Founded: 2007
---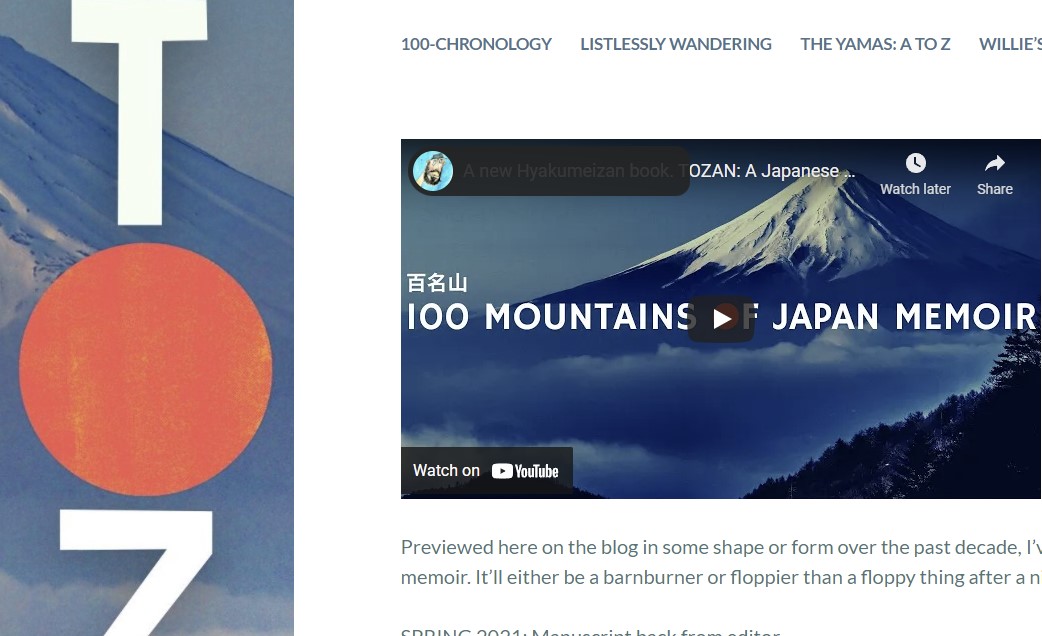 Back in 2007, William Banff experienced an epiphany after coming across the name Kyuya Fukada that led him to hatch a plan to try and climb the Nihon Hyakumeizan by Christmas of that year. It is through his blog Willie Walks that he chronicles these 100 adventures. In recent times the site has become a conduit for his upcoming book 'TOZAN – A Japanese Mountain Odyssey'. The manuscript is back from the editor and we're hoping he has tamed the 'gots' so we can finally 'get' our hands on the memoir sometime in the New Year. Based on snippets released thus far it's going to be a brilliant read.
Written by: William Banff
Founded: 2007
---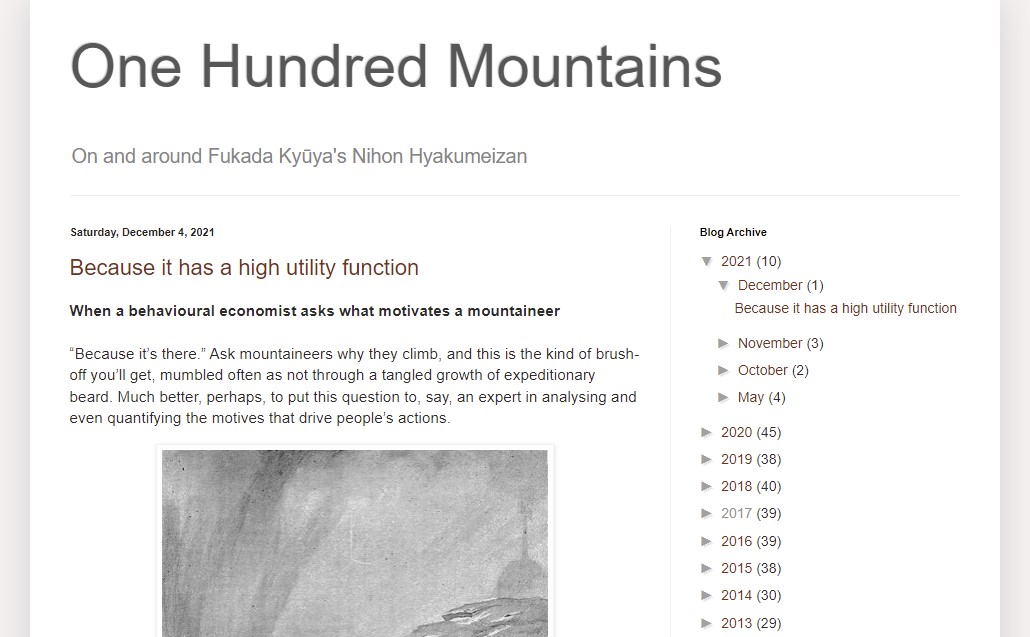 .
One Hundred Mountains is dedicated to the life and times of mountaineer extraordinaire Fukada Kyuya author of Nihon Hyakumeizan (100 Famous Japanese Mountains). Martin Hood tasked himself with translating the one hundred short essays and as such much of the blog is based on his English translation published back in 2014. He even audaciously coined the term meizanology – 'the study of the meaning and cultural significance of mountains'. The blog is essential reading for buddying meizanologists and for those with an interest in the history of mountaineering in Japan it's well worth taking time to pore through.
Written by: Martin Hood
Founded: 2008
---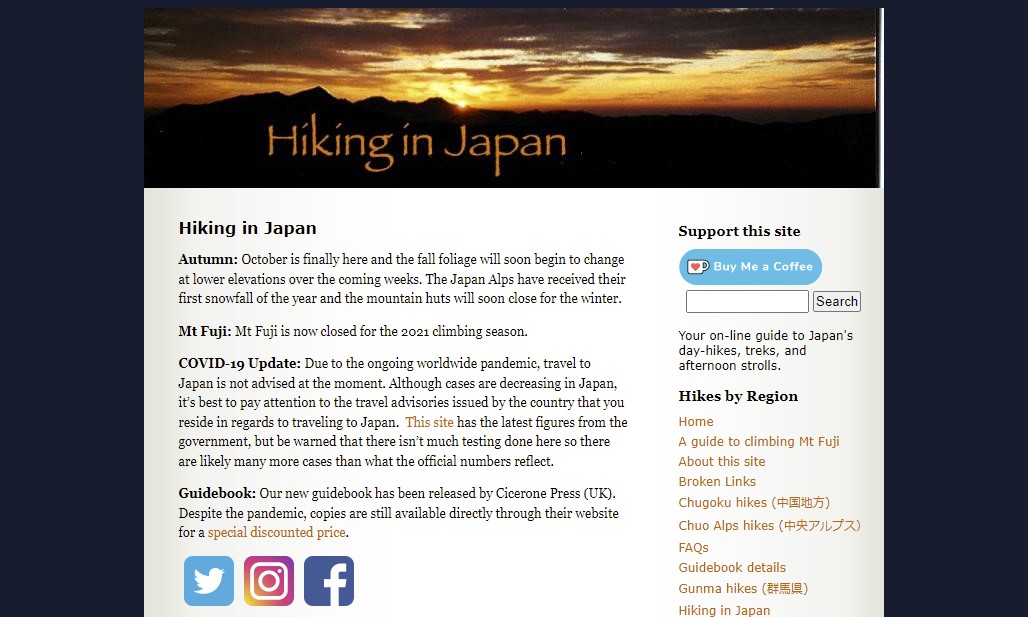 Hiking in Japan needs little in the way of introduction. If you've climbed any of the Hyakumeizan, there's a high likelihood that one of Wes Lang's hike reports guided you in the process. Even after all these years the blog remains one of the best sources of hiking information on the 100 Famous Japanese Mountains. In total the hikes span the full breadth of the archipelago from Iriomote Island, The Izu Islands, and Hokkaido. For the most up-to-date trekking information I recommend picking up Tom Fay and Wes Lang's Hiking and Trekking: The Japan Alps and Mount Fuji guidebook.
Written by: Wes Lang
Founded: 2008
---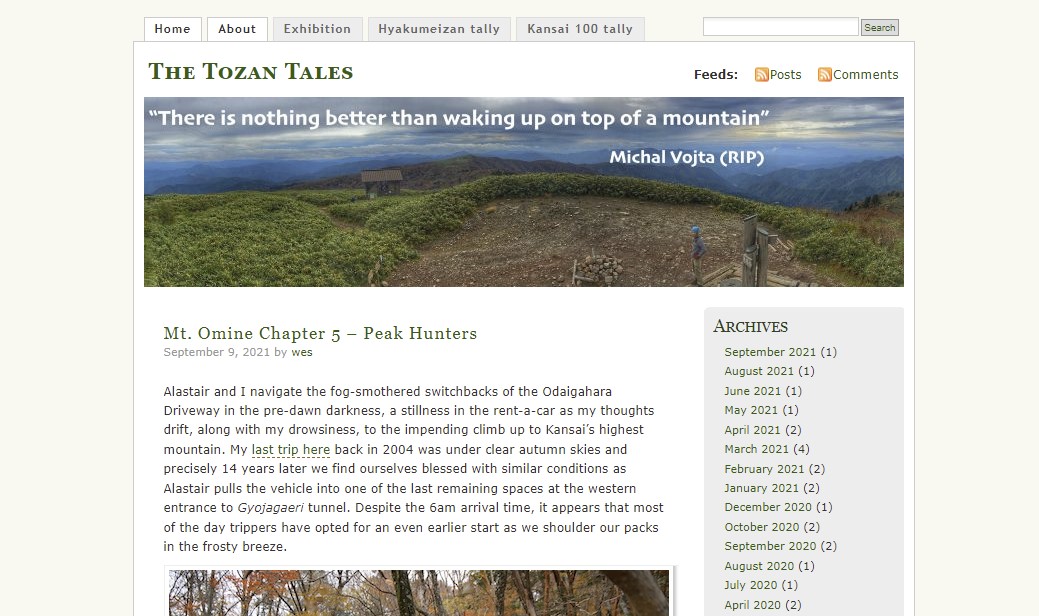 .
Not content with just one hiking blog, Wes Lang provides a more personal reflection on his adventures in The Tozan Tales. Compared to its sister site there is less emphasis on logistics and more about his hiking successes in the mountainous areas surrounding the Kansai region where he has finished the Kansai Hyakumeizan, Kinki Hyakumeizan, and more recently climbed the highest mountains in all 47 prefectures. Tozan in Japanese refers to mountain climbing, and Wes's personal anecdotes can always be counted on to deliver a good read.
Written by: Wes Lang
Founded: 2008
---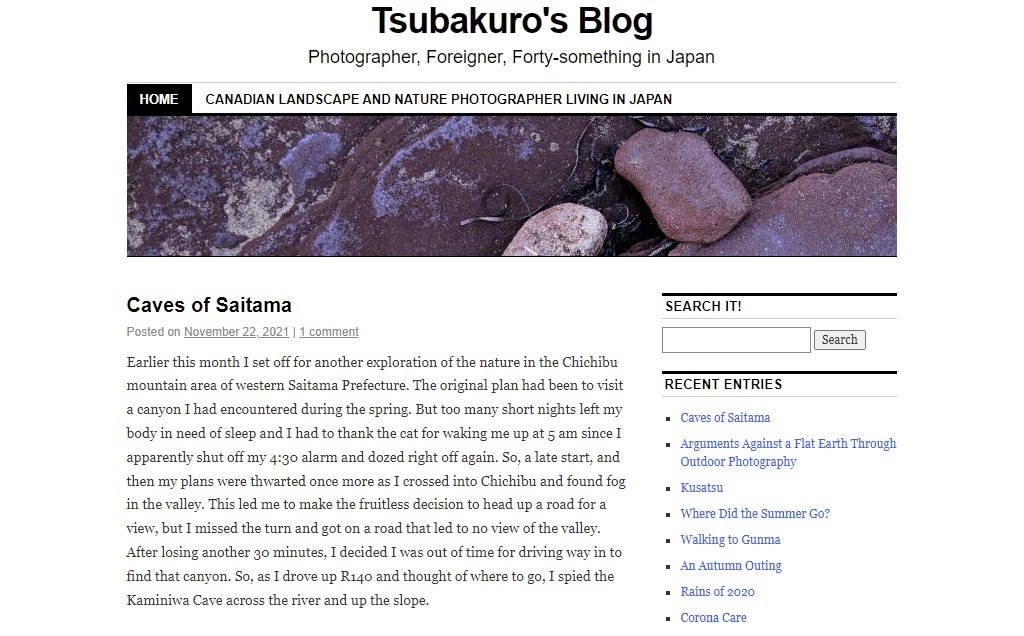 Anyone with even a passing interest in NHK World-Japan has probably seen Peter Skov climbing the likes of Hakusan, Fujisan, and Taisetsuzan on Journeys in Japan. Though Peter's real passion is his landscape photography which features prominently on Tsubakuro's Blog. In fact, his striking image of lofty peaks rising above a sea of clouds adorns the cover of Martin Hood's English translation of Nihon Hyakumeizan. Of late his hiking adventures and musings focus on the mountains of Saitama near where he lives introducing little visited caves, waterfalls, and gorges that all make for wonderful photographic compositions.
Written by: Peter Skov
Founded: 2008
---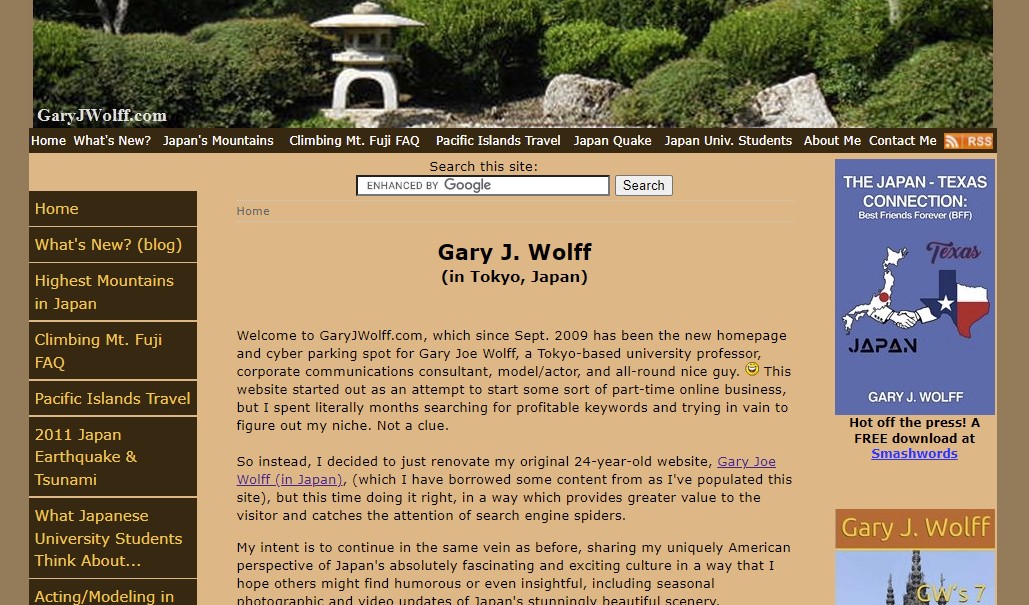 Gary J. Wolff and its predecessor garywolff has been around for almost as long as the Web itself! If you want to see what life was like rockin in cyberspace '97 it's a good start. Setting that aside Gary is an accomplished alpinist having scaled all of the nation's 29 highest peaks and even published a book chronicling these climbs. Notably, the site has a mother lode of material concerning Mt. Fuji starting with a comprehensive climbing Mt. Fuji FAQ. The wealth of information is quite staggering and if for some bizarre reason your must ask question hasn't been answered Gary is only too happy to oblige.
Written by: Gary J. Wolff
Founded: 2009
---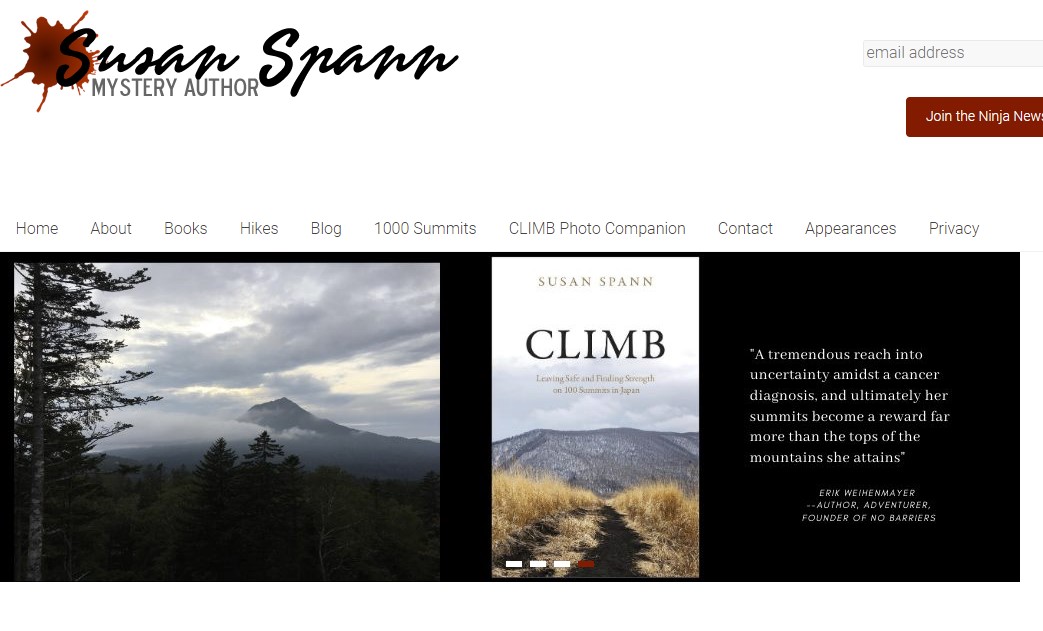 .
As one of the three female bloggers on the list Susan Spann's journey into hiking in Japan is like no other. After steeling herself to climb the Hyakumeizan, Susan was diagnosed with an aggressive cancer, rather than give up on her dream she showed extraordinary grit, resilience, determination and humour, becoming the first Western woman over 45 to climb them in a year. Climb: Leaving Safe and Finding Strength on 100 Summits in Japan is her inspiring memoir of those ascents. Her blog entries supplement this undertaking peppered with assorted day hikes such as this section of the Kanto Fureai no Michi.
Written by: Susan Spann
Founded: 2010
---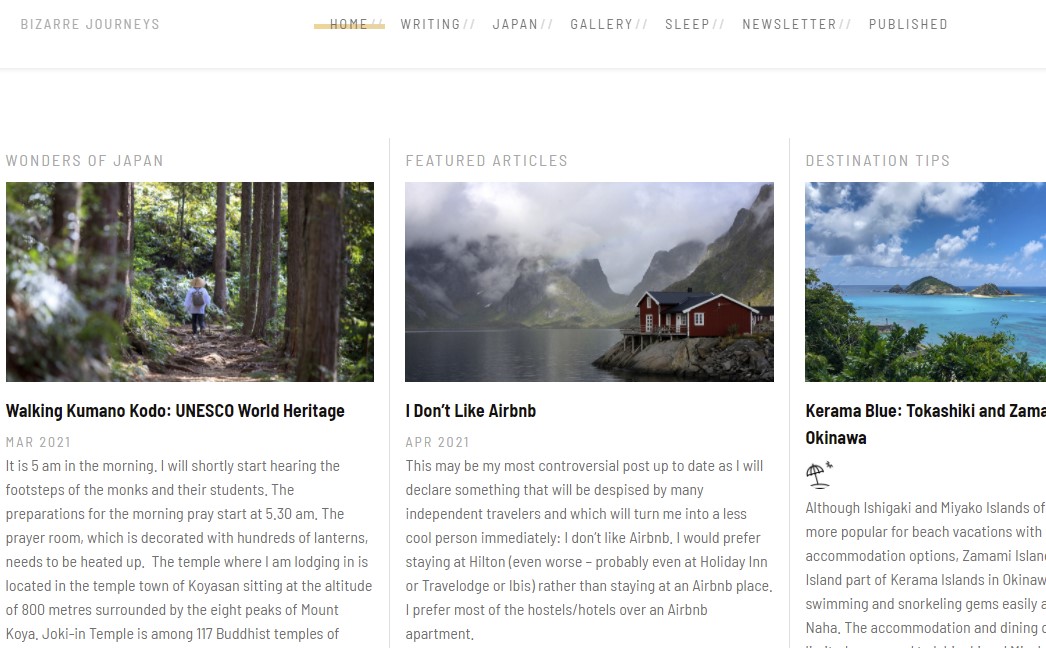 To underscore the diverse backgrounds of bloggers on this list we have Burcu Basar who hails from Turkey. Bizarre Journeys introduces her readers to some of her favourite hiking destinations including Daisetsuzan, Yakushima, and Nikko. Burcu has a real knack for unearthing some of the most beautiful spots throughout Japan. Where her blog really shines though is through her photography; we find Nikko at the height of autumn, Shirakawa-go in the depths of winter and mist enveloped mountains climbing Mt. Miyanoura in Yakushima. Along with her personal musings she offers plenty of suggestions to help you get the most out of your adventures.
Written by: Burcu Basar
Founded: 2016
---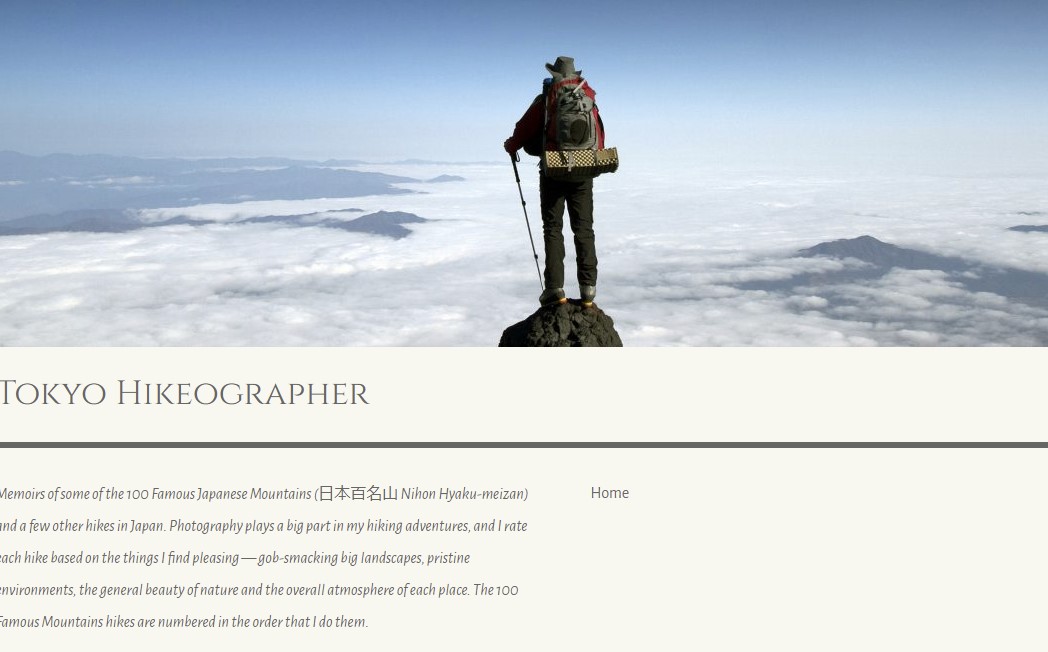 One reason for writing this post was to bring to light otherwise little-known bloggers. Tokyo Hikeographer is a good case in point. Greg's memoirs eloquently describe his triumphs and struggles climbing the Nihon Hyakumeizan. His last entry in particular 'snowpocalypse' is a ripper and reads like a gripping suspense novel. On the first day he bumps into a couple of blokes dressed in camo gear holding rifles, the second day 'plogs' unendingly through waist high snow at Mt. Kinpu and on the third…well you'll have to read to find out. A terrific blog to get some inspiration for that next overnight hike.
Written by: Greg
Founded: 2016
---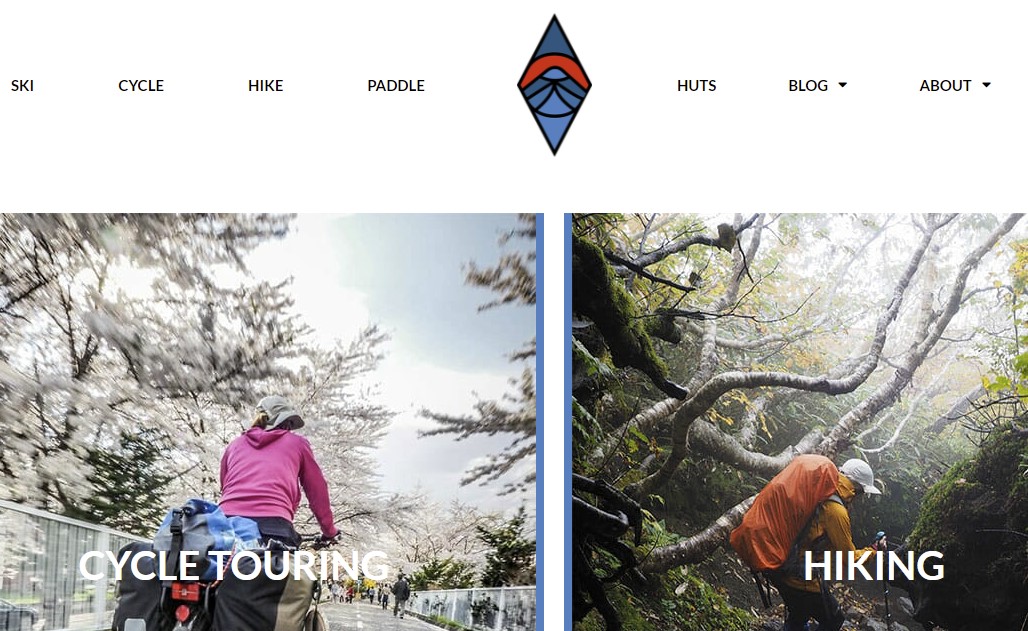 It's been just over three years since Rob Thomson launched the not-for-profit website Hokkaido Wilds. In that relatively short period let's just say Rob, co-founder Haidee, and rest of the team have well and truly hit the ground skiing, cycle touring, hiking, paddling, adding new adventures at a dizzying pace, most recently chalking up their 50th paddling route. For those of you fortunate enough to visit or live for that matter in the pristine wilderness playground of Hokkaido you now have at your disposal a growing repository of detailed online routes and maps to guide you. I only see Hokkaido Wilds getting bigger and better and to give credit where credit's due they really have struck the gold standard when it comes to blogging.
Written by: Rob and Haidee Thomson, Rick Siddle and Chris Auld
Founded: 2018
---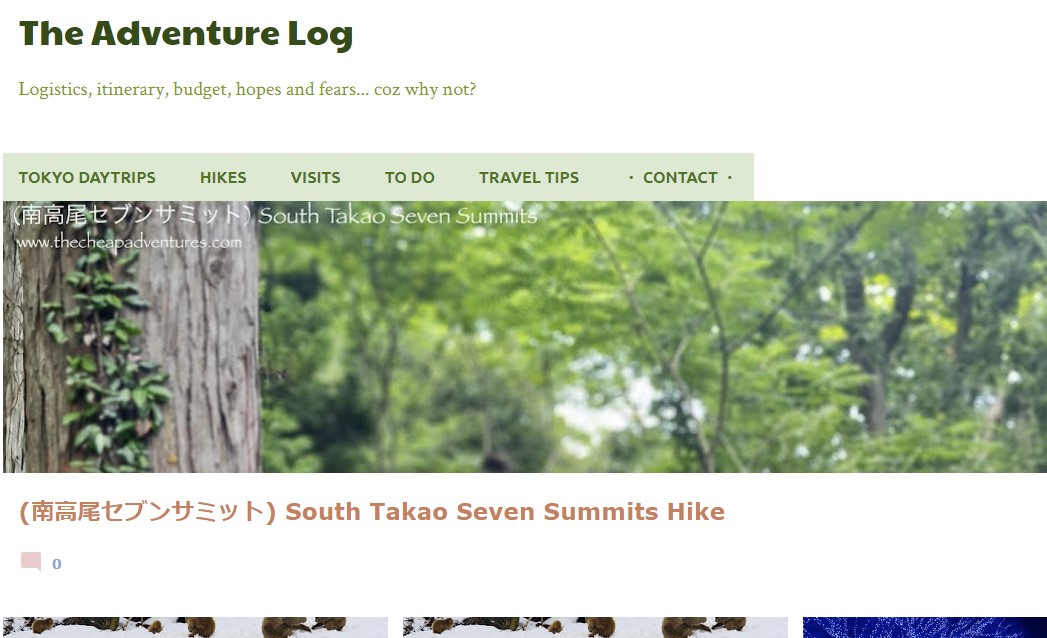 .
Some of the best hiking blogs are the ones that dispense with long-winded openings and get straight to the crux of the matter – 'from the station turn left and head up the road' with an accompanying photo. The Cheap Adventures by Cecilia is one such blog and is why I use it for my hike planning. A good example is Mt. Ono which I recently hiked. It starts with the transport fare from Tokyo, difficulty rating, a useful annotated map, special considerations, itinerary, hike log together with photos and descriptions. All in all, it's incredibly helpful. For hikes not yet completed Cecilia has pencilled in rough outlines.
Written by: Cecilia
Founded: 2020
---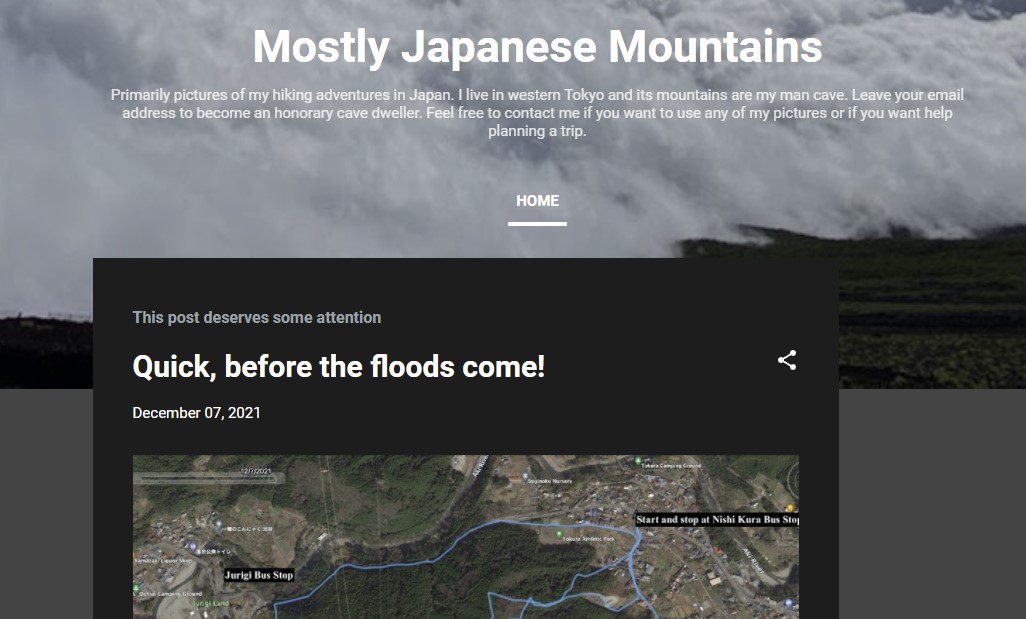 Mostly Japanese Mountains is one of two new hiking blogs that got going this year with the other being Hike Master Japan. I'll start by welcoming you both to the outdoor blogging community! Mostly Japanese Mountains is written by Tokyo based Patrick Burke who describes the mountains as his 'man cave' an apt metaphor. Since his first blog post in January where he climbed Mt Takashiba in Yamanashi, Pat has accrued a ton of hiking adventures. Each hike report starts with preliminaries, followed by annotated maps and importantly plenty of photos most of which are captioned. Hopefully there will be many more hikes in front of him.
Written by: Patrick Burke
Founded: 2021
---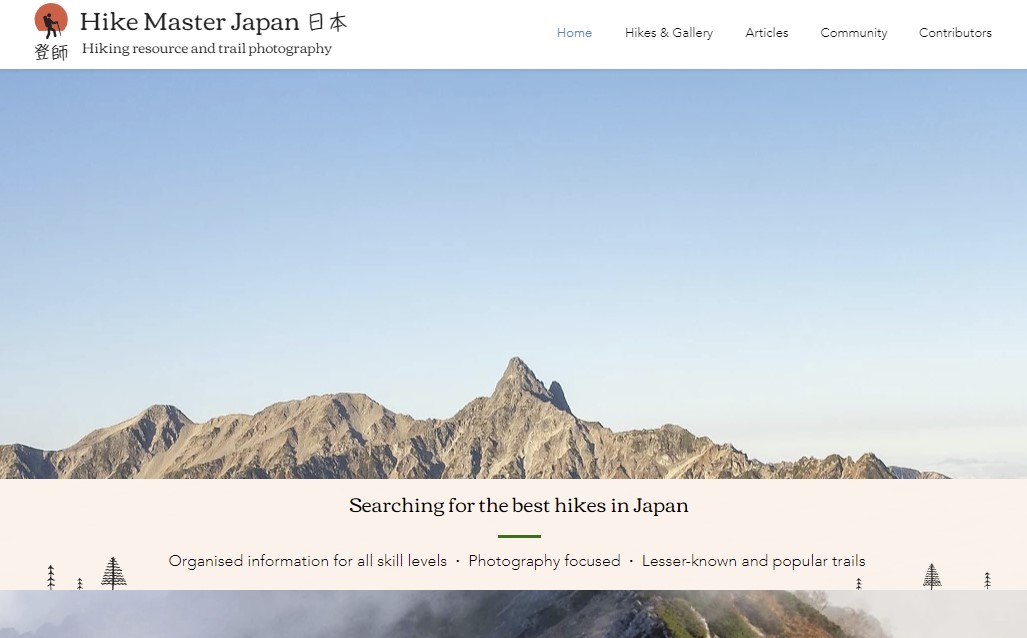 Last but by no means least is Hike Master Japan created by Ollie. So far this year he has written up around 20 hikes focussed mainly on the Kansai Region where he calls home. A lot of effort and research has gone into producing each report. Take Yarigatake for example, it begins with an overview, transport access, the trail description together with stunning photography. The elevation change is shown in a profile graph, helpful for grasping the difficulty at a glance. It's a terrific up-and-coming blog and one to bookmark for future reference.
Written by: Ollie
Founded: 2021