First Aid Kit Essentials to Keep you Healthy and Safe out on the Trail
When it comes to choosing a first aid kit for backcountry outings you have basically one of two options; make up your own kit or buy one ready-made off the shelf. While there are advantages to both, personally I prefer the build your variety which can be better tailored to your individual needs and preferences. What follows below are 23 essential items that I will take along for both day trips and longer multiday rambles. My revised and updated first-aid kit shaves 400g or 80 percent of the weight compared this old one.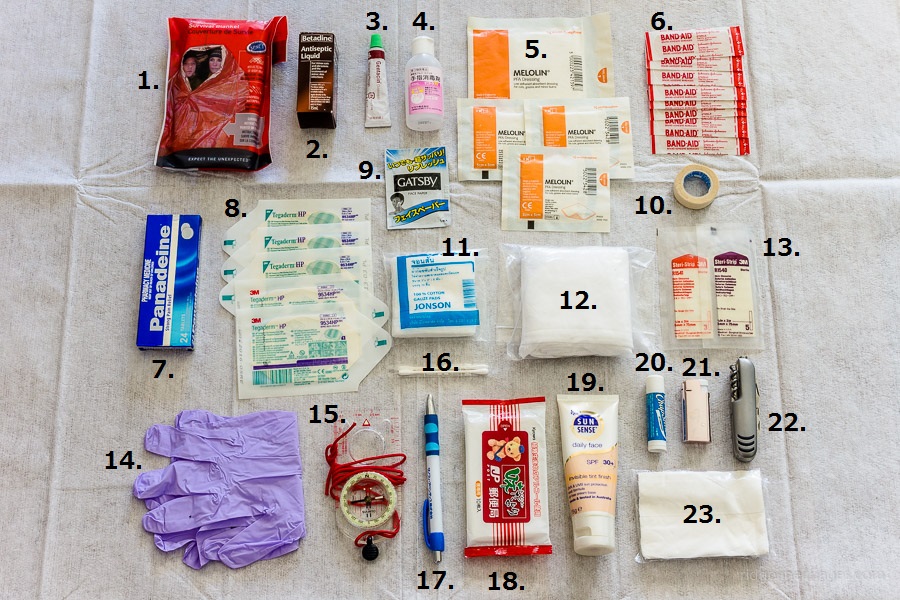 Hiking First Aid Kit Checklist
1. SOL 1-2 person adventure medical survival blanket.
2. Betadine antiseptic liquid. Helps protects wounds from getting infected.
3. Gentamicin ointment. Stops growth of certain bacteria; suitable for minor burns, cuts, wounds.
4. Alcohol gel. Rub liberally on hands to disinfect.
5. Melolin PFA dressing. Absorbent dressing for cuts, grazes and minor burns.
6. Band-Aids. Staple of any first aid kit.
7. Panadeine tablets. Pain reliever; 500 mg paracetamol.
8. Tegaderm film dressing. Blister prevention and treatment of abrasions and superficial burns.
9. Face cleansing towelettes. Clean hands and face without soap and water.
10. Adhesive tape. Multipurpose use; holding gauze in place or to help splint broken bones.
11. 100% cotton gauze pads. Treat excessive bleeding.
12. A triangular bandage (with safety pins). Arm slings and as a compression bandage.
13. 3M Steri-Strips. Hypoallergenic and sterile; close and support small cuts and wounds.
14. Nitrile gloves. Protect yourself from the bodily fluids of others.
15. Compass. To ensure it's not left behind.
16. Cotton buds. Cleaning scrapes and small cuts.
17. Pen. Recording your walk intentions in campsite log books.
18. Wet towels. Disinfect hands.
19. Sunscreen. SPF 30+ sun protection.
20. Chap Stick. For those dry lip emergencies.
21. Lighter. Back-up lighter.
22. Pocket knife
23. Tissues
.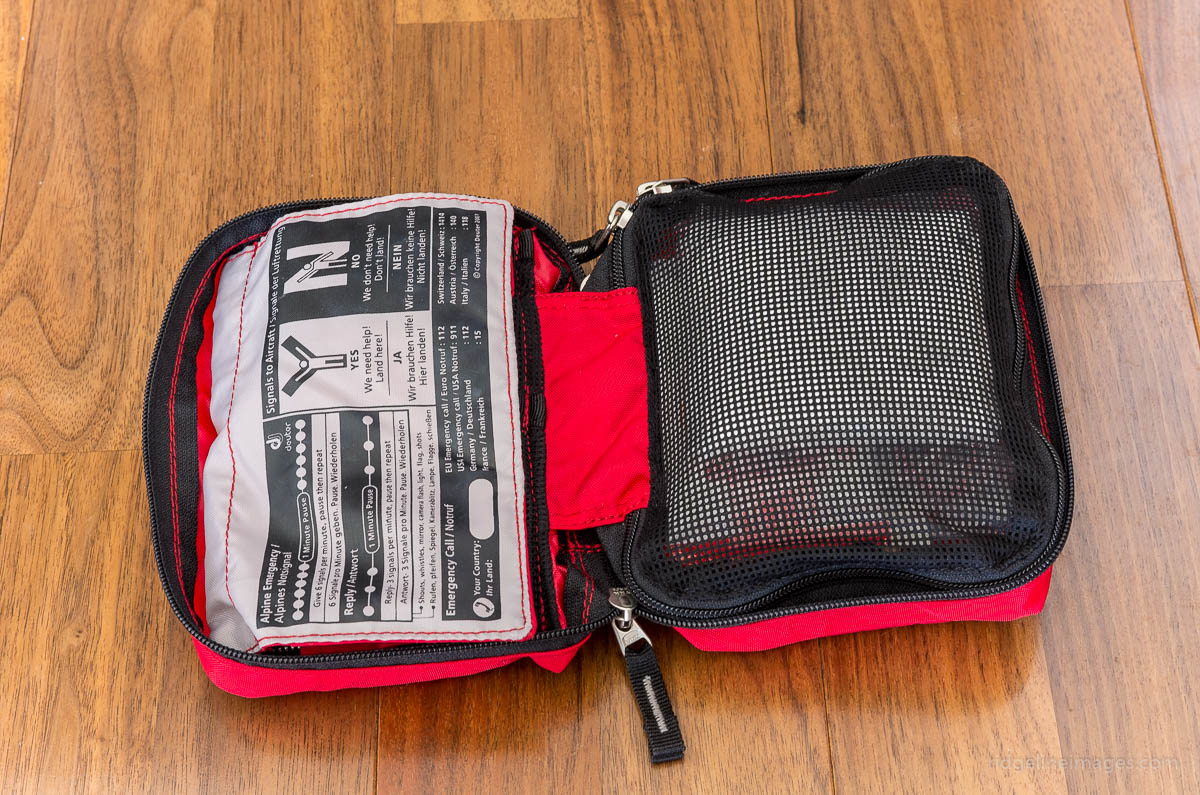 Where to buy Ready-made Outdoor First Aid Kits
CampSaver | REI | Backcountry | Rock Creek | Moosejaw
* When you use links above to make your purchase, the seller will contribute a portion of the sale to help support this site.