Choose Your Next Hike with Confidence
With so many hiking trails around Tokyo to choose from it can be tough to know where to begin especially if you're a novice hiker or new to the prefecture. Over the years probably the single most sought out question I've gotten from my readers is about hiking recommendations. To more easily answer this request, I have pieced together a mountain climbing "matrix" which grades hikes according to fitness level and difficulty. In total there are 31 hikes, a mishmash of day and overnight offerings all within the Tokyo Metropolis or along neighbouring prefectural borders. Many of the hikes have detailed trail notes you can search for on this site. It's worth mentioning that some trails remain out of action due to the severe impacts of Typhoon 19 (Hagibis). Check the Tokyo Metropolitan Park Association website for the latest information before setting out.
If you think this grading guide is worth a coffee, click the Ko-fi link below. You can also support ridgelineimages by following this link to Amazon.co.jp where a small portion of anything you purchase in that shopping session will go back to this blog at no cost to you. As always, thank you for your support!
.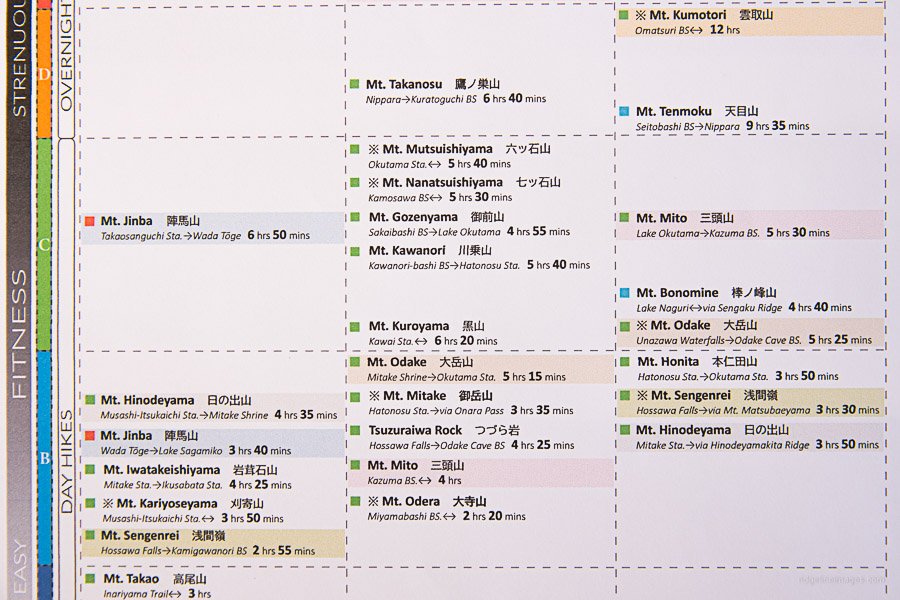 Tokyo hiking mountain grading guide.