Securing Tokyo's Water Future Paid a Heavy Toll
As the responsible agency for supplying drinking water to almost 13 million residents the Tokyo Metropolitan Government Bureau of Waterworks relies heavily on the 185,400 megalitre Lake Okutama (Ogouchi Dam). As the largest reservoir in Japan the Ogouchi Dam has been instrumental in safeguarding Tokyo's water supply over the years. But as I discovered its construction wasn't without considerable sacrifice.
Visiting Lake Okutama on a misty morning this past summer it struck me what a colossal infrastructure project had been realised. At the time of the dam's completion in 1957 it was one of the the world's largest reservoirs. However its construction brought about a heavy personal toll. Over the twenty years required to build the dam a total of 87 workers paid dearly with their lives and caused the displacement of 945 households or around 6,000 residents. A cenotaph has since been erected to those deceased along with the Ogouchi Shrine which memorialises the nine shrines from the former village. The residents of Ogouchi Village were at the time understandably opposed to the dam's construction but eventually acquiesced as it was argued it would provide Tokyo with water security.
A ground breaking ceremony took place in 1938 but it wasn't for a further ten years before construction began in earnest due to the outbreak of World War 2. To assist with the dam's construction a purpose built 6.7km freight line (Tokyo Metropolitan Government Bureau of Waterworks Ogouchi Line) opened in 1952 for transporting materials. The old route has been well documented by several buddying explorers including one 440 metre long tunnel and while the trestle bridges have largely rotted away the train line remains remarkably well preserved.
After the dam's completion and on the back of the Tokyo Olympics the Okutama district was greeted with an influx of tourism and investment. A ropeway was constructed which straddled the dam and later a peace pagoda built on nearby Mount Odera. While these structures are now either abandoned or in the case of the Tokyo Peace Pagoda in much need of repair the mountains surrounding Lake Okutama remain popular year round with hikers and weekend day trippers looking to escape the confines of Tokyo.
Access: The dam is only a 15 minute bus trip from Okutama Station and with the autumn foliage now beckoning a day trip to Lake Okutama is well worth checking out.
.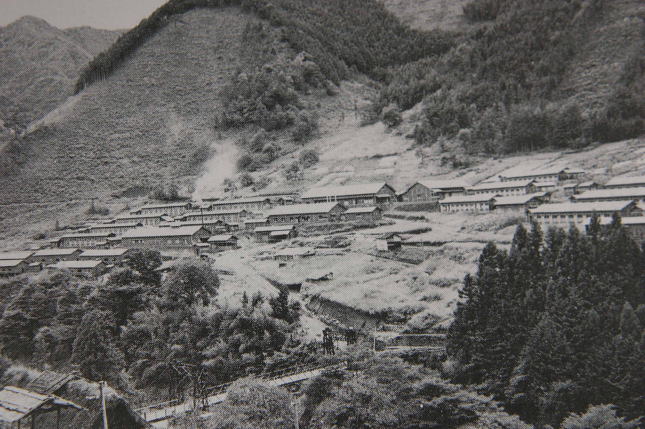 Workers quarters used during the dam's construction. Image: imaginenosekai.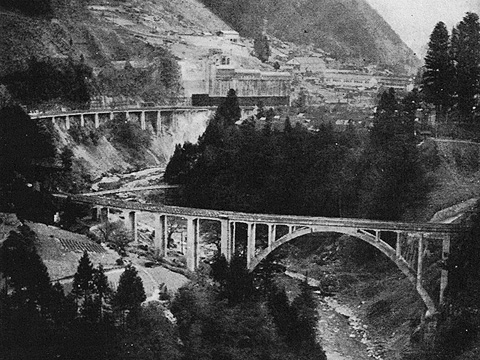 Tokyo Metropolitan Government Bureau of Waterworks Ogouchi Line. Image: aizak3.
.
.