2023 Release of Maps of Mountains and Plateaus
The map images and contents of this article have been obtained with the permission of the publisher (Shobunsha Publications, Inc.).
As is customary, Shobunsha Publications, Inc. (MAPPLE) released their annual Yama to Kogen Chizu (2023 59th ed.) in two halves: February 24 (41 maps) and March 8 (20 maps). Listed below are the entire suite of 61 maps. The copy price remains unchanged at 1,210 yen, including tax. For more information about reading Yama to Kōgen Chizu topo maps check out this how-to guide.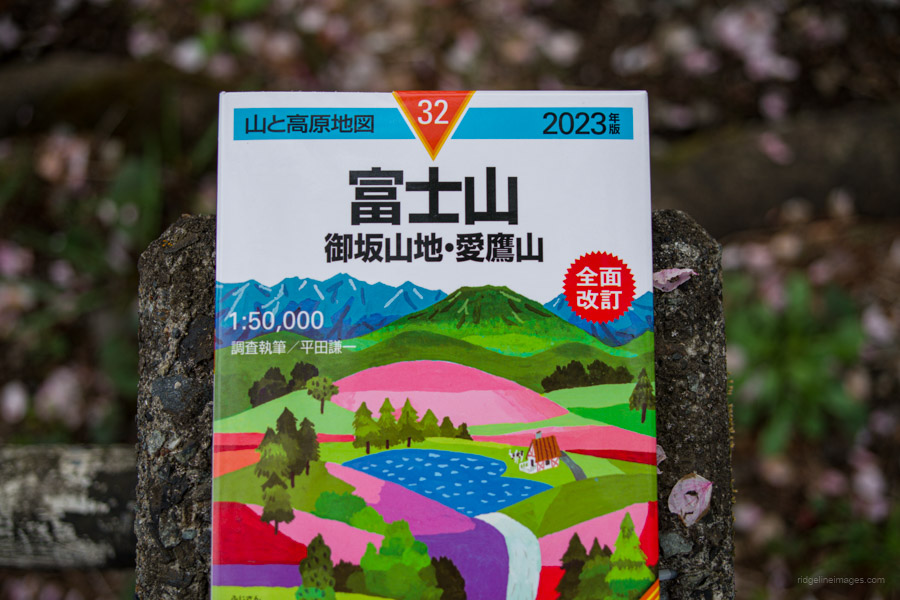 FUJI-SAN one of two maps fully revised for 2023.
Once more this year, Shobunsha Publications continues its online mapping campaign. If you install Shobunsha Publications Yama to Kōgen Chizu Hōdai app, you receive six months of free digital map access corresponding to the paper map you purchased. Simply install the Hodai app, and to launch the app version of the map, scan the QR code at the back of the accompanying booklet.
A notable difference is that the free period has been whittled down to six months, rather than twelve months as it has been previously. Not to mention, in-app purchases of individual maps have risen by 150 yen and are now 650 yen, while access to all online maps has increased to 500 yen per month (6,000 yen annually).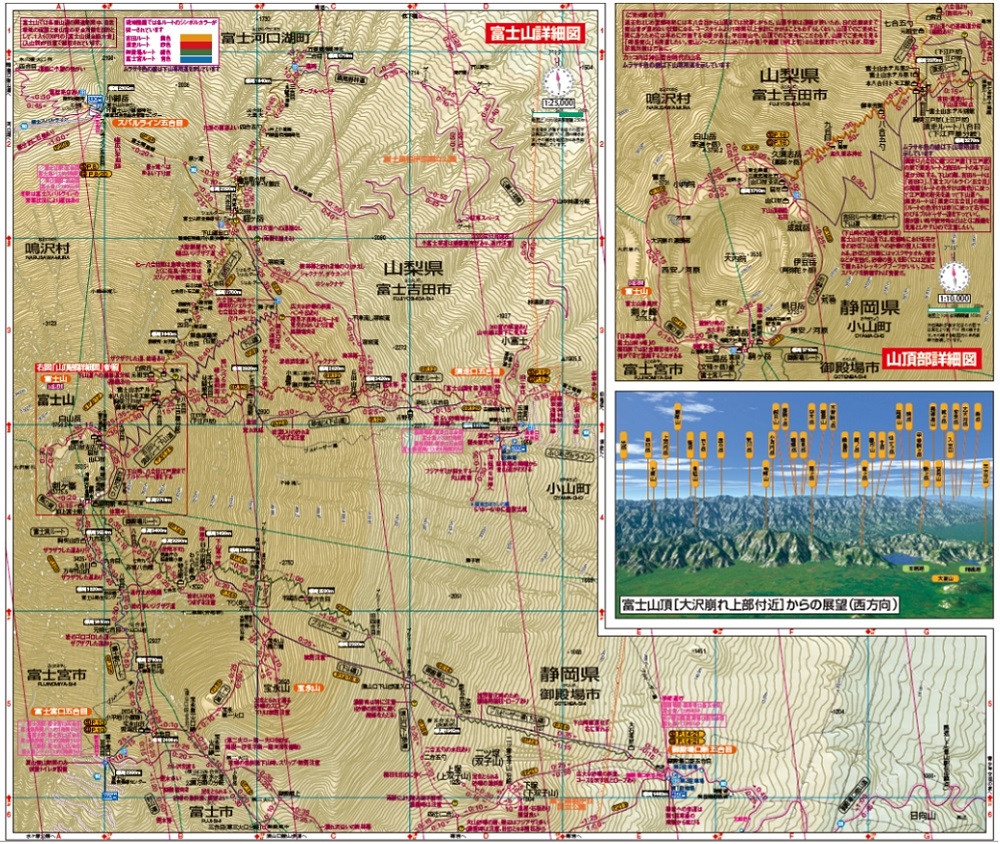 富士山 御坂・愛鷹山 FUJI-SAN includes colour coding for climbing trails. Image: Shobunsha Publications, Inc.
There are full revisions of Maps 32 (FUJI-SAN) and 60 (KIRISHIMA·KAIMON-DAKE). For Map 32, the Yoshida Trail, Subashiri Trail, Gotemba Trail, and Fujinomiya Trail, as well as the trails set aside for descending, are color-coded, making it easier to take in at a glance. In Map 60, the scale of the Kirishima Mountains, which include Mt. Karakunidake, Mt. Shinmoedake, and Mt. Takachiho, has changed from 1:50,000 to 1:25,000. In addition to this, Sakurajima, one of Japan's 200 famous mountains, and Takakumayama, one of Japan's 300 famous mountains, are included for the first time.
Map 18 (MYOKO·TOGAKUSHI·AMAKAZARI) and Map 51 (KOYA-SAN·KUMANO-KODO) also receive modest updates. Map 18 includes a new trail from Mori-Miyanohara Station ~ Miyanohara ~ Nakago ~ Yuto as part of Section 08 of the Shin-Etsu Trail. In addition, in Map 51 the Kumano Kodo Iseji route a pilgrim's 'path of prayer' that connects Ise Jingu and Kumano Sanzan, has been added.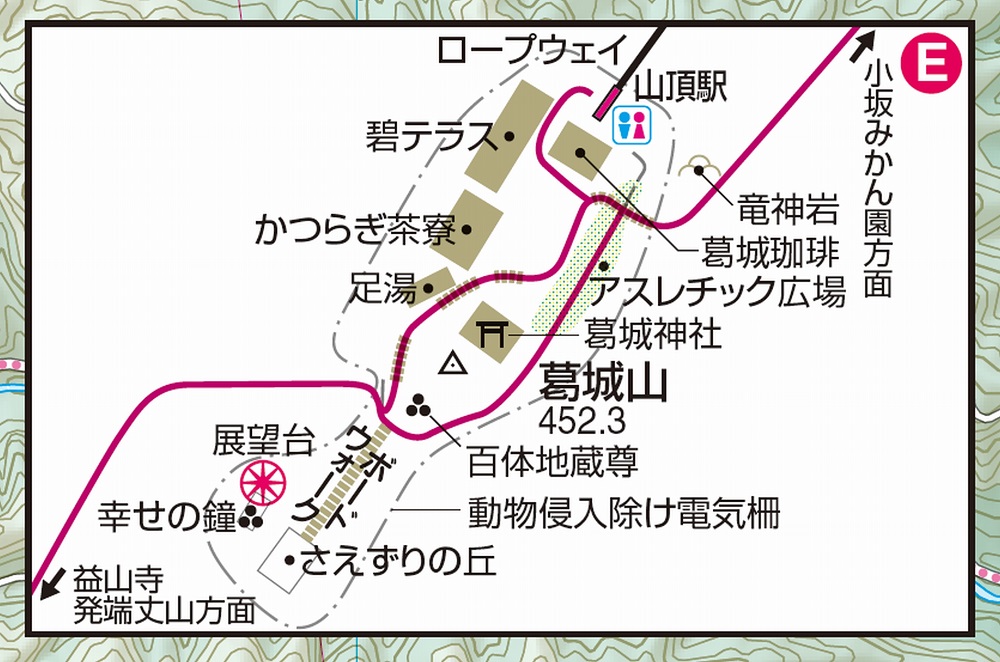 Simplified direction-finding now featured in 50 of the 61 maps. Image: Shobunsha Publications, Inc.
Finally, minor revisions, including magnified map inserts at confusing trail branches and road junctures to simplify direction-finding and at dangerous spots, are now featured in 50 of the 61 maps.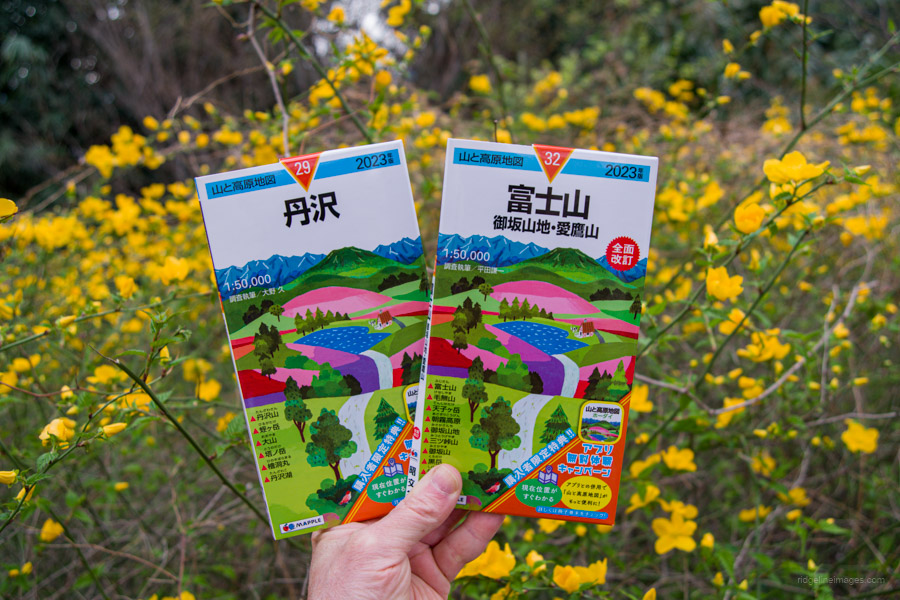 Yama-to-Kōgen Map List 2023 【山と高原地図 2023年版】
※ Denotes custom map scale (standard Yama-to-Kōgen Chizu scale 1:50000)
Fully revised for 2023
Modest upadates