Highlights From the Men's Cross Country Race
As you probably guessed from the title, last Monday I went to see the men's mountain bike race at the Tokyo 2020 Olympics. I know it's not a popular thing to say due to the current state of affairs, but it was a real privilege being there to support these world class athletes give it their all in the hot and humid conditions. In the end it wasn't a hard decision to go as I was after all among the lucky few with a 'golden ticket'. Of a total of 750 sessions during the whole Olympic Games, only 26 or 3.5 percent, are open to spectators. I would hazard to say based on the modest crowd size more than a few had a change of heart and gave it a miss. The official venue capacity was 11,500 but felt like several thousand shy of the mark.
My interest in mountain biking stretches back to the mid-nineties where I raced in some amateur events and even watched Australian Tour de France winner and four-time Olympian Cadel Evans ride in a local race near my home in Melbourne. The sport has been a regular fixture of the Olympic program since its inclusion in the 1996 Atlanta Olympics. That inaugural race was won by Dutch rider Bart Brentjens followed by Swiss superstar Thomas Frischknecht and Miguel Martinez who followed up with gold at Sydney Olympics. Speaking of which, for the Sydney games I entered a lottery system to decide the ticketholders but missed out – another reason making me determined to not let this opportunity pass.
After a 2.5-hour drive, we parked at a vacant block seemingly the middle of nowhere and took a 30-minute shuttle bus ride to the Izu MTB Course. Getting into the venue was not dissimilar to airport security screening with the added hurdle of having to taste test your beverages in front of security officials. Give credit where credit is due, every little detail inside the venue was carefully attended to including a 'Mosquito Repellent Spot' where on request an attendant would spray you with insect repellent and several airconditioned tents for some welcome respite from the heat. I also liked the fact that spectators could move freely through the course by means of judiciously placed 'cross points' across the track so as to see different parts of the action. They even managed to grow cosmos flowers which generally only bloom in the autumn.
The 28.25 km race configuration comprised 1 start loop (1.3 km) plus 7 laps (3.85 km). The course was designed by South African trail-builder Nick Floros (he also designed the course for Rio) begun with a steep, grassy climb through the 'Amagi Pass' narrowing into rocks and logs. There was the playfully dubbed 'Chopsticks' where riders sailed over two logs and 'Wasabi' an uphill leg burning climb. The course's crowning glory was the 'Sakura Drop' a technical section which took out Dutch rider Mathieu van der Poel on the first lap after going head over heels. Apparently, he didn't know the ramp placed during practice laps would be removed for the actual race! To his credit he persevered until withdrawing in the 5th lap.
While regular UCI Mountain Bike World Cup fixtures often have in excess of 140 riders there were only 38 representing 29 nations (each country can have a maximum for 3 riders). After British rider Tom Pidcock's win in the men's XCO final at Nove Mesto back in May it was clear he was going to be a strong candidate for a medal along with co-favourites van der Poel and Swiss rider Mathias Flückiger who ended up with a silver medal. Coming in third was Spaniard David Valero Serrano. After taking medals in the previous three Olympics Nino Schurter wound up fourth with Victor Koretzky rounding out the top five. In the end Pidcock's punishing pace was too much for the lead pack and finished 20 seconds ahead of Flückiger.
After the race I sent a congratulatory message to Australian mountain biking stalwart Daniel McConnell who was representing his country in his fourth Summer Olympics and battled courageously to the end. I felt given the ban on overseas fans he would be pleased to hear that at least one fellow Aussie was there to cheer him on. He promptly responded and thanked me very much for the support. Overall, it was a terrific day and a wonderful occasion to witness these great riders up close.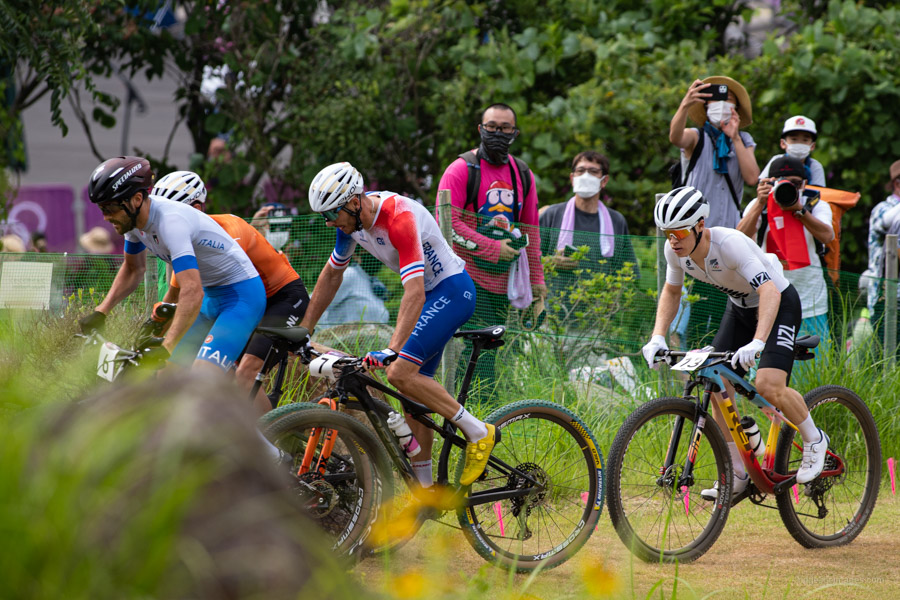 Near the start of the race.
.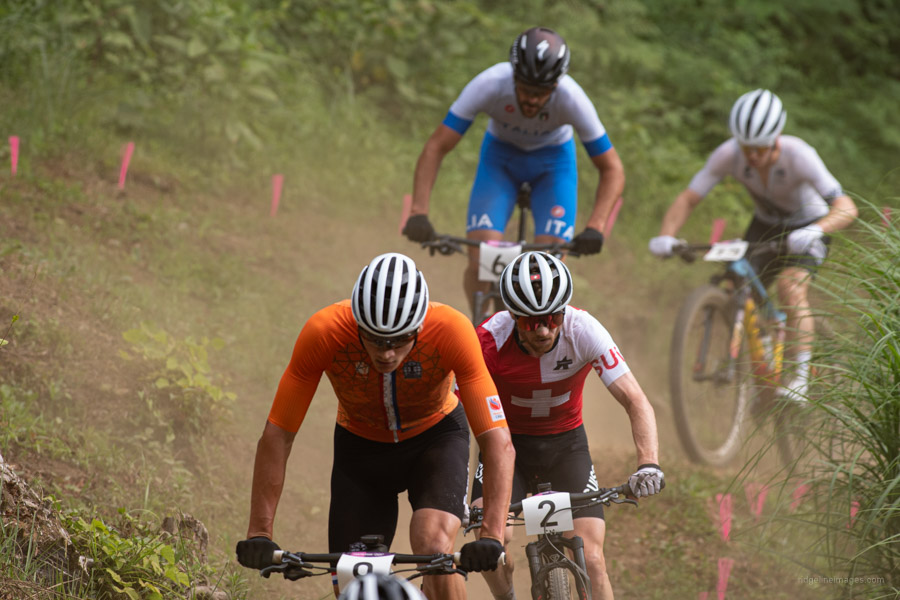 Mathieu van der Poel (Ned) before his tumble.
.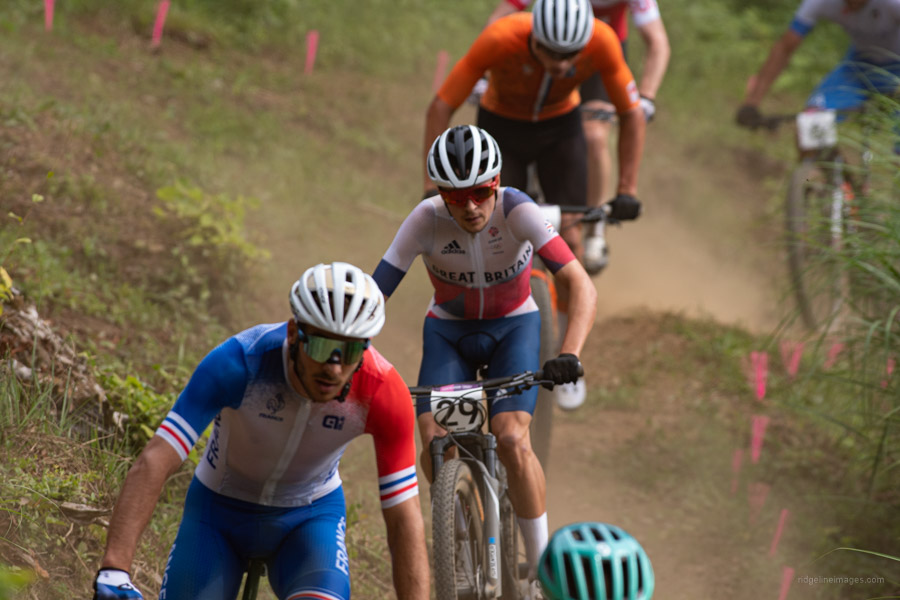 Tom Pidcock (GBr) first place getter.
.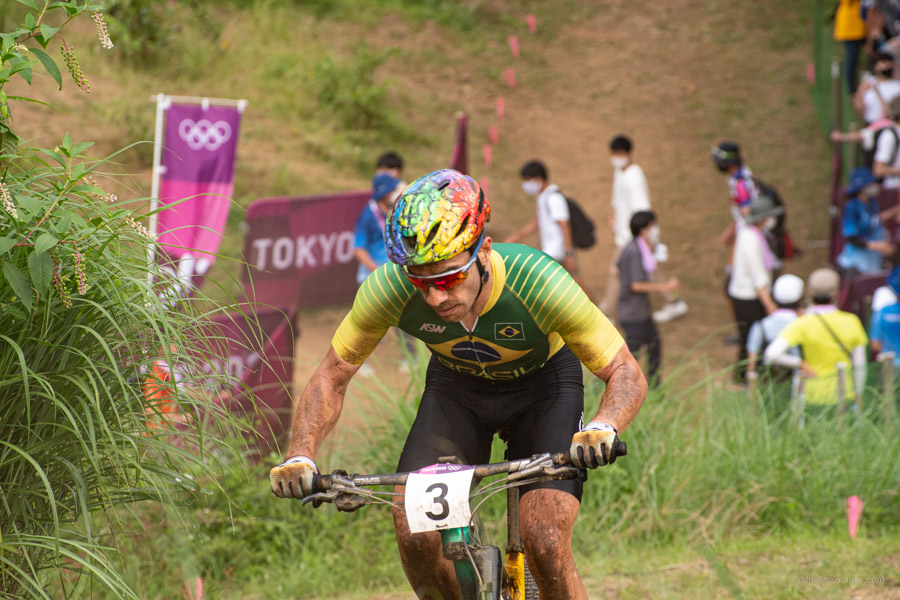 Henrique Avancini (Bra) took the early lead.
.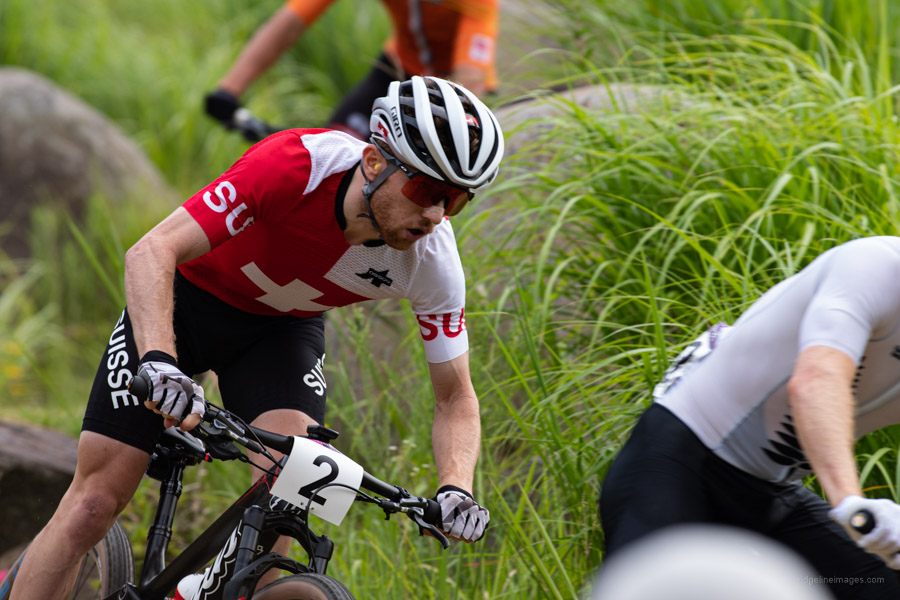 Mathias Flueckinger (Swi) second placer getter.
.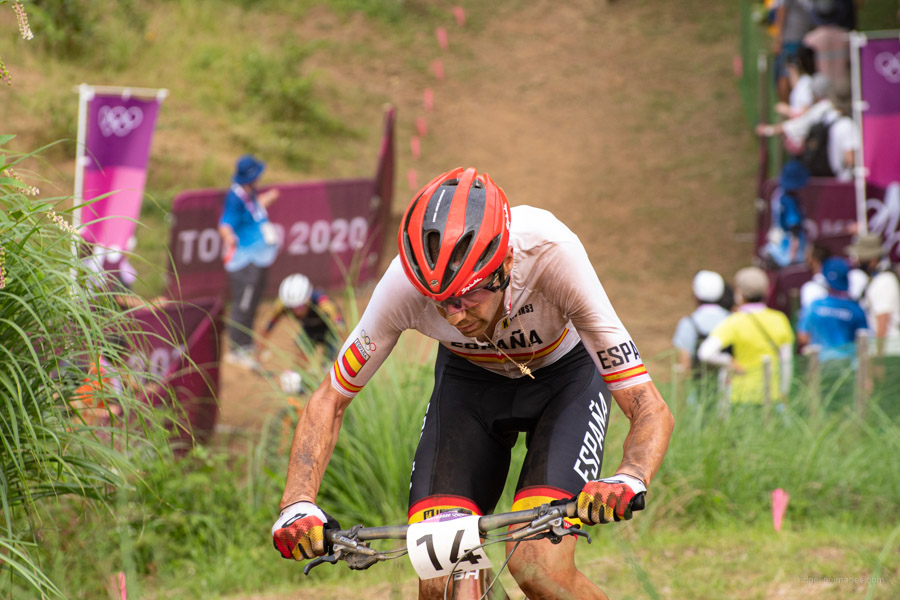 David Valero Serrano (Esp) third place getter.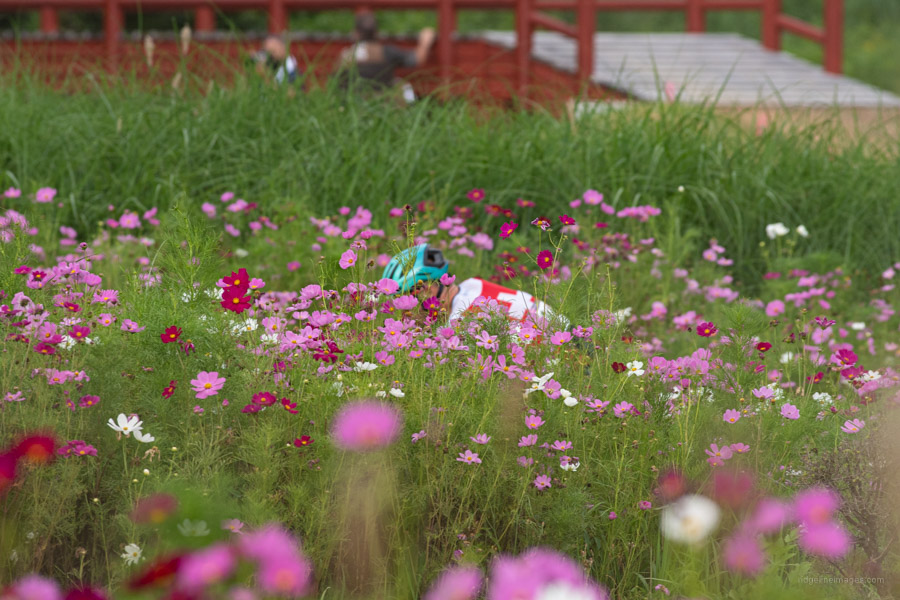 Nino Schurter (Swi) through the cosmos flowers.
.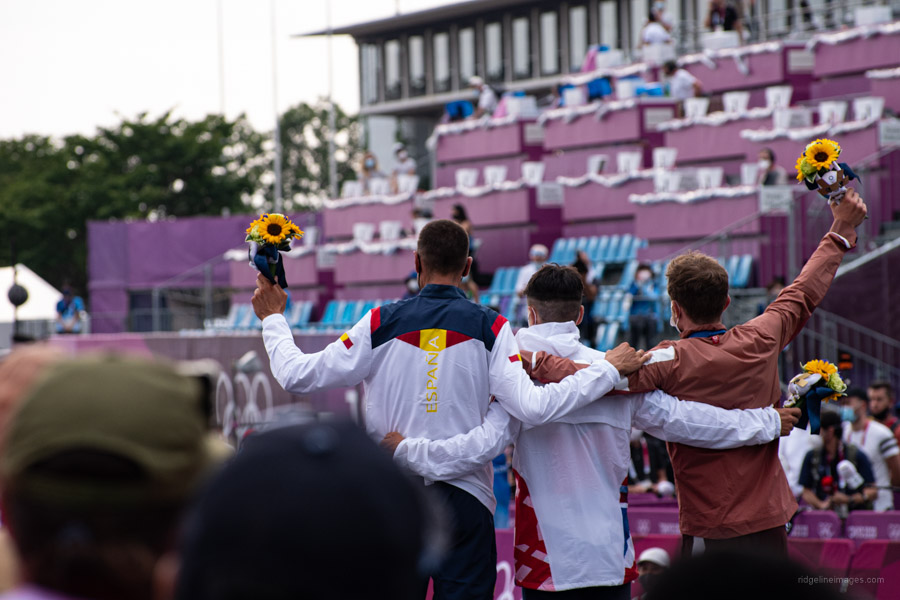 Race winners celebrating.

.