Tama Lake – Sayama Lake – Noyamakita-Rokudoyama Park
  Duration:
2 hours
  Distance:
22.7 km
  Elevation change:
95 metres
  Highest point:
195 metres
Difficulty:
  Start:
Musashi-Yamato Station (Seibu Tamako Line)
  Finish:
Musashi-Yamato Station
  Map:
Tokyo Metropolitan Park in Sayama Hills
.
GPX TrackKML TrackGSI MAPPDF Topo Map
.
Nature and Mountain Biking at Tokyo's Doorstep
If you search Google Maps and look for parks with abundant nature within 30 km of central Tokyo there is one spot bound to catch your eye – Sayama Hills. The 3,500 ha of mixed-species woodlands straddles Tokyo and Saitama, stretching about 11 km east-west and 4 km north-south a definite rarity so close to the city. The forest is said to have been the inspiration for Studio Ghibli's classic 'My Neighbor Totoro'. For those of us living in western Tokyo the 'Hills' are a real gem, perfect for taking a casual hike, trail running, forest bathing (shinrin-yoku) or mountain biking the latter being the focus of this post. What's more it's great for both novice as well as expert riders with a variety of short single track to discover.
Over the past 10 years I've lost count the number of times I've visited, more so over the past 12 months on account of Rona. What I love most about the Sayama Hills is being able to ride direct from my front door in about 30 minutes. No car, trains, or bike bags to fuss with makes it a ton easier. The main trail is a 23 km loop starting and finishing at Musashi-Yamato Station. The route described here includes roughly two thirds paved road/cycling path with the remaining third a mix of dirt and gravel roads. Being within a protected watershed means cars are kept out though the less developed north side is a favoured haunt of the motocross crowd.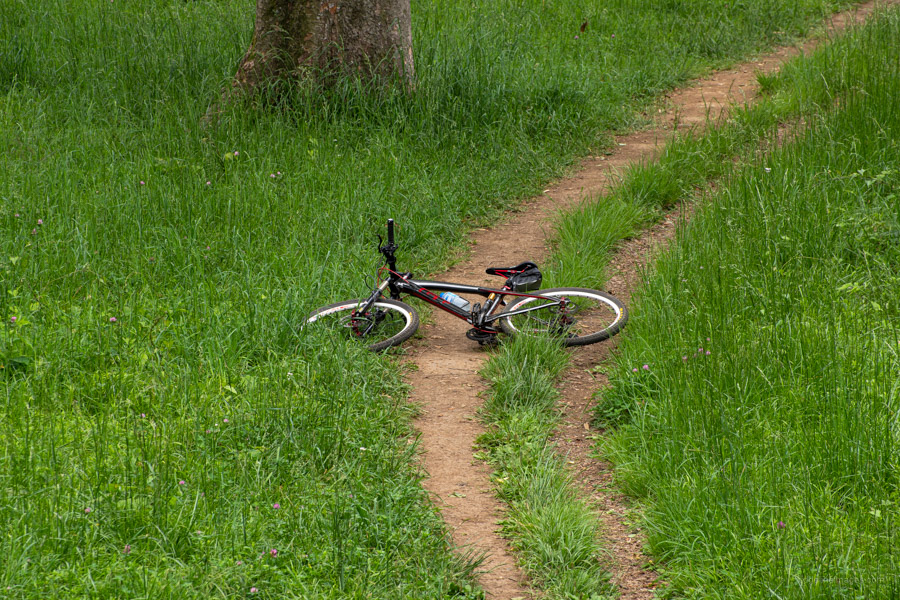 .
My latest ride out there followed what has become a tried-and-true ritual. After passing Hagiyama Station I pick up the bicycle path which tails the Seibu Tamako Line bringing me to the entrance of Sayama Park in Higashimurayama City. Arriving at 7:00 am there was already a good number of cyclists and locals taking their morning walks. In fine weather the view from the
Tama Lake dam wall
is worth a visit in its own right with Fujisan taking pride of place amongst mountains stretching out towards Okutama and Yamanashi.
While the humidity level has crept up recently the overcast skies made for pleasant riding conditions. From here the Tamako cycling road passes the time-worn Seibu Yuenchi Amusement Park, Seibu Dome home to local heroes the Saitama Seibu Lions baseball team and finally the lustrous orange Yamaguchi Kannon before veering right towards Sayama Lake. In contrast to the bustling Tama Lake area the Saitama Prefectural Nature Park which surrounds the dam wall is a tad nicer with lovely parkland at the north end and again a mighty fine view of Mt. Fuji.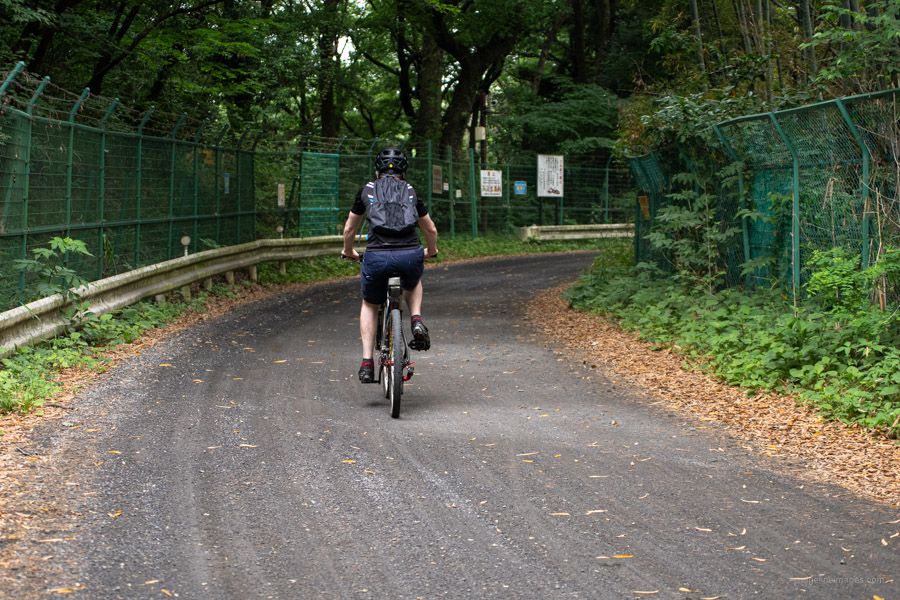 .
After passing a rundown love hotel – the area has them in spades – you hit the first section of gravel road guarded on either side by perimeter fencing. After a few kilometres of sealed and gravel surfaces you'll arrive at a gated road open to traffic daily between 09:30 and 16:00. Not sure the rationale behind this but perhaps stop any nefarious comings and goings? Anyway, your bike can simply slip by this as you enter the forest. The narrow forestry road on the north side of the Yamaguchi Reservoir is decidedly rougher than the south and as a result sees far less foot traffic but plenty of mountain bikers! Branching from the road is a good deal of single trail some of which are restricted to pedestrians though the bulk are shared use but just don't go hell for leather.
.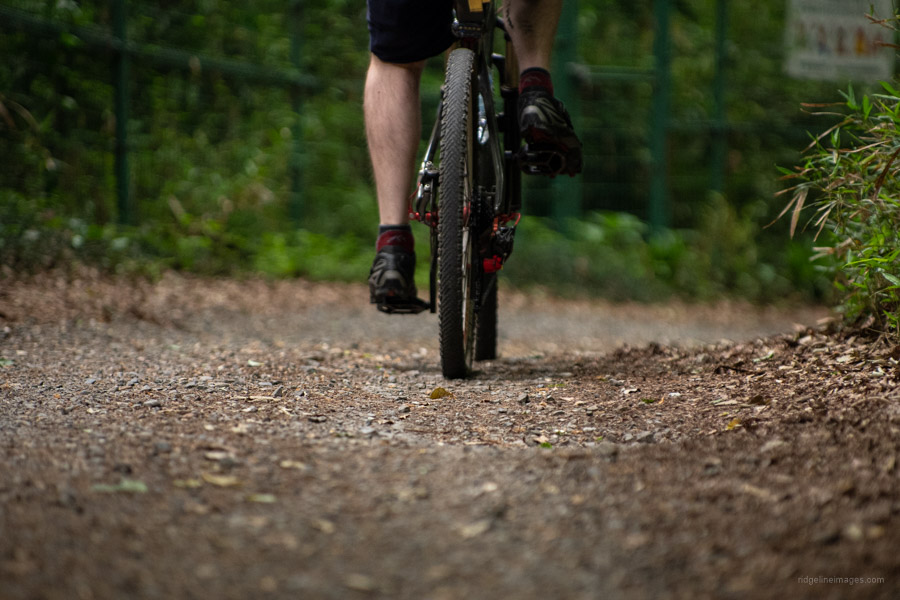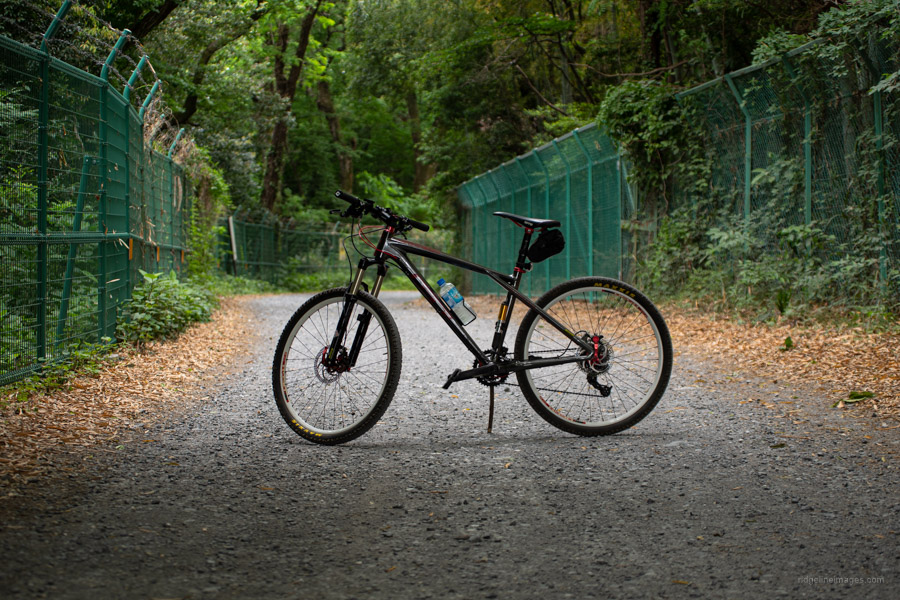 A nice rest spot is Rokudouyama Park alongside a medieval inspired 13-metre-high brick tower that overlooks Mt. Fuji and skyscrapers of Shinjuku (open: 9:00-16:30). There's also a tap/faucet here to refill your water bottles. This marks the approximate half way point of the course. Thankfully from here on in you'll find the forestry road in better nick, though watch your speed as it's also a popular walking path with the odd blind turn. Dotted along roadside are several picnic areas and single trail veering off every which way tempting you to go explore. When you reach an open three-way intersection known as 'Yakiba' meaning crematory – a Roku-jizo memorialises local residents who died during a dysentery epidemic – steer left.
Popping out at the main road there is a short cut directly in front which brings you back to the Tamako cycling road. Just before the cycling bridge there is another spot to get water. The nice part about following this route counter clockwise is it's mostly flat or downhill for the last part back to Musashi-Yamato Station. The mountain bike route described here is family friendly, suitable for riders of all abilities, and takes a leisurely 2 hours to complete.
.

.